Teaching Students at Kustom Built Cars [RR 509]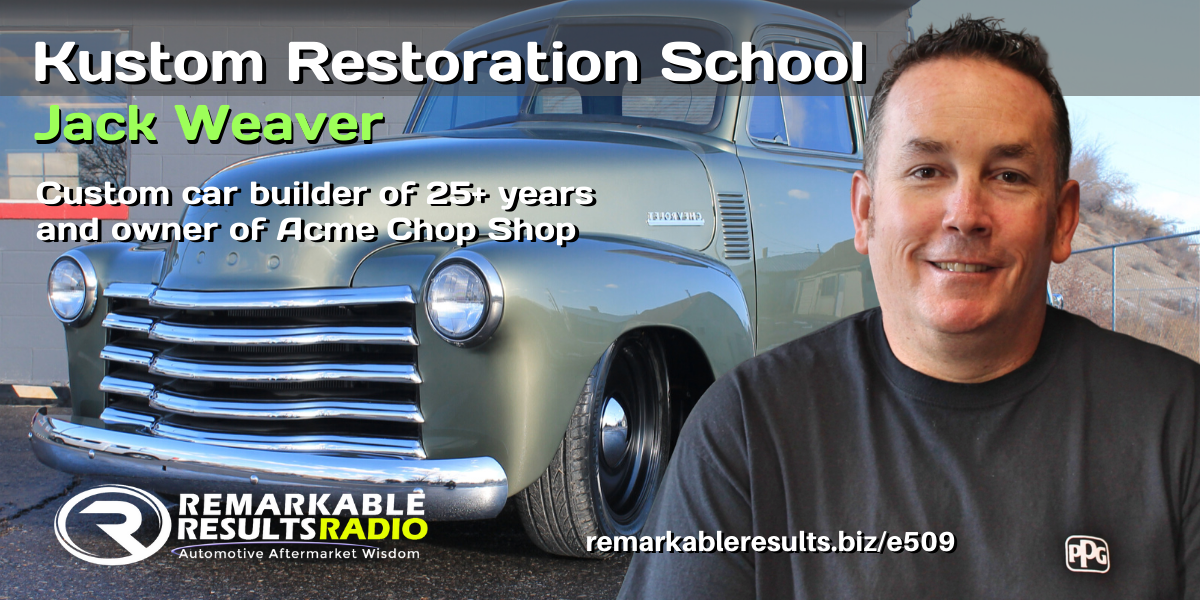 Jack Weaver is a custom car builder of 25+ years and the owner of Acme Chop Shop. He started teaching the art of custom auto restoration at Kustom Built Cars (KBC).
Kustom Built Cars was started out of Jack's love and enjoyment of custom cars and hot rods. He wanted to be able to continue a legacy for our generations to come. So he and his friends got together and came up with this awesome workshop so that future car builders of the world could come and learn the fundamentals of restoring a custom car from the ground up. The leader of our program wanted to share his story with you all so you can see how this idea became a reality and how it can for you too!
Key Talking Points:
A hot rod restoration shopkustombuiltcars.com
Needed more help and started teaching kids so he could hire, started to teach on a larger scale
Workshop- started with weekend workshops then evolved into the 5-month program, mostly 18-20 years old
Build hot rod truck from start to finish during 5-month hands-on program then sell truck and money goes back into the program
Students leave program excited about the industry, can be very trainable for potential employer
Wants to stay in touch and stay connected with graduating students
Resources:
Thanks to Jack Weaver for his contribution to the aftermarket's premier podcast.
Link to the 'BOOKS' page highlighting all books discussed in the podcast library HERE. Leaders are readers.
Listen for free on Apple Podcasts, Google Podcasts, Spreaker, iHeart Radio, Spotify, Podchaser and many more. Mobile Listening APP's HERE
Find every podcast episode HERE.
Every episode segmented by Series HERE.
Key Word Search HERE.
Love what we do? Buy Carm a cup of coffee HERE.
Be socially involved and in touch with the show:
Facebook Twitter Linked In Email
Join the Ecosystem – Subscribe to the INSIDER NEWSLETTER HERE.

Since 1989 TRACS has been the industry's leading shop management system. And in the last 30 years it's gotten better and better. Today TRACS Enterprise offers even more of the features AutoCare Center owners want—things like a powerful interactive scheduling calendar, faster and streamlined work flow, plus streamlined parts ordering and purchasing options. And there's more—Punch-out to Mitchell ProDemand, mobile VIN capture, and multi-shop capabilities. That means you can count on TRACS Enterprise to help drive your success today and well into the future.
Learn more about TRACS Enterprise and the hundreds of other benefits the NAPA family has to offer. Talk with your servicing NAPA store or visit www.NAPAAutoCare.com.