Shop Owner Open Forum [THA 158]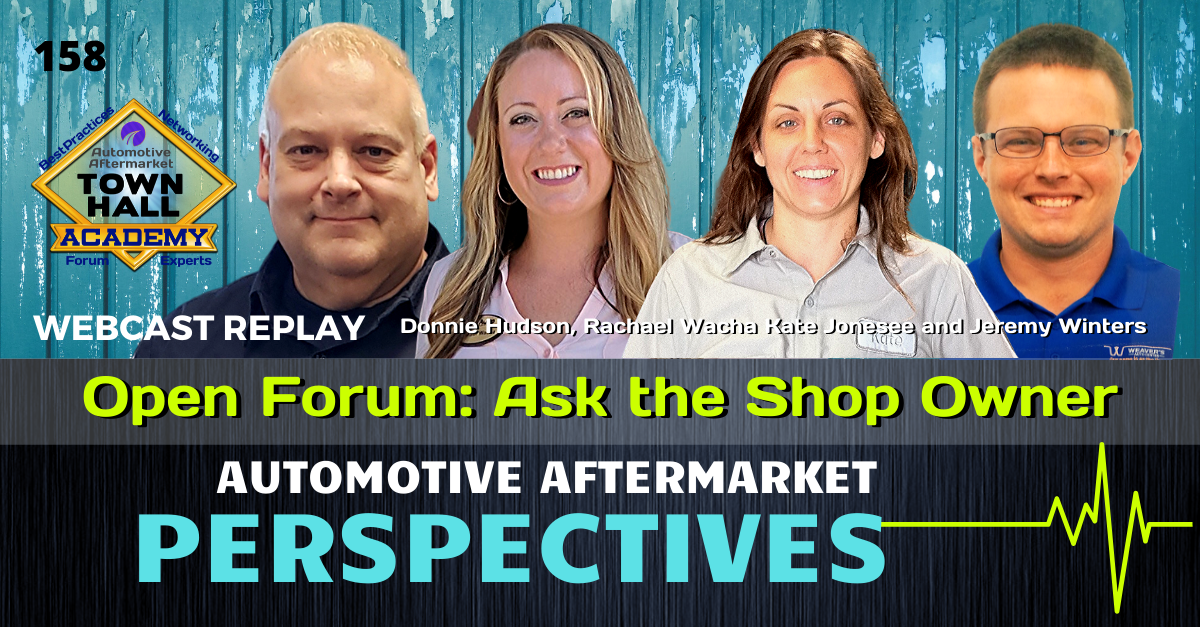 Panel:
Rachael Wacha, City Auto Repair, Gainsville, FL
Kate Jonasee, K-Tech, Sebastopol, CA (MSO)
Donnie Hudson, Troy Auto Care, Troy, MI (MSO)
Jeremy Winters, Service Manager at Weavers Auto Center, Shawnee, KS
Talking Points:
Kate's big thing was the improvement in her company culture and the psychology of herself as a leader was impactful.
Rachael, getting yourself centered so you can make a change with your team
Some on your team will exit themselves as they choose not to be team players
Technical and management training is so important to the development of your team
Donnie does cross-training so each other knows the other job
Training happens when the culture breeds continuing education
Localize training needs to be more hands-onHire a national trainer and split costs with fellow shop owners and set up a Saturday for a daytime hands-on
Labor rates are a reflection of your value proposition.
Labor rates should be a function of the business not of the market
If you did your job right it is never about the labor rate
Customers want to trust you
Rachel sells here value vs price or labor rate
Customers ask price or rates because they don't know what else to ask
Focusing on the customer is part of your culture. They will now it and feel it
You can offer a value proposition for your customers even if you just started. Start out strong with a strong culture and commitment to your team and your customerSurround yourself with people smarter than you
Ask other shop owners 90% of them want to help. Put your ego on the shelf. Be humble
Weavers got completely off of flat rate. They have six-figure technicians on an hourly planYou can tie many performance bonuses
Donnie and kate has put in place an IRA plan for their techs
Comebacks:Handled as a #1 priorityThis show the character of the company by how you handle come backs
Consider a system to track every come back to spot a trend
Kate and Jeremy are watching the growth of EV's
Kate and Donny are not heavily into Hybrids
Rachael feels that having peers and colleagues helping her has had a big impact on here business
Kate feels that her business coach has had a huge impact on her businessShe recently had 36 other shop owners touring her facility where there was knowledge transfer happening for everyoneBonding and Q & A happening
Idea sharing
Jeremy has seen the impact of a business coach on the business. A game-changer
Donnie's coaching experience is from his local business development group. Sharing, caring, teaching
Succession planning. How do you plan to doEvery decision you make should be on succeeding the business
Family businesses have unique dynamics. Open communication is critical
If you can't find a successor with the passion necessary you don't have a good candidate
Resources:
A special thanks to Donnie Hudson, Kate Jonasee, Rachel Wacha and Jeremy Winters for their contribution to the aftermarket.
Books Page HERE
Leave me an honest review on iTunes. Your ratings and reviews really help and I read each one of them.
Listen to all Remarkable Results Radio, For The Record and Town Hall Academy episodes.
Facebook Twitter Linked In Email
Join the Ecosystem – Subscribe to the INSIDER NEWSLETTER HERE.

This episode is brought to you by Shop-Ware Shop Management. It's time to run your business at its fullest potential with the industry's leading technology. Shop-Ware Shop Management will increase your efficiency with lightning-fast workflows, help your staff capture more sales every day, and create very happy customers who promote your business. Shops running Shop-Ware have More Time and generate More Profit—join them! Schedule a free live demonstration and find out how 30 minutes can transform your shop at shop-ware.com