Aftermarket Acumen Part 4 – Technician Pay [RR 510]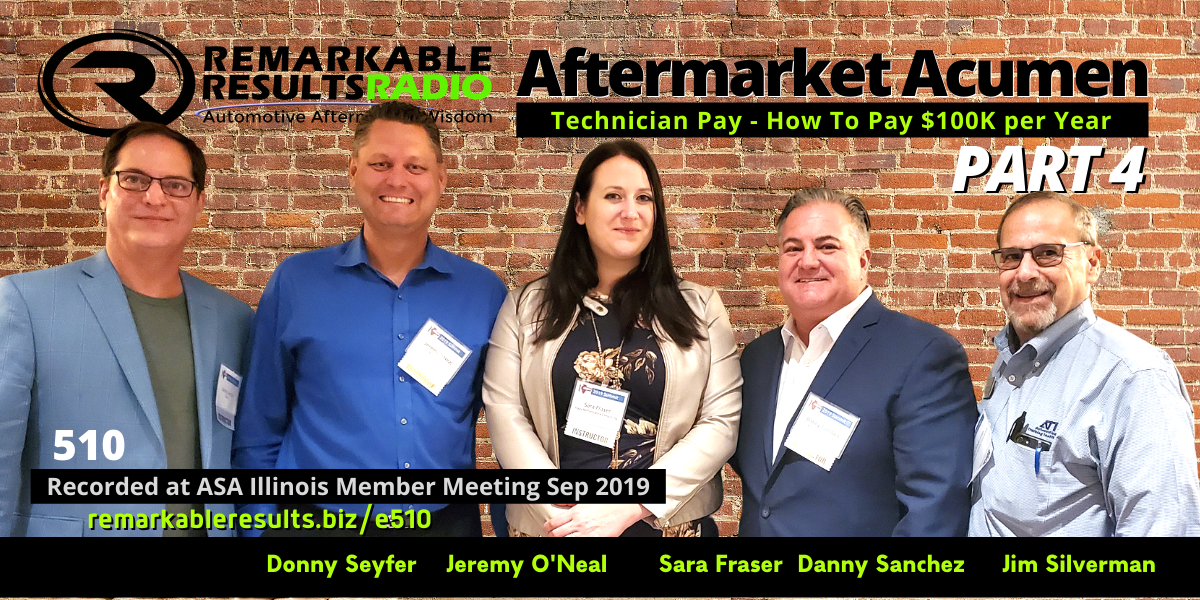 Donny Seyfer the executive officer of NASTF (National Automotive Service Task Force) and Partner in Seyfer Automotive in Wheatridge, CO. Listen to Donny's previous episodes HERE.
Jeremy O'Neal President and lead sales trainer for Advisorfix, began his career as a Service Adviser and moved into Service Management at the dealership level for VW, Audi, and Porsche. He consistently placed in the top 3% of Service Advisors across the nation.
With a passion for helping others, Jeremy started coaching Service Advisers in 2007. Jeremy also owns an independent auto repair shop Freedom Auto Repair in Hesperia, CA. Previous episodes HERE. Link to Advisorfix HERE.
Danny Sanchez is owner and founder, of Auto-shop Solutions and grew up spending countless hours working around his dad's auto repair shop in California, eventually taking over and running the business himself. Auto-shop Solutions started in 1998 when Danny founded Auto Web Solutions.
The Internet was starting to take off, and Danny took great interest in the powerful marketing benefits it could provide. As a successful shop owner himself, Danny used Auto Web Solutions to consult with other repair shops on their business practices and web presence.
In 2005, when Google launched Ad Words and changed its search engine to favor local businesses, Danny saw a huge opportunity for the automotive industry to draw more clients from the Internet. With just a handful of clients and a few websites, Danny built the foundation of his company – quality, affordable, automotive websites and Internet marketing solutions, designed exclusively for the auto industry. Check Danny's previous episodes HERE.
Sara Fraser is a millennial who has a love for life, travel, and connecting with other humans! She has over 15 years of retail management experience, the last 6 of them as an office manager for a used car sales and service center. To bring her customer service, marketing, and business knowledge to the automotive industry she has recently joined the team at Haas Performance Consulting.
Sara loves helping others grow and succeed and is excited to share her expertise on management and social media, her views on how and why the younger generations think and act, and how to work and manage a business within a multi-generational workforce. When she isn't working Sara spends her time traveling, attending theatrical productions, music festivals, concerts, advocating for human and animal rights, celebrating life in general and connecting with other people from all over the world. Look for Sara's previous episodes HERE.
Jim Silverman is the Director of National Accounts for ATI Automotive Training Institute. Listen to Jim's previous episodes HERE.
Key Talking Points:
Overall CommentsNot what they earn but what they keep
Build an invisible paycheck for each team member. Let them see the total cost to the company
Service advisors need to have a comp plan to reward their success
The company needs to have a strong profit in order to make this work
Fear is false evidence appearing real
Incentive pay ideasCompensation plans must conform to state and federal labor guidelines
Training
ASE
Comebacks
Complete inspections
Bonus rates can be based on the number of hours they can bill
To millennials, the invisible paycheck is an expectation. So important to create one
Sara FraserThe work needs to be there to increase pay
Are we selling all available hours?
Technicians and service advisors must be on the same page for similar rewards as they work together to sell the labor inventory
Danny SanchezActive marketing is necessary to bring in new clients
You lose 3% of your clients each year. They move. They Die.
Referrals should be your #1 tactic to grow new customers
Build the opportunity to thrive in so your team can be big earners
Selling 40 hours per week should not be your goal. It should be more
40 hours per person cover your base costs
Less than 3% of the pool of technicians coming into the industry. A very small number
Emotional maturity is lower. 18 is the new 16
Learn how to split income from base income and opportunistic income
Donny SeyferHaving a 30-year career at one place is not going to be the norm
NASTF – The Road to Great Technicians
We raise our technicians with a wide but narrow scope
We don't hire our future techs as interns. We must change that
42 % of students that get through the program do not make it past two years in their initial jobs. We don't do a good job of integrating them into our industryThey push a broom or work on the lube rack for too long
Young people in our industry want to be involved in something that matters
Donny says there isn't a technician shortage. There are too many bays from marginal shops.
You need to run a better business. Become a business person. Stop being a tech
We need to look at 5th grade to discover our tactile learners
A great mentor would be the person who is the latest who's been through the program. When you teach you learn
Jeremy O'Neal$48.08 per hour to earn $100K
It gets increasingly hard to hire against larger companies. We are losing the top talent to the bigger companies who can provide a stronger benefit plan
Quote from Matt Fanslow: "We expect our technicians to be smart enough to fix today's cars but be dumb enough to accept our pay plan."
Willing to charge a fair price for the business
Your labor force is tough to duplicate and unique to your shop
Based on your profit targets you can calculate what your labor rate needs to be
It doesn't matter what your competition charge
Actual production is key
He is tracking Average Time of Repairs
Labor guides are just a guide
Pay PlansTop producers will do full inspections and document them
Fix the car right the first time
Jim SilvermanYour culture is why people come to work for you and why they stay with you
You provide everything your people need to have a fruitful life at work and at homeIt says I want you here
A good mix for parts to labor is 50/50
ASCCA has a program in San Diego for an independent track in post-secondary at Cuyamaca College in El Cajon, CA. See this episode: https://remarkableresults.biz/remarkable-results-radio-podcast/e364/
Train on doing complete inspections. You've got to be consistent in what constitutes a quality complete inspection
Resources:
Thanks to Donny Seyfer, Jeremy O'Neal, Noah Frank, Danny Sanchez, and Sara Fraser for their contribution to the aftermarket's premier podcast.
Link to the 'BOOKS' page highlighting all books discussed in the podcast library HERE. Leaders are readers.
Love what we do, buy a cup of coffee HERE.
Be socially involved and in touch with the show:
Facebook Twitter Linked In Email
Listen for free on Apple Podcasts, Google Podcasts, Spreaker, iHeart Radio, Spotify, Podchaser and many more. Mobile Listening APP's HERE
Join the Ecosystem – Subscribe to the INSIDER NEWSLETTER HERE.
This episode is brought to you by AAPEX, the Automotive Aftermarket Products Expo. AAPEX represents the $740 billion global automotive aftermarket industry and has everything you need to stay ahead of the curve. With 2,500 exhibiting companies, you'll see the latest products, parts, and technologies for your business. As a result, the event also offers advanced training for shop owners, technicians, warehouse distributors (WDs) and auto parts retailers, as well as networking opportunities to grow your business. AAPEX 2020 will take place Tuesday, Nov. 3 through Thursday, Nov. 5, at the Sands Expo in Las Vegas. Therefore, more than 48,000 targeted buyers are expected to attend, and approximately 162,000 automotive aftermarket professionals. They will be from 135 countries which are projected to be in Las Vegas during AAPEX 2020. For information, visit aapexshow.com