Our Customers Don't Know How We Make Our Sausage and it is Time They Learned [RR 516]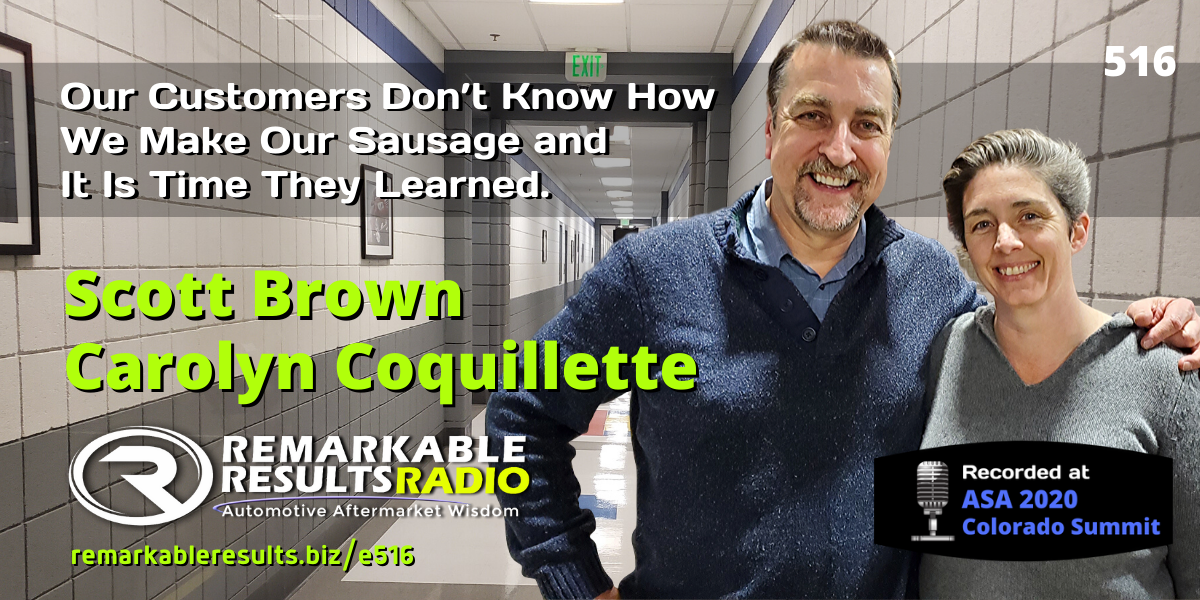 Carolyn Coquillette of Luscious Garage, San Francisco, CA chairs the ASCCA Connected Cars Committee, serves on the ASCCA Board of Directors and is active in her local San Francisco chapter. She's also the Founder and CEO of Shop-Ware. Look for Carolyn's other episodes HERE.
Scott Brown is an ASE Master Certified Automobile Technician with over three and a half decades of professional service industry experience. He and his wife own Connie & Dick's Service Center Inc., a 57-year-old independent shop in Southern California.
With a strong focus on engine performance and electronics, Scott began collaborating with other industry professionals, online, beginning in the early 90's. Since 1995, he has been an instrumental resource in the development of the largest online community of automotive service professionals, the International Automotive Technicians Network — iATN where he once served as company president. Additionally, he serves on the NASTF Board of Directors and is a member of the following associations: ASCCA, CAT, ETI, I-CAR, & SAE.
Scott is the founder of diag.net. Find other episodes that have featured Scott HERE. Diag.Net HERE
Key Talking Points:
Carolyn did a presentation at Vision 2019 "Don't trust me, how to empower customers to value your service." Better communicate with customer
There is no such thing as perfect communication
Scott has a presentation on how to best present knowledge and information to the customer (media, photos)
Communicating complex problems on vehicles to customers (what are you doing, why you are doing it and what are results). Documentation of process. Communication can't be perfect, always a work in progress
Customers need to understand the quality of the facility and services and why the pricing is set in place. Peace of mind.
Ultimately the car is the customer's problem. The car is passing through the shop and the shop becomes the middle man. Easy for customers to be upset instead of appreciating the help to get the car back on road.
People read approximately 300 yards of social media a day- always consuming information, customers need to be educated. I can't assume customers don't want to know information or details about their vehicles.
The fine line between communication and overwhelm- the goal is comprehension with the customer. Data should speak for itself and tell a story. Customers often prioritize issues with vehicles and leave other issues pending.
Training is maintenance, people don't know how we make our sausage
Technology is moving at a rapid rate in vehicles, shops need to continue to train or be left behind
Shops are willing to share more than ever and help other shops- changing industry
Resources:
Thanks to Scott Brown and Carolyn Coquillette for their contribution to the aftermarket's premier podcast.
Link to the 'BOOKS' page highlighting all books discussed in the podcast library HERE. Leaders are readers.
Love what we do, buy a cup of coffee HERE.
Be socially involved and in touch with the show:
Facebook Twitter Linked In Email
Listen for free on Apple Podcasts, Google Podcasts, Spreaker, iHeart Radio, Spotify, Podchaser and many more. Mobile Listening APP's HERE
Join the Ecosystem – Subscribe to the INSIDER NEWSLETTER HERE.
This episode is brought to you by AAPEX, the Automotive Aftermarket Products Expo. AAPEX represents the $740 billion global automotive aftermarket industry and has everything you need to stay ahead of the curve. With 2,500 exhibiting companies, you'll see the latest products, parts, and technologies for your business. As a result, the event also offers advanced training for shop owners, technicians, warehouse distributors (WDs) and auto parts retailers, as well as networking opportunities to grow your business. AAPEX 2020 will take place Tuesday, Nov. 3 through Thursday, Nov. 5, at the Sands Expo in Las Vegas. Therefore, more than 48,000 targeted buyers are expected to attend, and approximately 162,000 automotive aftermarket professionals. They will be from 135 countries which are projected to be in Las Vegas during AAPEX 2020. For information, visit aapexshow.com