Insurance Coverage Review – Part 1 [THA 161]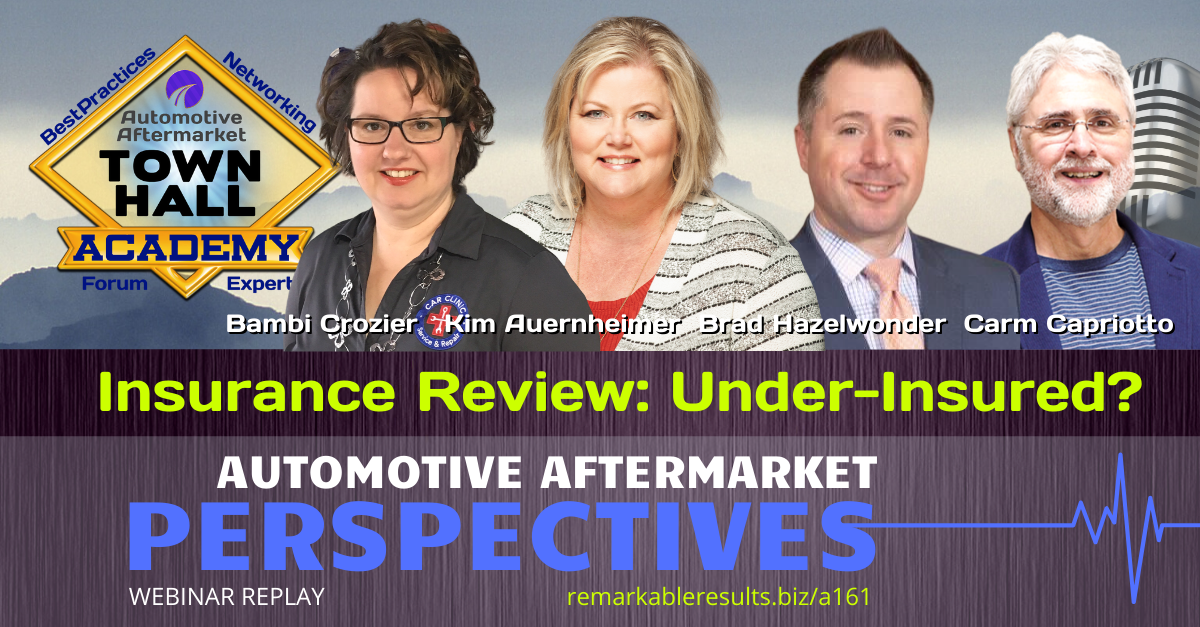 https://youtu.be/QBQiSKOEIG4
Bambi Crozier, wife and co-owner with Neil Crozier, of Car Clinic in Lowell, AR (Northwest Arkansas), has a passion for the hardworking shop owner. Her vision to Change the Face of Automotive Care motivates and inspires every aspect of her daily operation. She entered the industry in 2012 as an entrepreneur shortly after moving back to Arkansas. She spent more than 11 years at AT&T in client relation roles and has a talent for looking at her business and the auto industry through the lens of a client. Bambi's previous episodes HERE.
Kim Auernheimer, AAM is the Co-Owner & Business Manager of CS Automotive in Brentwood, Tennessee. CS Automotive was opened in October of 2006 in the back of a warehouse and now they call a 6,400 square foot, 10-bay shop home. Prior to joining her husband Rob in the business on a full-time basis, Kim had a career in Commercial Real Estate and Property Management. In July of 2011, she stepped out from the background of the business and joined her husband in the venture of creating an industry-leading standout
Kim continuously seeks out training for her and her entire team and put the teachings to use. Her belief in industry education has been a large influence on how much success and growth they have had over the last few years. She has a passion to improve the reputation of the Automotive Repair industry working alongside other shop owners and industry leaders to improve the overall experience of the customer from the moment they make that first call to the shop until they drive their car off the lot instilling transparency and developing trust during the entire process.
In 2017, she obtained her Accredited Automotive Manager (AAM) designation. This is a result of 120-credit hours of coursework in several core competencies including leadership, marketing, customer relations, accounting, and several other areas of automotive repair business management. Listen to Kim's Episodes HERE.
Brad Hazelwonder is an Insurance Marketing Representative for Federated Insurance. His areas of expertise: Business Insurance, Life & Disability Insurance, Estate Planning, Business Succession, and Key Employee Retention
Key Talking Points:
Insurance is a contract between the business and the insurance company
Two typesPhysical propertyWhat you own
Your Customers property
LiabilityYou are responsible for damage to others and their property
You have more responsibility than an individual
When you hire someone you say you trust that person
When they do something wrong the liability is on you.
These claims are going through the roof
Yearly audits are done with your agent. Sometimes twice. They may ask:Are there name change
New property
Mailing address
Changes in equipment
Look at revenue
Changes in payroll
Look at loaners and the limits you want
And many more
LoanersYou must check if your customer has a valid license
You must check if they have valid insurance
No different than a rental car contract
You need to get a signed agreement with the customer on the use of the loaner car. Your insurance company can get you a version (vehicle usage/release form)
You may need a declaration page or insurance card. Verify with your insurance carrier to the proper way to cover yourself.
If the insurance isn't paid, they have no insurance even though you may see an insurance card. You can call the customers agent to send you a declaration of insurance
Some customers can go through their app to send you a declaration
How Insurance pays outThere are certain types of coverageReplacement cost. Like, Kind, QualityConsider taking a higher deductable
Actual cash valueTake the depreciated amount out
DeductiblesThere is a hidden value in deductiblesWorkmans compUpfront saving
Can prevent your MOD rating by paying a portion (experience rating)
The number of claims increases your premiums. Higher deductibles can save you money, however, your exposure is higher
Good processes and quality programs help minimize your risk
Report all claims. You can make it report only. Get it on record, you can always pull the claim.
Cost management: Insurance deductibles and coverage
Business and persona umbrella policy is a givenUmbrella policies sit above all other policies and provide you additional coverage
With insurance, you get what you pay forWorking with an agent face to face is a huge value to your business
Business interruption insuranceConsider the length of time you may need. It will always be longer
If you don't report all your income then you also have a gap you'll need to deal with. Get all your sales on the books
Nothing good happens after midnight
Have proper limits
You should 'What If' with your insurance agentWhat Happens If ….
Resources:
Facebook Twitter Linked In Email
Join the Ecosystem – Subscribe to the INSIDER NEWSLETTER HERE.

This episode is brought to you by Shop-Ware Shop Management. It's time to run your business at its fullest potential with the industry's leading technology. Shop-Ware Shop Management will increase your efficiency with lightning-fast workflows, help your staff capture more sales every day, and create very happy customers who promote your business. Shops running Shop-Ware have More Time and generate More Profit—join them! Schedule a free live demonstration and find out how 30 minutes can transform your shop at shop-ware.com