Stop Being Afraid – Bryan Gossel [RR 517]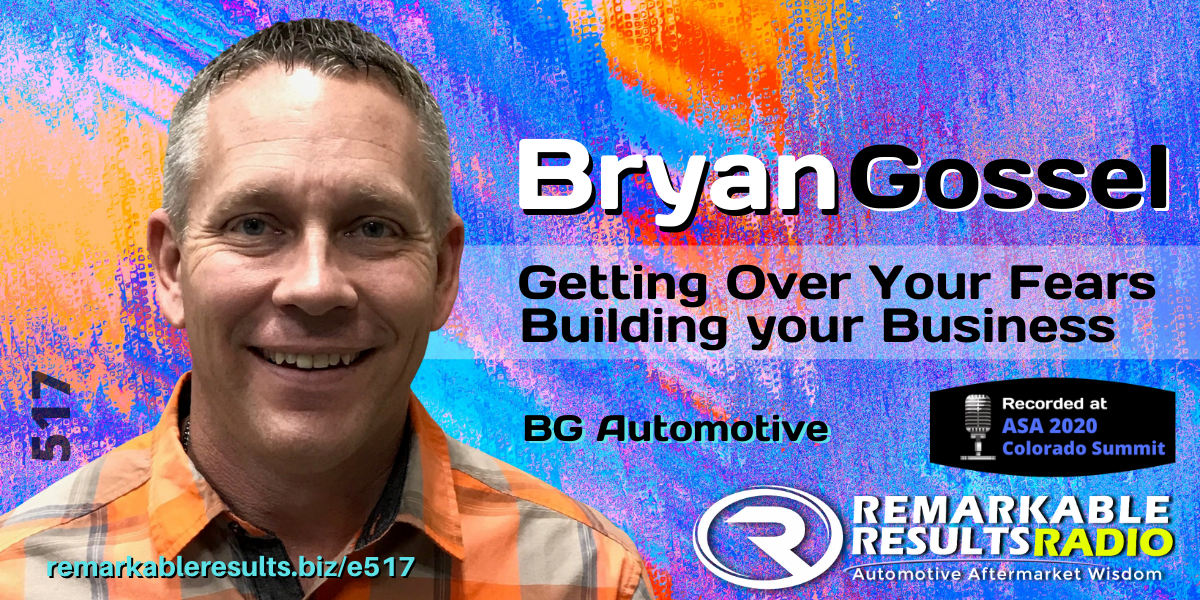 Bryan Gossel, BG Automotive, Fort Collins, CO. Brian's Previous Episodes HERE.
Key Talking Points:
Started as technician and service writerNo structure, education, or much training from shop owner
Owner didn't see value in outside training
Bryan exemplified natural leadership, intuition and communication
Partnered together to also buy motorcycle parts and accessory business- had to shut down in 2001
Worked in european shop as technician across street
Stopped being afraidWanted to become shop owner- bought business and is now a multi shop owner
Worked 6am-6pm, ate dinner with family then went back to shop from 9pm-3am for years
Signed up for ATI training program- changed business (margins and labor rates), still part of program
Struggled hiring at first- trial and error, now has hiring manager Phil that fills in his weaknessesIf employees don't know they're getting let go then you failed as manager- write employees up, hold them accountable, should never be surprised
Hard letting go of day to day technician duties- has right team in place to work on business
AdviceListen sooner, pay attention and implement what you learn
If you're not changing you're not growing, if you're not growing you're dying
Resources:
Thanks to Bryan Gossel for his contribution to the aftermarket's premier podcast.
Link to the 'BOOKS' page highlighting all books discussed in the podcast library HERE. Leaders are readers.
Listen for free on Apple Podcasts, Google Podcasts, Spreaker, iHeart Radio, Spotify, Podchaser and many more. Mobile Listening APP's HERE
Find every podcast episode HERE.
Every episode segmented by Series HERE.
Key Word Search HERE.
Love what we do? Buy Carm a cup of coffee HERE.
Be socially involved and in touch with the show:
Facebook Twitter Linked In Email
Join the Ecosystem – Subscribe to the INSIDER NEWSLETTER HERE.

Gold Certification recognizes top tier NAPA AutoCares with a high level of participation in the AutoCare program. The program was built by AutoCare Centers for AutoCare Centers to provide a consistent consumer experience, maximize technology leverage, and reward NAPA's most committed partners. In other words, Gold Certified AutoCare Centers are the standard bearers for the AutoCare brand nationwide. Simply put, the Gold Certified NAPA AutoCare program, powered by your local shop brand, will separate you from the rest helping you boost your bay counts and your average repair orders.
Learn more about NAPA AutoCare, Gold Certification, and the hundreds of other benefits the NAPA family has to offer by talking with your servicing NAPA store or visit www.NAPAAutoCare.com.