Are You Paying for Training? The Right Thing To Do [THA 162]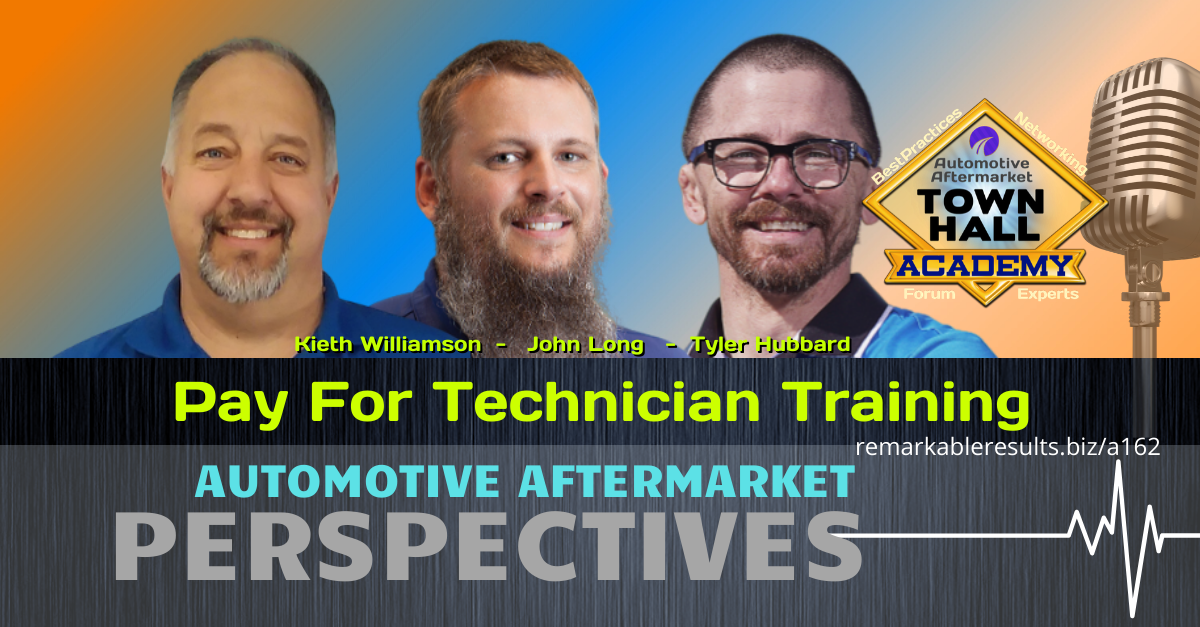 https://youtu.be/IITVoBkJ1-A
Keith Williamson is the owner of Williamson's Repair and Tire in Bondurant, IA for over 20 years. He is a member of MWACA where he leads the Shop Owner Support Group (an amazing group of shops) in Iowa. He and his team focus on the customer experience, as well as Hybrid, Electric and emerging vehicle technologies. He recently added a solar array to his building and uses a Toyota Prius and Chevrolet Volt as shuttle vehicles and plans to add more hybrid and electric vehicles as they continually update their loaner fleet. He is a member of RLO Training's Bottom Line Impact Group for 4 years. Listen to Keith's previous episodes HERE.
John Long started to gain more interest in vehicles and just after his 21stbirthday he accepted a position working at National Tire & Battery as a service advisor. He knew nothing about tires or vehicle systems and how they worked, but he learned as much as he could.
In 2005, John and his wife decided it was time for a move. He arrived in San Antonio late on a Friday night after driving 24 hours straight and interviewed with Mark Roberts on Saturday morning. Mark hired John, and for the next several years he helped grow the new mechanical repair shop business. Listen to John's previous episodes HERE.
Tyler Hubbard is the owner, I-70 Auto Service, Kansas City, MO. Listen to Tyler's previous episodes HERE.
Key Talking Points:
One of the best ways to grow your technicians is to pay for their training
Consider incentives for the number of hours. See this episode with Bill Hill: FTR 075: Bill Hill – Yearly Bonus is All About a Commitment to Training
Promote to your customer that you are closed for trainingLet them know of your commitment to stay on the cutting edge
Use your invoices, signs and social media to promote your training commitment
The best networking happens at the breaks and in social events during any conference, especially at Vision
When back at work hold lunch and learns and share what each other learned and what resources are available.When you teach you learn
Hold deep discussions on what each learned. Do this over a few weeks so you can spend some quality time on each lesson
Team bonding is at an all-time high when you bring your team to a training conference.
Some techs will leave shops when they will not pay for their training
Be sure that your techs all go to different classes
Lunch and learn where your techs share new ideas that they discovered or learned. Make this a part of your meetings
How do we test if the training worked
You need to want to see your people be successful
Track comebacks to find weaknesses in training
Training saves your tech time. Time is money
If you are going to provide the best customer service, not training your techs hurts that commitment
You gain a competitive advantage with your commitment to training
You need to fix yourself and then you'll find better ways to build a better business
Investment in training as a percent of sales needs to be budgeted
John Long spent $90,000 on training. It was 3% of his business
Techs want to be trained. If they don't it is time for them to find another shop
Every position in the company needs to be trained: CEO, Service Advisor, Technicians and back office
Hire a business coach to help you run a better business and hold you accountable
Training hours per year required and reviewed each quarter. Many owners pay an incentive to hit their training goals
Careful. Not all training is good training. Don't stop training if you have a bad experience, but learn about trainers, venues and content
How to:Put monies away for training: Scrap iron can be used to fund training
Supplier rebate's (debit cards used to pay for training)Parts suppliers and dealers have rebates.
Suppliers have great training. Partner with your suppliers to bring in the training you need
Local and regional training comes to your city. You do not have to always go to national events
Gather your local shop owners and bring in a national trainer
In house training with a top diagnostician to teach your B and C techs
Build training into your labor rate. No customer will notice
If you pay for training you can go on better vacations
Resources:
Facebook Twitter Linked In Email
Join the Ecosystem – Subscribe to the INSIDER NEWSLETTER HERE.

This episode is brought to you by Shop-Ware Shop Management. It's time to run your business at its fullest potential with the industry's leading technology. Shop-Ware Shop Management will increase your efficiency with lightning-fast workflows, help your staff capture more sales every day, and create very happy customers who promote your business. Shops running Shop-Ware have More Time and generate More Profit—join them! Schedule a free live demonstration and find out how 30 minutes can transform your shop at shop-ware.com