Kelly Moore – Enticing our Youth to have a Career in the Aftermarket [RR 518]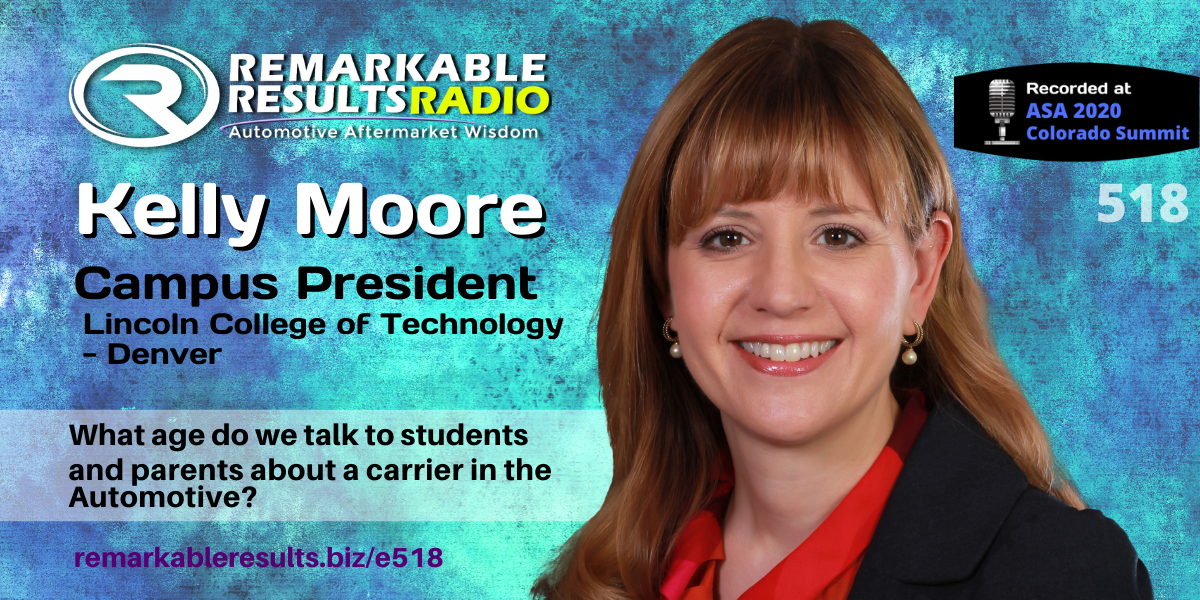 Kelly Moore
Dr. Kelly Thumm Moore has over 20 years of experience in the career-focused higher education industry. She currently serves at Campus President for Lincoln College of Technology – Denver, a career-focused college offering certificate and degree programs in the automotive and skilled trades fields. Her previous experience includes presidencies for Westwood College and Career Colleges of Chicago, institutions offering career-focused curriculums in allied health, IT, design, construction management, business, court reporting and paralegal. Dr. Moore began her professional career with Northern Arizona University and DePaul University in Student Affairs, General Counsel, Business & Finance and Internal Audit departments. She currently serves on the Board of the Colorado Chamber of Commerce and Colorado Association of Career Colleges & Schools (CACCS).
Dr. Moore holds a doctorate in higher education management from the University of Pennsylvania, an M.S. in public service management and a B.A. in history from DePaul University and a paralegal certificate from Roosevelt University.
Key Talking Points:
Colorado changed legislation 3 years ago

Require high schools to talk about opportunities after HS beyond a traditional 4-year college degree

Sponsored by a legislator who owned a construction company that couldn't find employees

Mid 1980s-1990's high schools change out automotive shops to computer labs- took away opportunity and exposure

A shift from focusing on college preparedness to workforce development- internships, apprenticeships, etc

On-campus events for students and parents- annual car show, community events, open houses

Two critical ages when kids are thinking about their future- 6th grade and 10th grade, parents can ignite their passion by giving them plastic engines to build and run and look into hands-on summer camps

Retention- the majority of students go to dealerships because readily available (dealerships attend career fairs more than independent shops)

Encourage more people to join industry especially women- Women student population grew from 5% to 8%
Resources:
Thanks to Kelly Moore for her contribution to the aftermarket's premier podcast.
Link to the 'BOOKS' page highlighting all books discussed in the podcast library HERE. Leaders are readers.
Love what we do, buy a cup of coffee HERE.
Be socially involved and in touch with the show:
Facebook Twitter Linked In Email
Listen for free on Apple Podcasts, Google Podcasts, Spreaker, iHeart Radio, Spotify, Podchaser and many more. Mobile Listening APP's HERE
Join the Ecosystem – Subscribe to the INSIDER NEWSLETTER HERE.
This episode is brought to you by AAPEX, the Automotive Aftermarket Products Expo. AAPEX represents the $740 billion global automotive aftermarket industry and has everything you need to stay ahead of the curve. With 2,500 exhibiting companies, you'll see the latest products, parts, and technologies for your business. As a result, the event also offers advanced training for shop owners, technicians, warehouse distributors (WDs) and auto parts retailers, as well as networking opportunities to grow your business. AAPEX 2020 will take place Tuesday, Nov. 3 through Thursday, Nov. 5, at the Sands Expo in Las Vegas. Therefore, more than 48,000 targeted buyers are expected to attend, and approximately 162,000 automotive aftermarket professionals. They will be from 135 countries which are projected to be in Las Vegas during AAPEX 2020. For information, visit aapexshow.com