Becoming a LEAN Technician [RR 520]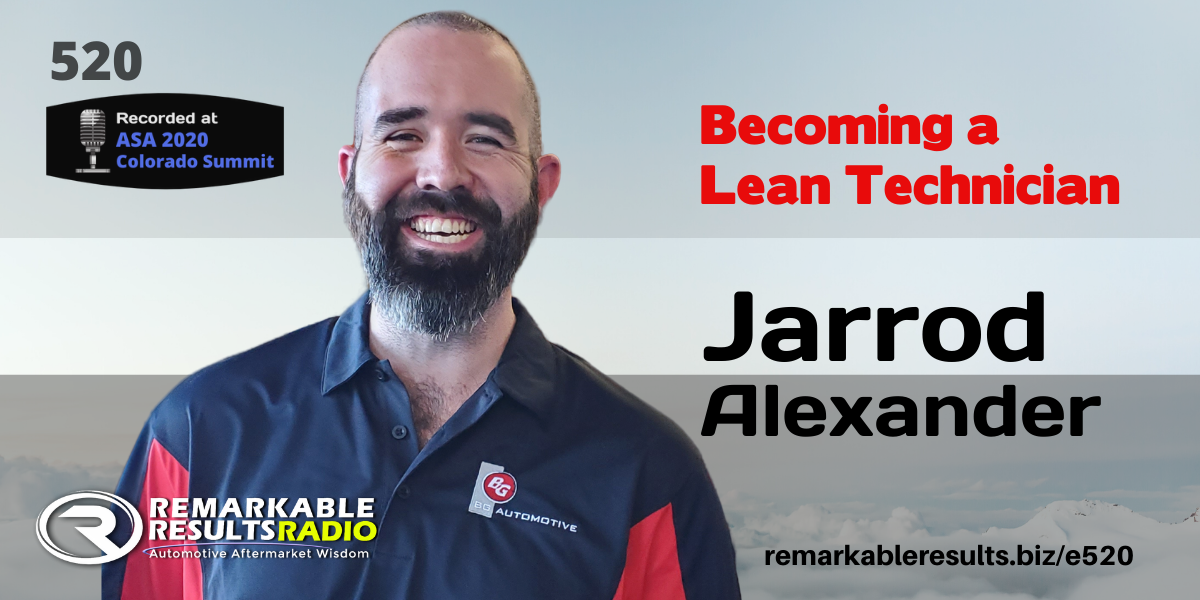 Jarrod Alexander from BG Automotive, Fort Collins, CO.
Jarrod shares his experience with his first-ever training seminar on becoming a 'LEAN' technician.
Key Talking Points:
Technician to trainer at ASA ColoradoAlways strives to be efficient technician, servicing customers
Started to have health issues- forced to slow down and work smarter not harder
Owner signed Jarrod up to teach- always wanted to teach and felt honored
Attended over 100 training classes as a participant
Nervous and terrified for the first 15 minutes of first class then experience clicked in and felt very comfortable and natural- positive interaction with participants
"How to be a lean technician"Finding the times when you're losing 5-15 mins in between parts/work orders/overstepping sold diagnostic times
Look forward through the process before you start- have systems and processes in place prior, preplanned
Organize toolbox and environment around you to manage time- everything has a home
Takes the support of the entire team to make it work
The goal of the class was to have it interactive with the involvement of participants
In an 8 hour day if you save 5-10mins an hour you end up with an extra 45 mins to do another job or inspection
Resources:
Thanks to Jarrod Alexander for his contribution to the aftermarket's premier podcast.
Link to the 'BOOKS' page highlighting all books discussed in the podcast library HERE. Leaders are readers.
Love what we do, buy a cup of coffee HERE.
Be socially involved and in touch with the show:
Facebook Twitter Linked In Email
Listen for free on Apple Podcasts, Google Podcasts, Spreaker, iHeart Radio, Spotify, Podchaser and many more. Mobile Listening APP's HERE
Join the Ecosystem – Subscribe to the INSIDER NEWSLETTER HERE.
This episode is brought to you by AAPEX, the Automotive Aftermarket Products Expo. AAPEX represents the $740 billion global automotive aftermarket industry and has everything you need to stay ahead of the curve. With 2,500 exhibiting companies, you'll see the latest products, parts, and technologies for your business. As a result, the event also offers advanced training for shop owners, technicians, warehouse distributors (WDs) and auto parts retailers, as well as networking opportunities to grow your business. AAPEX 2020 will take place Tuesday, Nov. 3 through Thursday, Nov. 5, at the Sands Expo in Las Vegas. Therefore, more than 48,000 targeted buyers are expected to attend, and approximately 162,000 automotive aftermarket professionals. They will be from 135 countries which are projected to be in Las Vegas during AAPEX 2020. For information, visit aapexshow.com