Covid-19 Think Tank Panel Discussion for Unprecedented Times [Bonus 05]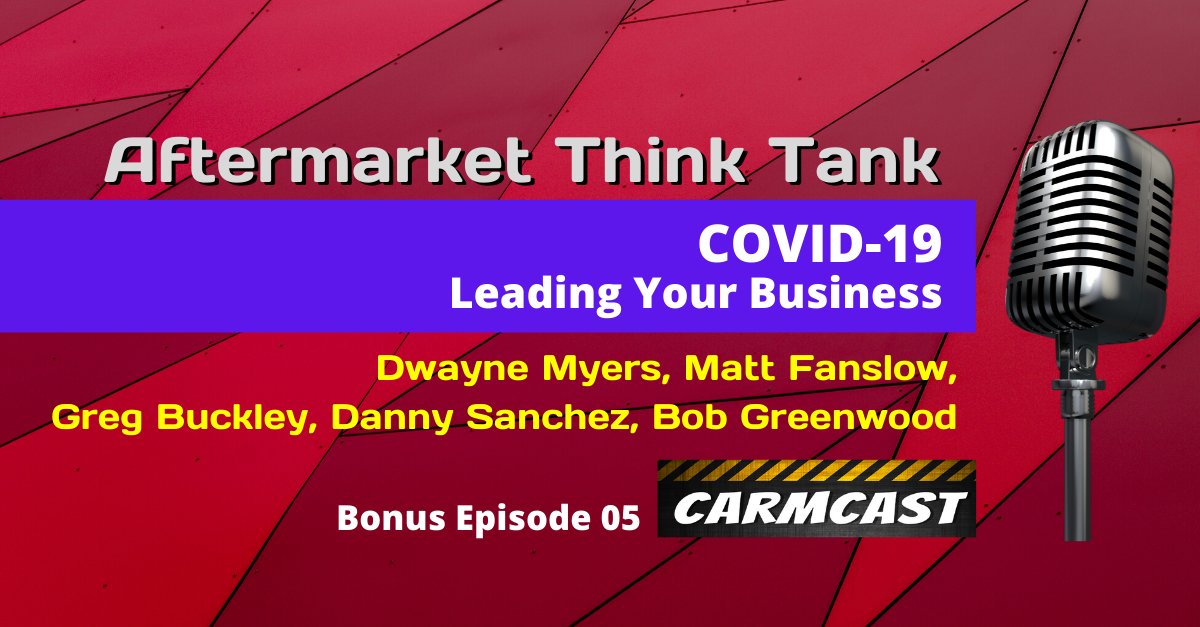 This is a bonus episode number 5 and a replay of a CarmCast I did this past week. Because we are in unprecedented times I decided to release this special CarmCast as a podcast of a Covid-19 Thinktank from March 18th.
For many aftermarket professionals, you've prepared for an event like this. Your disaster plan may have not been completely defined as a 'pandemic' where the government-imposed restrictions, but you've planned for a rainy day disaster. You've kept an amount of cash in a separate account to help sustain the business for months of possible disaster. You've improved your processes and systems and removed yourself as the centerpiece of your business. You delegated your people to run the business.
For many small shop owners, you've learned how to implement smart practices and holding yourself accountable. You've joined networking groups, maybe even hired a coach to bring business acumen to your world.
If you've done a lot to become a better marketer and leader you'll be OK. If not, it is not too late. There is some good business advice in this episode, that if you implement it you will come out the other side of this Covid-19 challenge.
The essence of the over 745 podcast episodes from all our show formats is to build a strong business. The messages are spot on and for many influential.
Keep in mind it is still not too late to do the right things for your family, employees, business and customers. If there is anything I can do to help you … like find a peer network, talk to a friend, find a coach join an association …. reach out to me carm@remarkableresults.biz.
With me in this think are two shop owners, a technician/manager, a business coach and an IT specialist on a think tank format.
You'll value this discussion with Dwayne Myers, Greg Buckley, Matt Fanslow, Danny Sanchez and Bob Greenwood. …. and my pledge to keep you flowing with thoughts and ideas from your fellow colleagues continues.
Please listen to learn just one thing and then implement it.
Resources:
Thanks to Bob Greenwood, Dwayne Myers, Matt Fanslow, Greg Buckley and Danny Sanchez for their contribution to the aftermarket's premier podcast.
Link to the 'BOOKS' page highlighting all books discussed in the podcast library HERE. Leaders are readers.
Listen for free on Apple Podcasts, Google Podcasts, Spreaker, iHeart Radio, Spotify, Podchaser and many more. Mobile Listening APP's HERE
Find every podcast episode HERE.
Every episode segmented by Series HERE.
Key Word Search HERE.
Love what we do? Buy Carm a cup of coffee HERE.
Be socially involved and in touch with the show:
Facebook Twitter Linked In Email
Join the Ecosystem – Subscribe to the INSIDER NEWSLETTER HERE.