Automotive Instructors Move to Online Training Amid Pandemic [RR 523 ]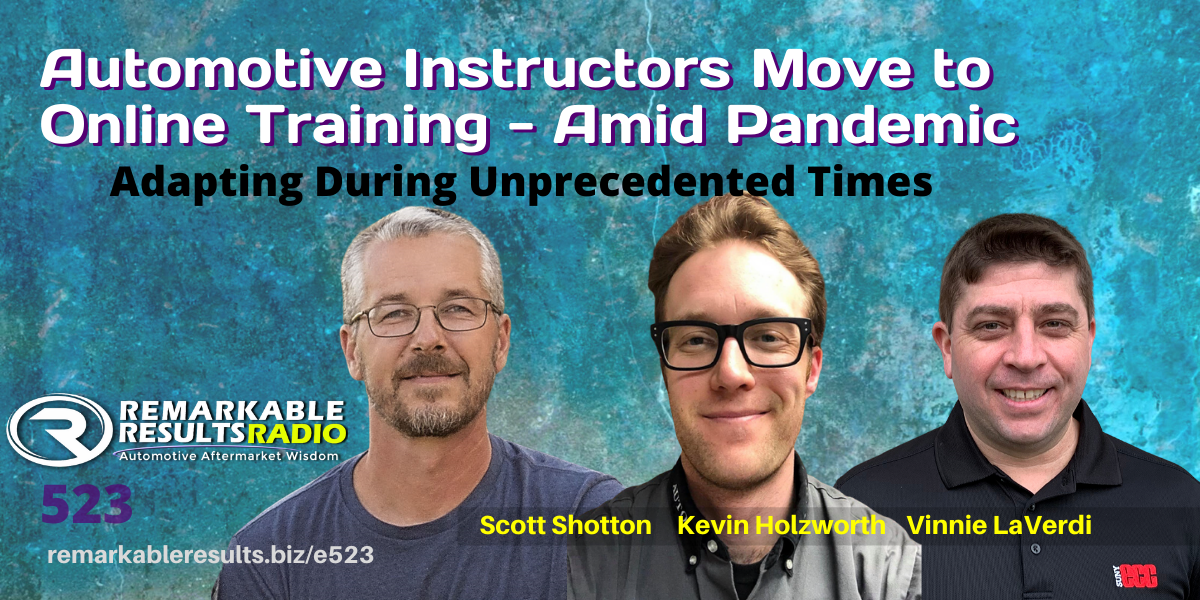 Kevin Holzworth, is currently working as an Assistant Professor of Automotive Technology at Montana State University-Northern in Havre, MT. Kevin started his career at MSU-Northern where he earned his 4-year undergraduate degree in Automotive Technology. Upon graduation, Kevin went to work as a technician at Ressler Motors in Bozeman, MT for 5 years. Throughout his tenure at Ressler, he earned Master Toyota Technician status and became a shop team leader. After his tenure as a technician, he returned to MSU-Northern and began his teaching career and now has 4 years under his belt. Additionally, he owns and operates a mobile air conditioning business where he services auto, ag. and semi-truck applications. Kevin's previous episodes HERE.
Vincent 'Vinnie' LaVerdi, is an instructor of Automotive Technology at the State University of NY (SUNY) – Erie in Orchard Park, NY. Vinnie has been an automotive instructor at SUNY Erie for three years. He previously worked as an Instructor at Alfred State College of Technology, another SUNY school. Vinnie has an associate's degree from Alfred State in Automotive Technology and worked in the Automotive Industry for twenty years as a General Motors Technician. He attended the Career and Technical Education program at Buffalo State College to prepare for his teaching career.
Vinnie has enjoyed the transition from technician to teacher and is working hard to bring as much technology to the classroom as possible. Vinnie's previous episodes HERE.
Scott Shotton, the owner of The Driveability Guys, Scott performs mobile diagnostics and reprogramming for local repair shops in the DeKalb Illinois area as well as industry training around the United States and Canada. Scott has been an automotive instructor at Kishwaukee College since 2009. Prior to Kishwaukee College, Scott was adjunct faculty at the College of DuPage for 7 years. Scott's previous episodes HERE.
Key Talking Points:
Shutdowns and social distancing has posed a challenge for continual skilled trades training
Ideas, in the beginning, were to have smaller classes
Using a Learning Management System (LMS) to drive the learning more now than ever
Kevin is asking his students to do a complete component ID via their smartphone
How does a diagnostic instructor complete a lab class?Scan data, scope captures
Bright Space, Blackboard are LMS's that colleges use
Group messaging
Using a screen recorder and recording voice will complete the lecture part
Demo videos
Vinnie is doing voice-over powerpoints to put onlineKeeping them at 15 minutes
Edpuzzle is software Vinnie uses along with Electude
Kevin is requiring his students to take notes using the Cornell Note-taking SystemLink to Cornell Notes: http://lsc.cornell.edu/study-skills/cornell-note-taking-system/
Publishers are stepping to the platePearson.com (find resources)
Electude.com (free trial link)
Halderman books (glen@jameshalderman.com)
Paul 'Scanner' Danner (support@scannerdanner.com)
Classroom webcam broadcast by Kevin
They are prepared for this diversion to last until the end of the semester
They are working to get their seniors their degree anyway then can
Make a 'contract with the instructor' to complete your schoolingMaybe special assignments
Possibly summertime
Instructors are forced to use more online tools, however, the hands-on element is necessary for any skilled trade trainingThis team does not see virtual happening
Students need access to service information to answer certain test questions. They may not have access at their homes
Kevin has his students on a snap chat groupTake pics of work you do at your part-time job
New shocks put on. Show proof. This may count toward credit
Vinnie has their own google page and creates albums on the cars they work onIt also provides content for Vinnie
In his teams, he had a QC person and a media person who is documenting the repair
Do you share your cell phone with your students?Kevin shares his
Scott is not sure what he would do
Resources:
Thanks to Kevin Holzworth, Vincent LaVerdi and Scott Shotton for their contribution to the aftermarket's premier podcast.
Link to the 'BOOKS' page highlighting all books discussed in the podcast library HERE. Leaders are readers.
Listen for free on Apple Podcasts, Google Podcasts, Spreaker, iHeart Radio, Spotify, Podchaser and many more. Mobile Listening APP's HERE
Find every podcast episode HERE.
Every episode segmented by Series HERE.
Key Word Search HERE.
Love what we do? Buy Carm a cup of coffee HERE.
Be socially involved and in touch with the show:
Facebook Twitter Linked In Email
Join the Ecosystem – Subscribe to the INSIDER NEWSLETTER HERE.

NAPA AutoCare's PROimage program makes it easy for you to make the most of the NAPA brand. A PROimage upgrade lets you maintain your shop's identity as a reliable, locally-owned business while letting your customers and potential customers know you're partnering with NAPA, the most recognized and trusted name in the automotive aftermarket. AutoCare Centers that have completed a PROimage exterior upgrade enjoy an average 23 percent sales increase during the first year. You can also choose to go PROimage on the interior and transform your customer waiting area from merely utilitarian to warm and welcoming. You can even get a free look by visting www.NAPAAutoCare.com and clicking on the NAPA PROimage link under the NAPA PROimage tab. Of course, the AutoCare site is also the place to go to find out about all the advantages being part of the NAPA family has to offer.
Learn more about PROimage and the hundreds of other benefits NAPA offers. Talk with your servicing NAPA store or visit www.NAPAAutoCare.com