Stop Quoting Price Over the Phone – Maylan Newton [FTR 091]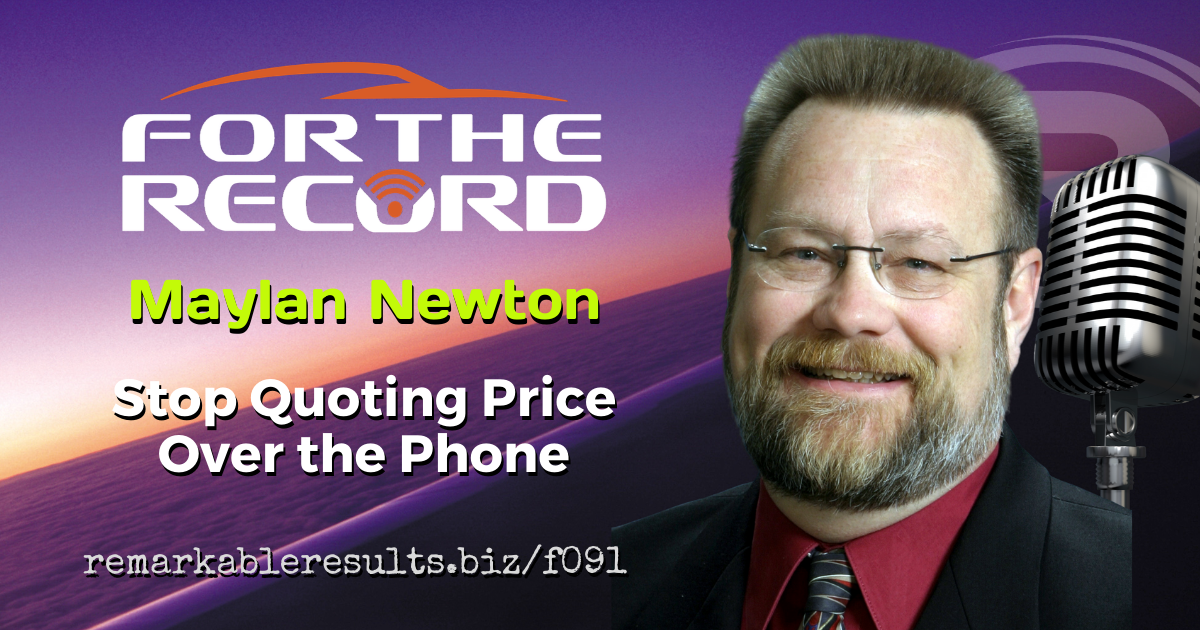 Maylan Newton from ESI – Educational Seminars Institute is a business coach, trainer and industry speaker. Maylan is no stranger to the podcast having paid it forward many times. He is a much sought our speaker at industry events in the US. Find Maylan's previous episodes HERE.
"He is 'just a car guy' with lots of knowledge and is brave enough to talk about it". Maylan's purpose is to educate leaders to be a better owner or service writer.
Talking Points:
Get Away from the Price Driven model of Business and get back to the Quality and Relationship Business
Stop quoting price over the phone
If you quote a price, make it the last thing you do not the first
You don't have to be cheap to be busy
Price can be 6th or 7th on a customers list of needs
When you quote a price over the phone you are setting up to be a more difficult repair process and saleWhat happened to the quote you gave me
The service write needs skill to not quote a price over the phone
Vehicles are too complex and sophisticated to quote a price over the phoneIt is not your dad's Oldsmobile
We are cannibalizing our industry by quoting a price
Do you really want the customer who wants the lowest price?
In today's climate spend extra effort to tell the customers about your touchless transaction and the sanitizing efforts you are putting forth
If customers wanted a cheap price there would not be top shops out there not dealing with price first
We need to show the value of what we do and be proud of our investments in people, training and equipment
Be socially involved and in touch with the show:
Facebook Twitter Linked In Email
Listen for free on Apple Podcasts, Google Podcasts, Spreaker, iHeart Radio, Spotify, Podchaser and many more. Mobile Listening APP's HERE
Join the Ecosystem – Subscribe to the INSIDER NEWSLETTER HERE.

Savvy shop owners use vehicle inspections to find additional work on a vehicle that the vehicle owner may not know is needed. The most successful shop owners fully inspect every car, every time. It benefits the vehicle owner more than the shop because most vehicle owners want their autos to be reliable. FlexCheck Auto takes the power of a shop's inspection process and puts it in the palm of your technician's hand so that pictures, video, and vehicle-specific notes about a vehicle's condition can be shared quickly with vehicle owners. It improves technician efficiency in the bays, service writer efficiency at the counter, increases average repair order and builds trust with vehicle owners. Today's vehicle owners want to receive their vehicle's health status electronically, this makes FlexCheck Auto the most transparent way to do sell auto repair. Try it for free for 30 days! Go to FlexCheckAuto.com to learn more.