Lift Safety with Rick White [RR 522]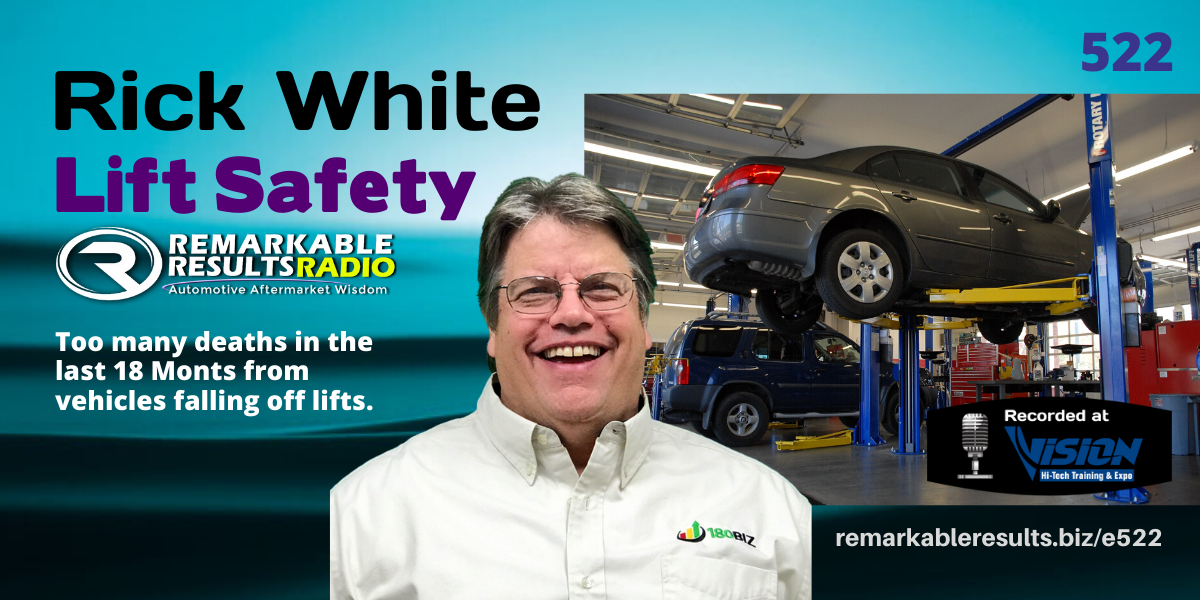 Rick White, President and Lead Coach for 180BIZ, an auto repair shop training and business coaching company. He also owned and managed several successful automotive repair shops.
Early in his career, Rick got his arm stuck under a vehicle while working underneath it. He managed to get out safely but it was a wake up call to him and for all of us as well. This is everyone's concern. There are too many distractions like cell phones, tablets, lackadaisical attitude of it never happening, not focused on job at task, talking to tech next to them and a whole lot more. We need to follow lift maintenance schedules religiously and document every procedure in order to check work properly.
Rick White's Previous Episodes HERE.
Key Talking Points:
Lift safety- if you don't talk about it and acknowledge it you are building risk
Rick read about a tech that got killed by car falling off lift onto him in Richmond Virginia
Last 18 months: 17 deaths from cars falling off lifts
Early in his career, Rick was working on a vehicle by himself on the ground, arm got stuck but was able to get out safely- wake up call from beginning
Too many distractions- cell phones, tablets, lackadaisical attitude of it never happening, not focused on the job at task, talking to tech next to them
Customers are trusting you with their lives when they hand you the keys
Need to implement an annual training program for everyone in the shop Autolift.org- certification program $16 per tech
Visually inspect lift contact point, lift car and wiggle to ensure it settles and isn't moving, safety latches are on
Must follow maintenance schedule on lift- inspecting and checking fluids daily
Have procedures in place in order to double-check work- tire safety: have tech document torque and road test
If you get interrupted during job: document last thing you did on repair order/tablet etc then document what you were going to do nextWhen you get interrupted takes up to 20 minutes to get back into productive mode
Be engaged with NOW- "Carpe diem, quam minimum credula postero"Pluck the day- stop to pull some flowers, be present
Use a buddy system- do not work on a vehicle by yourself, have cameras
We work to live, we don't live to work
Link for on-line lift certification:https://www.autolift.org/ali-store/lifting-it-right-online-edition/
Resources:
Thanks to Rick White for his contribution to the aftermarket's premier podcast.
Link to the 'BOOKS' page highlighting all books discussed in the podcast library HERE. Leaders are readers.
Love what we do, buy a cup of coffee HERE.
Be socially involved and in touch with the show:
Facebook Twitter Linked In Email
Listen for free on Apple Podcasts, Google Podcasts, Spreaker, iHeart Radio, Spotify, Podchaser and many more. Mobile Listening APP's HERE
Join the Ecosystem – Subscribe to the INSIDER NEWSLETTER HERE.
This episode is brought to you by AAPEX, the Automotive Aftermarket Products Expo. AAPEX represents the $740 billion global automotive aftermarket industry and has everything you need to stay ahead of the curve. With 2,500 exhibiting companies, you'll see the latest products, parts, and technologies for your business. As a result, the event also offers advanced training for shop owners, technicians, warehouse distributors (WDs) and auto parts retailers, as well as networking opportunities to grow your business. AAPEX 2020 will take place Tuesday, Nov. 3 through Thursday, Nov. 5, 2020 at the Sands Expo in Las Vegas. Therefore, more than 48,000 targeted buyers are expected to attend, and approximately 162,000 automotive aftermarket professionals. They will be from 135 countries which are projected to be in Las Vegas during AAPEX 2020. For information, visit aapexshow.com