Final Inspection – Quality Controls & Covid-19 [Bonus 07]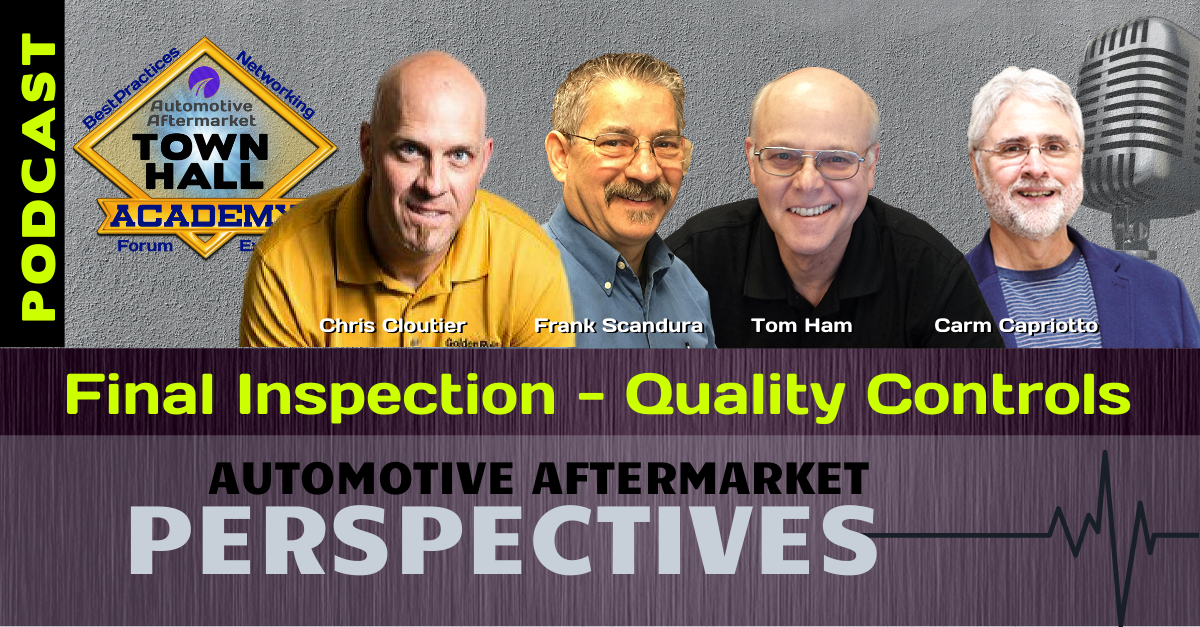 Chris Cloutier, is co-owner of Golden Rule Auto Care in Dallas Texas and CEO of Auto Tex Me. He spent many years in the software industry developing solutions for companies like Southwest Airlines, and Wyndham Intl. He's worked for companies that understood the marriage of service and software, and have applied it in an effective way. Chris has his ASE C1: Automobile Service Consultant Certification Test (C1). He brings the business side to the business and his brother Pat brings the Braun. Chris is also a musician. Hear Chris's previous episodes HERE.Autotex.me website HERE.
Tom Ham, Auto Centric, Grand Rapids, with the help of his wife Deb, is the creator and owner of Automotive Management Network a 12,000 plus member website dedicated to the exchange of vehicle service management information. Tom got his start in the auto service industry pumping gas in the late '60s. Tom and his wife operate Auto Centric, an import specialty shop in Grand Rapids, MI. Tom and Deb have five children including two sons and a daughter who served in the Iraq War as U.S. Marines. He writes extensively on industry topics. Discover Tom's previous episodes HERE.
Frank Scandura, Franks European, Las Vegas, NV started working on cars as a teenager in upstate New York and moved to Las Vegas in 1988. After years of writing service for Mercedes, he opened Frank's European service in 2001 and grew to a 12,000-square foot, 10 bay shop in the northwest part of Las Vegas, not far from the famous Strip! He has 15 team members and is partnered with his wife Deborah. From his first immersion, in the business, pumping gas at 15 years old in Orange County New York, to writing service at a Mercedes dealer in Las Vegas Frank Scandura shares his business acumen and offers insights and trends on leadership as a business coach. Frank's previous episodes HERE.
Talking Points:
Covid-19 was a critical talking points as this live broadcast was at a critical time as some states are asking 100% of people to stay at home.Critical to make plans to survive Covid-19. Short, medium and long-range plans
Stay nimble and be able to move. Protect your family, your team, your business
Take care of the community and be a transportation hub
In every situation, there is plenty of opportunities
On the other side of this pandemic, we will get a lot of opportunities
As small businesses, we can change quickly
Adjust your marketing
Final Quality Controls to deliver vehicles in better shape than when it arrived
Create the habit
Add disinfectants because of Covid-19
Some shop owners argue that we don't to final inspections because if we find a problem we don't want to hurt the feelings of our peopleIf you want people to like you sell ice cream. 'Steve Jobs'
Don't do an inspection to catch your people doing something wrong. Use it to improve your systems, processes and to reduce mistakes. We are human.
Customers will quality control their own car. Don't let them find something on their own.
Part of the QC is to be sure pictures are taken of vehicle components to create a base case.
The QC is dynamic and will change as issues ariseAdd and subtract to the list through a solid review of every step
Your own QC controls as an owner should be audits of tickets from birth to death to be sure all your systems/processes are working
We may not expect enough from our people. We set our expectations too low
In the final QC you will catch a lot. Remember a human is doing the QC review. They will make mistakes. But the goal is to catch 95% or more. You have to QC the QCOnce you let one of the steps go it will become 'non-important'
Start by making a commitment to do Final QCInvolve your people. They know what needs to be done
Chris likes his service advisors to do the QC because they feel the pain with the customer when they find a problem. Technicians do not see the pain from customers when they find a problem.
Being an above average shop will create survivorship opportunities. Being mediocre will not cut it
You can't do a Final QC on most cars. It must happen on every car. No exceptions. This keeps the discipline and habit goingIf a car has a ticket it gets a QC
Covid-19Sanitizers on customer keys, gloves, counter wipe downs.
Protect team and clients
Wipe customer car when it arrives wearing gloves
Take a video and show your customer what you do. Post on social media
We will come to your house, wipe down your car and deliver it back.The transaction can be totally done on-line
Your software, texting, pay by text are all great tools to use
Relieve the fear of your customer. Show them. Tell them.
Ask your team if they are OK coming into workConsider their extended family
Set deliveries on the side
Have disciplines with your parts suppliers
Everything that enters your domain must be scrutinized
Having a team meeting often to discuss how the business will sustain with the most employed need to be talked about.
Adjust your marketing. Be positive. Call them to tell them what you are doing
There could be parts shortages and increased prices coming
Links to the lists Chris Cloutier mentions:https://www.autotext.me/wp-content/uploads/2017/12/QCChecklist.docx
Resources:
Facebook Twitter Linked In Email
Join the Ecosystem – Subscribe to the INSIDER NEWSLETTER HERE.

This episode is brought to you by Shop-Ware Shop Management. It's time to run your business at its fullest potential with the industry's leading technology. Shop-Ware Shop Management will increase your efficiency with lightning-fast workflows, help your staff capture more sales every day, and create very happy customers who promote your business. Shops running Shop-Ware have More Time and generate More Profit—join them! Schedule a free live demonstration and find out how 30 minutes can transform your shop at shop-ware.com