Do You Understand Your Role? [RR 527]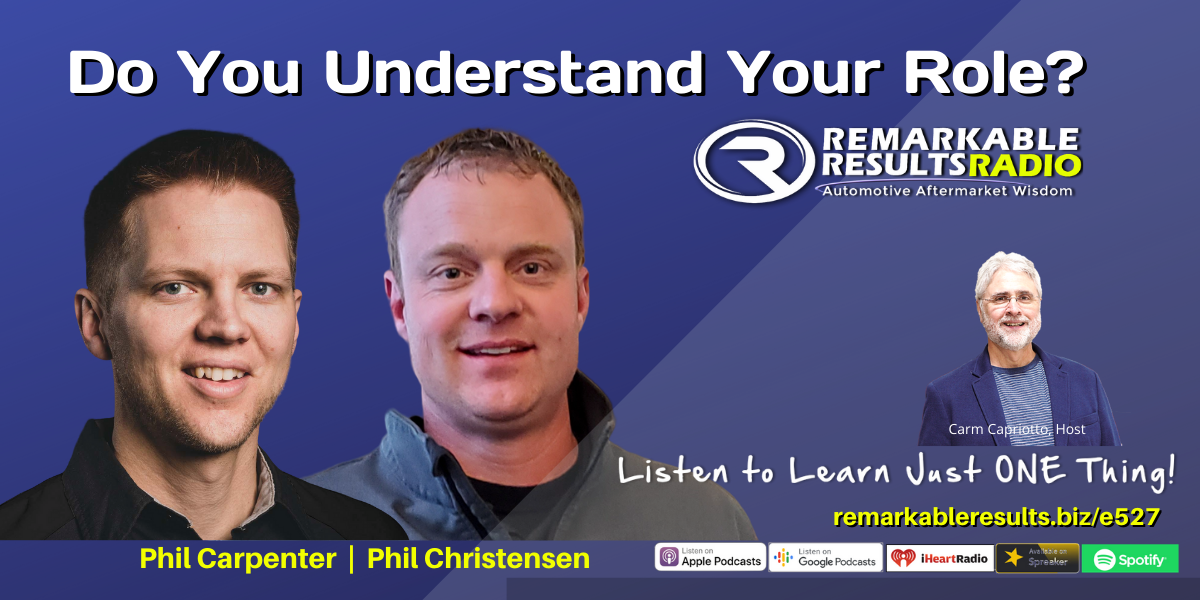 Philip Christensen started his automotive career in 1997 with the world's largest independently owned tire company. From there he worked his way through there apprenticeship, and management programs. In 2012 Phil joined BG Automotive which was a 4 person operation at the time. Today he has helped grow it to 3 dentations and 28 team members producing over 6 million in top-line sales. Throughout his time at BG automotive they have continued to be on ATI's top shop list, along with many other local and national nominations and awards.
Phil Carpenter has been in the automotive industry since 2002 however his passion for Automotive started much earlier. He bought his first vehicle at 14 years old and still has it, a 1959 Chevy Pickup. He has spent time as an Audi Certified Technician, Service Advisor, Parts Specialist, Service Manager, General Manager and currently, is the Director of Operations at Urban Autocare and Avalon Motorsports in Denver, CO (four locations). His credentials include an ASE Master Certification as well as an Associates Degree in Automotive Technology. Phil was Brian Sump's first employee at Avalon Motorsports and since has led his team to win many industry awards as an independent shop manager including Motor Age Top 10, BBB Torch Award and other community awards. He is the President of the Mechanical Division for ASA Colorado.
Talking points:
Role as key leader in company with the owner
Hired to manage the team that benefits customers, employees, and company as a whole
Allow other employee's voices to be heard with the freedom to implement processes
Constant communication with each location- morning huddles, online meetings, etc
Will often pitch in when needed and able to access job role- leading from sideline without being i n the field can be challenging, can be a good reminder in order to be a better leader, empathy
Frees owner from day to day duties, allows owners to develop big ideas and vision, be involved in community and recruit
Monitor KPI's and ROI's- team effort
Performance reviews- ongoing conversations, if you don't address issues right away then you're validating them, 2-way conversation, value feedback from employees
Place key leaders in 20 groups, cross-train employees within the company to different locations
ChallengesAlways hiring and recruiting- conducting proper interviews, make sure culture fits with the candidate prior to hiring
Dynamics within the company- personality evaluations with staging employees
StaffingSome were outside employees that assimilated to culture- one on one coaching and training programs
Grown own within the company- set personal goals and helped employees reach goals
AdviceMake the unpopular decision sooner- sometimes hinder growth because too cautious, made decision anyway in order to move forward
Be bolder- don't hesitate from what you need to do, speak your mind and follow your gut
Resources:
Thanks to Phil Carpenter and Phil Christensen for their contribution to the aftermarket's premier podcast.
Link to the 'BOOKS' page highlighting all books discussed in the podcast library HERE. Leaders are readers.
Listen for free on Apple Podcasts, Google Podcasts, Spreaker, iHeart Radio, Spotify, Podchaser and many more. Mobile Listening APP's HERE
Find every podcast episode HERE.
Every episode segmented by Series HERE.
Key Word Search HERE.
Love what we do? Buy Carm a cup of coffee HERE.
Be socially involved and in touch with the show:
Facebook Twitter Linked In Email
Join the Ecosystem – Subscribe to the INSIDER NEWSLETTER HERE.

Since 1989 TRACS has been the industry's leading shop management system. And in the last 30 years it's gotten better and better. Today TRACS Enterprise offers even more of the features AutoCare Center owners want—things like a powerful interactive scheduling calendar, faster and streamlined work flow, plus streamlined parts ordering and purchasing options. And there's more—Punch-out to Mitchell ProDemand, mobile VIN capture, and multi-shop capabilities. That means you can count on TRACS Enterprise to help drive your success today and well into the future.
Learn more about TRACS Enterprise and the hundreds of other benefits the NAPA family has to offer. Talk with your servicing NAPA store or visit www.NAPAAutoCare.com.