Success Stories from the Coaching Front-lines [THA 167]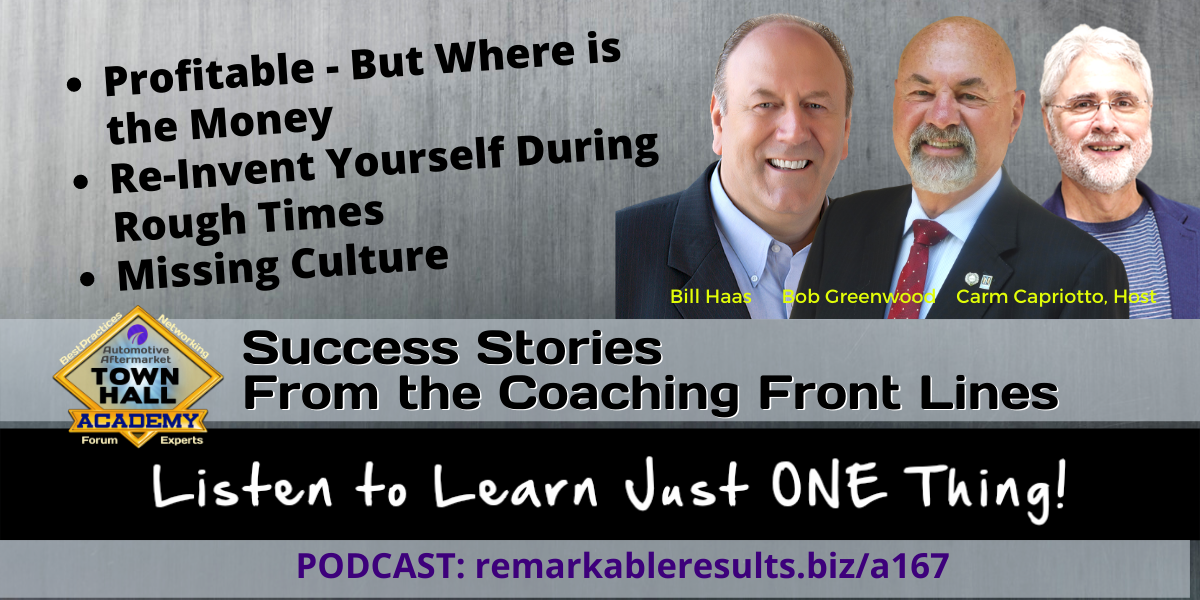 Bill Haas, AAM, is the owner of Haas performance consulting LLC, with 40 years of experience in the automotive service and repair industry. Clients have access to Bill's solution-based focus, expertise, unique perspectives and in-depth knowledge of the industry.
Bill began his career working part-time at a full-service gasoline station in Appleton, Wisconsin. His career includes time as a technician, shop owner, technical trainer and on the staff of the automotive industry's oldest and largest association representing automotive service and collision repair businesses. While at the association Bill had the opportunity to work with all segments of the industry.
His knowledge of the industry has been shared on many occasions as he has been invited to speak at numerous industry events as well as providing testimony at hearings of the US Congress and several state legislatures on important legislation and regulation affecting the automotive industry.
Bill received the Accredited Automotive Manager (AAM) credential from the automotive management institute in 1996 and has been a member of the automotive management institute's faculty since 2002.
Bill is also the business manager for NACAT, the North American Council of Automotive Teachers. His services include business management seminar development and delivery, keynote presentations, business consulting, performance coaching, and strategic planning facilitation. Listen to Bill's previous episodes HERE.
Bob Greenwood, AMAM (Accredited Master Automotive Manager) is President and C.E.O. of Automotive Aftermarket E-Learning Centre Ltd. (AAEC).
It is a company focused on providing Business Management Resources and Development for the Independent Sector of the aftermarket industry. It's content and technology is recognized as part of the curriculum of the Fixed Operations Diploma and the Aftermarket Degree courses taken at the Automotive Business School of Canada at Georgian College located in Barrie Ontario Canada. This school is the leader and only college in Canada that offers an automotive business education. AAEC is also recognized by the Automotive Management Institute (AMI), located in North Richland Hills, Texas USA, allowing 80 credits for successful completion of the AAEC E-Learning portion of the site towards the 120 credits required to obtain the reputable Accredited Automotive Manager (AAM) designation. Bob's previous episodes are HERE.
Key Talking Points:
Bill Haas
A client that didn't make any money, actually losing in one year $40,000He had to infuse his own personal money into the business or borrow
Bill helped the shop owner, over a few years, turn this stop around by a positive $90,000
The owner never believed Bill's advice would help him
In the year he made $50,000 the shop owner was disgusted that he had to pay taxes that he went back to losing money
Bills relationship dissolved
If you are going to ever sell your businesses, buyers need to see a profit to help them understand their ROI. Businesses have a value in the market when they are profitable
Improving business will pay taxes. It isn't a bad thing if you are looking at long-range profitable success
This is a one time client business that Bill has never experienced again
Put your tax money in a special account to the money is there.
Bob Greenwood
When client was hit with Covid-19 his business took a hit
It was time for the owner to relearn his position as an owner
The purpose is to keep the business moving forward, engage the team and make sure they are doing quality work on behalf of the customer
The client had a great base of commercial/fleet accountsReview these accounts for safety and reliability with the fleet client
Visit fleet face to face by keeping your social distance and explain that this downtime can be an advantage for the review of the fleet so when the economy bounces back their fleet will be in great order
Client is now booked out a week and half from having his business dried up
Covid-19 will bring opportunities to rethink how you do business
It is a perfect time to review all systems, processes, procedures, marketing, accounting, and staff among others.
Resources:
Facebook Twitter Linked In Email
Join the Ecosystem – Subscribe to the INSIDER NEWSLETTER HERE.

This episode is brought to you by Shop-Ware Shop Management. It's time to run your business at its fullest potential with the industry's leading technology. Shop-Ware Shop Management will increase your efficiency with lightning-fast workflows, help your staff capture more sales every day, and create very happy customers who promote your business. Shops running Shop-Ware have More Time and generate More Profit—join them! Schedule a free live demonstration and find out how 30 minutes can transform your shop at getshopware.com