Technician Round Table – Part 9 OUTSPOKEN on Training – Heipp – Landry – Fanslow [RR 528]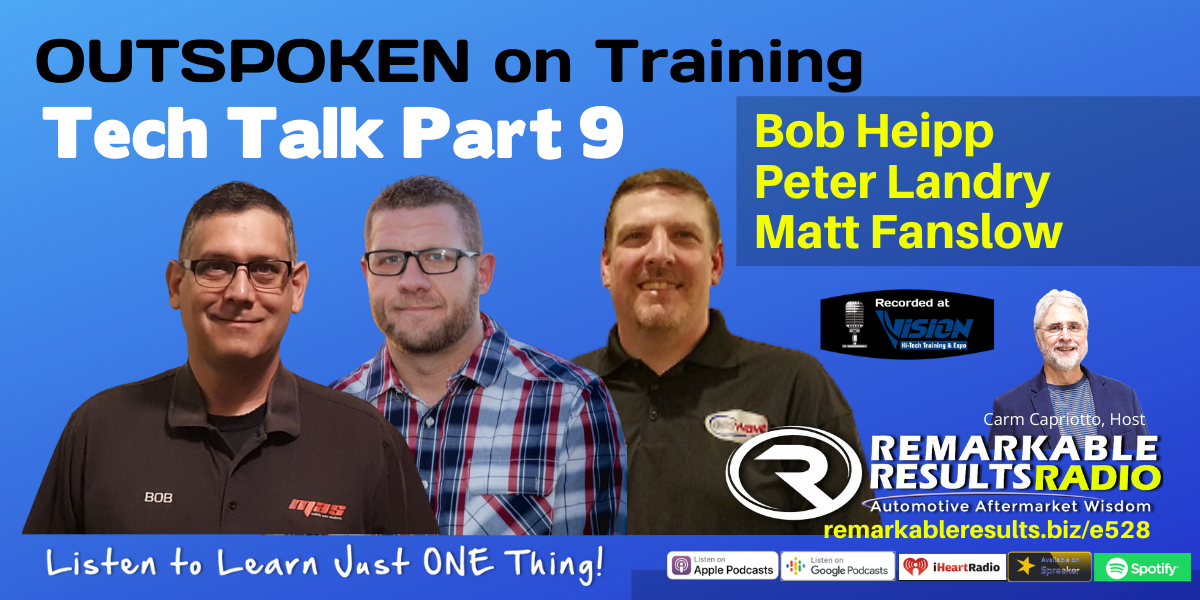 Matt Fanslow is the diagnostic tech/shop manager at Riverside Automotive in Red Wing, MN. His primary responsibilities are to diagnose driveability and electrical/electronic issues, and perform most all programming, coding, initializing, adaptions, etc. Basically, if it needs to be figured out or has wires, it goes to Matt. He's been a tech since 1996.
Matt is also a subject matter expert for ASE and has instructed at Vision Hi-Tech Training and Expo.
Matt has participated on 18 ASE technical committees for the ASE Practice Test, A6, A7, A8, and L1 tests. He's also done case studies for Standard Motor Products.
Fanslow's goal is to do everything in his power to improve the overall level of professionalism within the automotive and light truck repair trade and also raise the level of its public image. Hear Matt in these Remarkable Results Radio Episodes HERE.
Bob Heipp works for Mobile Auto Solutions, LLC as lead tech and Technician Manager in the Chicago metropolitan area and northwest Indiana.
Having accepted a job that required passing an IM240 emission class, he was introduced to new alternatives for diagnostic testing. This spurred a quest for learning.
Bob believes his desire to learn is what opened doors to meeting technicians around the world. Hoping to help so others could have the same opportunities, he partnered with ASA-IL and initiated the CAN Conference after one of his favorite conferences (the Linder Conference) was no longer being presented. He considers these experiences have led him to the opportunity to work for Mobile Auto Solutions. Bob is also a dedicated Vision High Tech Training and Expo attendees. Hear Bob in his own interview and the roundtables HERE.
Peter Landry is an ASE L1 Master Automotive Technician from Brookfield, WI. Peter has a strong automotive background in electronics, network, and driveability diagnostics. His prowess for fixing problem vehicles and passion for staying up on emerging technologies led him from Landry's Mobile Diagnostics, a mobile diagnostics and module programming business servicing the Milwaukee Metro area to working for Mobile Auto Solutions Hear Peter's interviews HERE.
Key Talking Points:
What does it take to be a top technician
The diagnostician is put, sometimes on a pedestal and classified as 'elite'
We cannot forget the value in the R & R technicians.They are important and have different skill sets than a diagnostician
Diagnostician needs the R & R technician to complete many of the jobs that they diagnose.
Bob: Some classes are not good.Some of the best trainers need to be paid a decent wage
Bigger classes and quality of the material either isn't good or not enough time to cover
The higher you get in your ability the less training is there for youThe higher you get the more you see where there is wrong information out there.
"It must be true". Must verify
Peter:Wrong does not mean inaccurate
Some of our best trainers are not compensated enough A lot of work required to become a great trainer
Best way to learn is hands-onThe more senses you use the better for retention
B and C techs are very valuable to a shop. They generate a tone of work and revenue
Identify what type of learner you are:Can you recall where to go for the information
Note-taking
Reading white papers
Do it
How can the training help me and how can I apply it?
Training manuals need to be easy to read
Take good notes because some information is not included until you write it down
Hands-on training is tough to doFacility, logistics, vehicles, helper
Localizing National Training
Some are natural at what they doThe Chess analogy
How far can you go
You can hit your limit, live within it. Keep striving
Networking can be a big advantage Introduce yourself at a training session to the trainer or to all the techs around you
Get phone numbers, emails
Networking outside of leader-led training is social media
Technician's job is to make their owner money.Owners job is to share with the team
Summary What does it take to be a technician today
Hands-on
How will training help me
Reading, math skills
When you teach you learn
What type of learner you are
Play or research. Go beyond the education
Networking
Critical thinking
Resources:
Thanks to Matt Fanslow, Bob Heipp, and Peter Landry for their contribution to the aftermarket's premier podcast.
Link to the 'BOOKS' page highlighting all books discussed in the podcast library HERE. Leaders are readers.
Love what we do, buy a cup of coffee HERE.
Be socially involved and in touch with the show:
Facebook Twitter Linked In Email
Listen for free on Apple Podcasts, Google Podcasts, Spreaker, iHeart Radio, Spotify, Podchaser and many more. Mobile Listening APP's HERE
Join the Ecosystem – Subscribe to the INSIDER NEWSLETTER HERE.
This episode is brought to you by AAPEX, the Automotive Aftermarket Products Expo. AAPEX represents the $740 billion global automotive aftermarket industry and has everything you need to stay ahead of the curve. With 2,500 exhibiting companies, you'll see the latest products, parts, and technologies for your business. As a result, the event also offers advanced training for shop owners, technicians, warehouse distributors (WDs) and auto parts retailers, as well as networking opportunities to grow your business. AAPEX 2020 will take place Tuesday, Nov. 3 through Thursday, Nov. 5, 2020 at the Sands Expo in Las Vegas. Therefore, more than 48,000 targeted buyers are expected to attend, and approximately 162,000 automotive aftermarket professionals. They will be from 135 countries which are projected to be in Las Vegas during AAPEX 2020. For information, visit aapexshow.com