Derek Kaufman on the Future of Battery Electric Drive Vehicles [RR 529]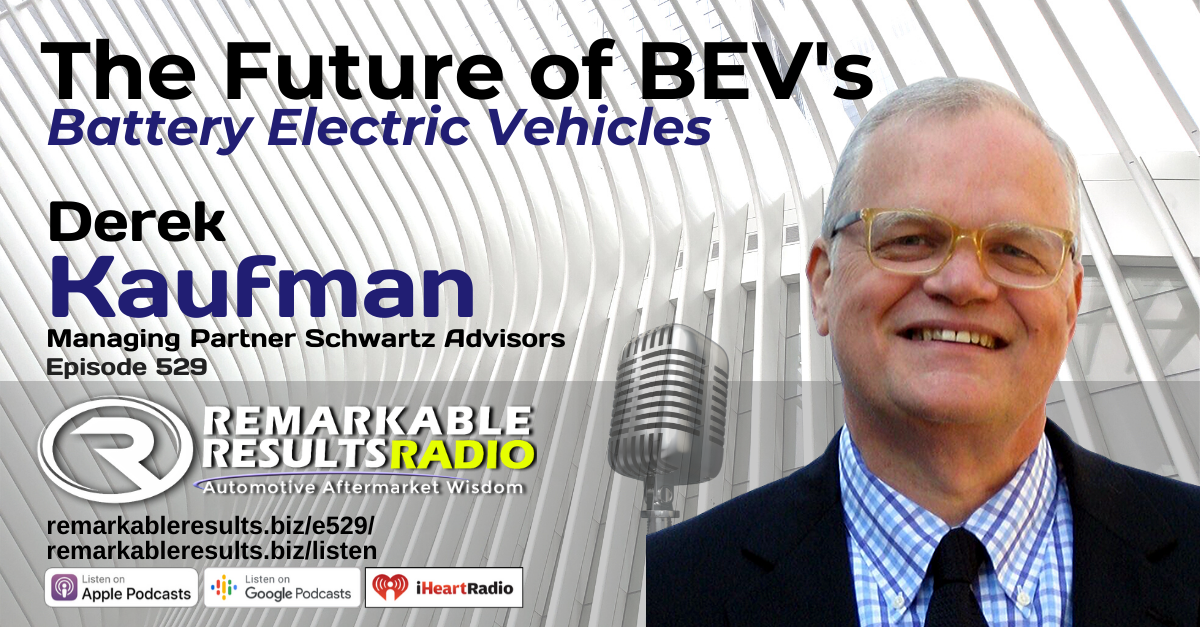 For 40 years, Derek Kaufman has worked in the Transportation Industry with positions ranging from VP Marketing and Product Planning for Freightliner Trucks, SR VP of Sales, Marketing and Customer Support for Hino Trucks, President of Diesel Technology Co, a subsidiary of Penske Corporation, VP of Fixed Operations for Smart USA and CEO of Mission Motors Company.
Derek is also an entrepreneur. He founded C3 Network, LLC in 1997 to help clients launch new products in the transportation industry.
Today, Derek is a Managing Partner at Schwartz Advisors, LLC doing Mergers & Acquisition support and company growth work in the auto and heavy-duty aftermarket. He continues his role as President of C3 Network.
Derek serves on the boards of several companies and is a regular conference speaker at auto aftermarket and trucking conferences. Listen to Derek's previous episodes HERE.
Talking Points:
BEVs or Battery Electric Vehicles have only battery power – no engine at all
PHEVs are Plug-in Hybrids – they have battery packs that can be charged from the grid and have enough battery power to propel the vehicle for a certain number of miles before their internal combustion engine kicks in to keep the vehicle moving
Mild and Micro Hybrids – these are hybrid vehicles where the ICE engine drives an alternator to build up a battery pack. In mild hybrids, the motors can add power to the ICE power train. In micro hybrids like stop-start systems you have a battery that will drive a starter to bring the ICE engine back on after it stops to save fuel at an intersection.
In the USA, about 2.1% of our sales were full BEVs in 2019. To put that in perspective, the number one country in the world for BEV sales was Norway at 49% — a strong market for Tesla
Number 2 was Iceland at 19%, then you fall down 8.2% for number 3 Sweden.
China is driving hard for BEVs but they were only at 4.2% last year.
It is interesting to note that if California was its own country – and lots of people would say it is – it would be right up with Sweden at over 8% BEV sales in 2019. If you go to San Diego, or sections of LA or the Bay Area – you would think that Tesla has a 30% market share – California is the epicenter of their sales.
Our estimate is that only .22% of cars in shops are BEVs today and that only grows to under 4% in the next ten years.
The European Union is all in on electric drive – and they are driving the market by imposing a 95 gram per kilometer CO2 emission limit on vehicle manufacturers.
You have everyone trying to sell cars in Europe rushing to add BEVs to their product lines even though the consumers in that market are continuing to buy high powered ICEs and even turning now to SUVs. So BEVs are going to be money-losing propositions for a lot of years for OEMs in Europe.The UK just announced a ban on ICE gas and diesel engines as of 2035 – that was pulled up from 2040
France has a ban slated for 2040 – but Paris is blocking ICE cars by 2030
China isn't doing a nationwide ban but is talking about regional bans – and they are making it really difficult or impossible to build any new ICE production capacity in the country.
The US has been lagging other countries for a number of reasons – our geography makes the whole issue of battery range a tougher issue than in a lot of the European countries where you have less chance of even reaching a car's range limitWe're a light truck and SUV country – over 70% of new car sales are light trucks in this country so I think the adoption of BEVs will change once those vehicle designs include electric drive.
So we're projecting a slower climb for the USA – the Schwartz Advisors model is showing 16% BEV sales by 2035.
Rivian as a true inflection point for BEVs in this country and maybe in the world.R.J. Scaringe in Detroit has done a tremendous job of attracting both people and investment for his company. He has people like Mark Vinnels the former director of engineering for McLaren and Jeff Hammoud who was the Chief Designer of the Jeep Cherokee and the new Wrangler – he has raised $2.85 billion dollars from companies like Amazon, Ford, Cox Automotive and T. Rowe Price – he bought the Mitsubishi assembly plant in Normal Illinois and is ramping up production now.
The Rivian design is unique too – both a pickup truck and an SUV and both are built on what is called a skateboard – that's a platform that keeps the electric drive motors and battery very low on the frame which allows a lot of flexibility of what kind of body can be put on the chassis.
Amazon invests $700 million in Rivian and turns right around and orders 100,000 Amazon Prime delivery vans using the Rivian drive system.
Rivian is actually moving from aspirational to inspirational – they're going to show how electric drive can take you off-road – or offer contractors electric-powered tools – they are going to make BEVs really multidimensional – and I think that will be a turning point.
Tesla has been brilliant at establishing the BEV as not only a viable product but as a truly desirable design – they have understood the aspirational approach of Tesla owners to make this world a better place.
Because of Covid19 Chinese companies will now have a harder time launching new products in the USA – but the Byton design is really interesting.Daniel Kirchet has a long history of running automotive companies in China – He was Managing Director of Infiniti China, President of Dongfeng and the VP of Sales of BMW Brilliance which is the China-based BMW production company – he is now running a company that is launching an SUV this year called the M-Byte – it is a beautiful car with a really good electric drive system
JCI's battery range included lithium-ion batteries for BEVs but the vast majority of their product line was associated with micro and mild hybrids – they spent a lot of time at conferences showing a chart that had hybrids taking over the market with BEVs representing under 15% of global production. But a few things could be changing that scenario.A series of breakthroughs in technology
New range estimates for the best BEVs are now over 400 miles
New fast chargers are building batteries up to 80% of a full charge in under 30 minutes – but there are many reports of graphene applications allowing much faster charging
If battery charging times begin to approach the time it takes to fill a gas tank, Derek say all bets are off on hybrid growth
At the end of the day, hybrids are expensive to produce for OEMs and may make it really hard for them to earn profits
Just one year ago, we were talking about vehicle manufacturers investing a combined $90B in BEV programs. The latest number is something like $300B led by Volkswagen
Tesla gets all the BEV headlines in the USA they have led the way for sure – but if you want to talk about scale, you need to talk about the VW MEB program.They have created a modular component platform called Modularer E-Antriebs Baukasten in German. Translate that to English as Modular Electric Propulsion Platform or MEB
Components can be mixed and matched to configure different vehicle form factors.
VW is licensing the technology to other OEMs. Ford, for example, will be using VW components in future BEVs.
VW is projecting 70 new BEV models to be introduced in the next 10 years with over 22 million vehicles produced in that time
But there are a lot of factors in figuring the well to wheel green house gas impact of various power sources. The BEV vehicle does not pollute as it idles, it doesn't increase its emission level as it accelerates, it does not put out particulates that are a really big issue in urban centers.We really don't talk about power sources and their relationship to climate change very consistently or accurately.
If we really wanted to make every BEV a truly clean vehicle, we would be generating all power with the new nuclear power designs or maybe we would be converting faster to hydrogen fuel cells.
Hyundai, Honda, and Toyota have all developed hydrogen fuel cell designs and recently, BMW has announced a hydrogen vehicle. So maybe we should be shifting our percentage curves in that direction in the future
Resources:
Thanks to Derek Kaufman for his contribution to the aftermarket's premier podcast.
Link to the 'BOOKS' page highlighting all books discussed in the podcast library HERE. Leaders are readers.
Listen for free on Apple Podcasts, Google Podcasts, Spreaker, iHeart Radio, Spotify, Podchaser and many more. Mobile Listening APP's HERE
Find every podcast episode HERE.
Every episode segmented by Series HERE.
Key Word Search HERE.
Love what we do? Buy Carm a cup of coffee HERE.
Be socially involved and in touch with the show:
Facebook Twitter Linked In Email
Join the Ecosystem – Subscribe to the INSIDER NEWSLETTER HERE.

Gold Certification recognizes top tier NAPA AutoCare's with a high level of participation in the AutoCare program. The program was built by AutoCare Centers for AutoCare Centers to provide a consistent consumer experience, maximize technology leverage, and reward NAPA's most committed partners. In other words, Gold Certified AutoCare Centers are the standard-bearers for the AutoCare brand nationwide. Simply put, the Gold Certified NAPA AutoCare program, powered by your local shop brand, will separate you from the rest helping you boost your bay counts and your average repair orders.
Learn more about NAPA AutoCare, Gold Certification, and the hundreds of other benefits the NAPA family has to offer by talking with your servicing NAPA store or visit www.NAPAAutoCare.com