Success Stories from the Coaching Front Lines PART 2 [THA 168]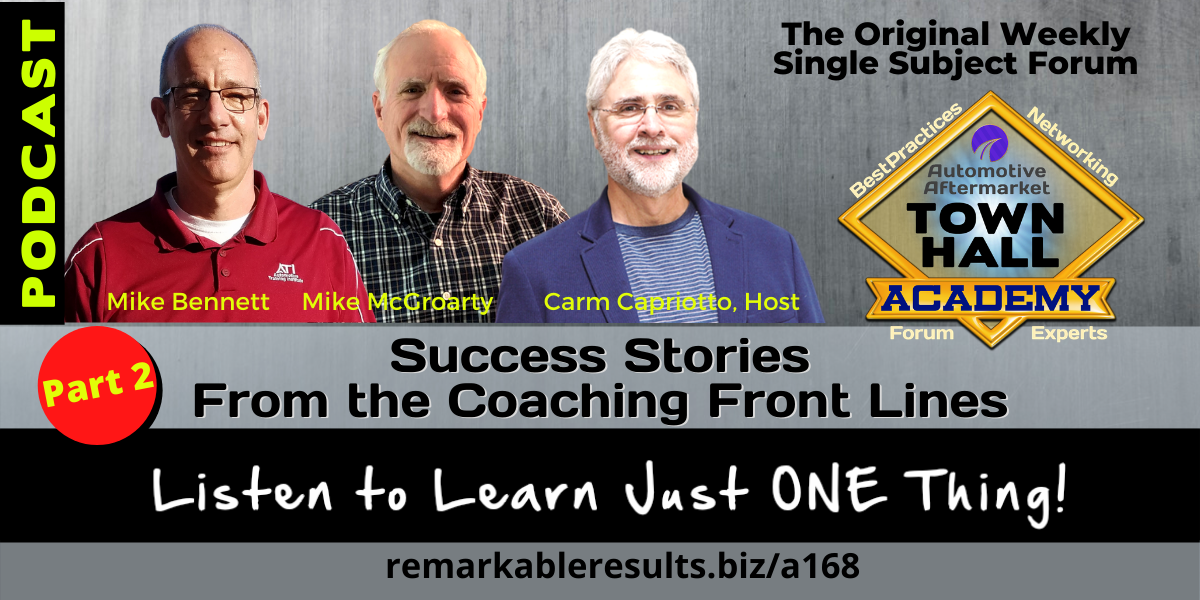 Mike McGroarty has been an auto care professional for over 35 years. He grew up in the family business working for his father. After graduating from trade school in 1982, Mike leased his own Shell auto care center.
In 2002 Mike sold his auto care center and purchased land and built his own 6,000 sq. ft. repair facility. He ran this shop successfully for the next fifteen years and in 2017 sold the business.
After years of running these two successful shops, Mike joined Dave Justice at Repair Shop of Tomorrow as a coach. With his 35 years of success in the business, Mike feels he has a lot to offer other shop owners. Repair Shop of Tomorrow is a completely comprehensive program for independent automotive repair facilities that encompasses done for you marketing, instruction on creating and implementing Standard Operating Procedures, and labor tracking, and comes complete with accountability coaching that creates real results.
Mike has been happily married to his wife Coreen for over 33 years and they have one son.
Mike Bennett has been in the industry since 1985. He is an ASE Master Tech who has worked for GM as Technician, Shop Foreman, Service Manager and Service Director for 2 locations.
Mike bought his current shop, Mike's Kars, in Gettysburg, PA in 1999. It is a a four-bay shop with 3 technicians. In 2011, he became a full-time coach with Automotive Training Institute helping shop owner's to re-engineer and grow their businesses. Mike Bennett's previous episodes HERE.
Mike McGroarty Stories
Partner buy out needed a 30% increase in sales. The perfect client.New owner needed business acumen tools to grow the business
The client did everything he was told to do
The business is now at $2M
The client is always asking the right questions
The owner puts a lot of time and effort on their business cultureIf you are not working on your culture, someone is. You need to have the lead on your culture
Meeting keep the team in touch and on the same page
Not making any money, GP is lowWhat does not making money mean to the client?
Did not get a paycheck in 2019
Mike believes in paying himself first, funding a retirement account and saving for a rainy day (ironic as we face Covid-19)
Fleet accounts can be great for the business or a drain.Gross margin is a major killer as shops discount to get and keep the business
Fleet customers pay slow and you'll need to fund your cash flow
Some clients have a fear factor to lose a fleet account. Taking a deep dive (do the math) you can see where the volume may be at break-even at best
The client had to believe that making money was the path to survival. They had to accept that
Discovery found out that without processes and good system the team treats margins and customers differently. Everyone on the same page
Mike Bennett Stories
Generational succession- overcoming obstacles and creating a new paradigmBusiness around since 1947
A management system change helped bring about this story
Slow to change
SMS system crashed predicating the 2nd generation to leave
Father was stubborn to change gave keys to son who at that time did not have any formal training
The business was struggling to stay alive
Ingrained belief systems and stuck in a paradigm from 1947
You have to create a Do environment by teaching the how and the why
Almost always changing the belief system is the hardest to do
It is about creating leadership for the entire organization
Relaunched family business to grow to $2M business
Generational roadblock is prevalent in 80% of family successions
Many clients who come into a coaching program are wide open to ideas, change and will listen and do. Coaches can have the biggest impact on. That would be 80% who join a coaching group
What's possible- "you don't understand, WE CAN'T DO THAT HERE"A stable business with a standard business model
This client philosophically just could not believe in what he was asked to do
Margins, labor rates cannot be changed. You don't understand!
The client did not believe that they were worth it
When you value yourself your people and customers will value you also
The client had to get over the 'What is not possible' mental block
Being the nicest guy at a low price did not make him valuable
Profit is not a dirty word
Successful coaching comes from momentumThe belief in the value of what he did for the client
Owners need to envision what can be different
Having full transparency with his team as he created a functional structure that included processes and systemsSharing your beliefs
Clent had a personal challenge that took him away from the businessCouldn't communicate with the shop
The business continued to operate without him
Stayed engaged with coaching
Embraces the processes and systems that owner put into place
Was able to add another shop to his business
Resources:
Facebook Twitter Linked In Email
Join the Ecosystem – Subscribe to the INSIDER NEWSLETTER HERE.

This episode is brought to you by Shop-Ware Shop Management. It's time to run your business at its fullest potential with the industry's leading technology. Shop-Ware Shop Management will increase your efficiency with lightning-fast workflows, help your staff capture more sales every day, and create very happy customers who promote your business. Shops running Shop-Ware have More Time and generate More Profit—join them! Schedule a free live demonstration and find out how 30 minutes can transform your shop at getshopware.com