Debate: Just Say Yes – I Wish I Could – Darren Adams and Brett Bohlmann [RR 533]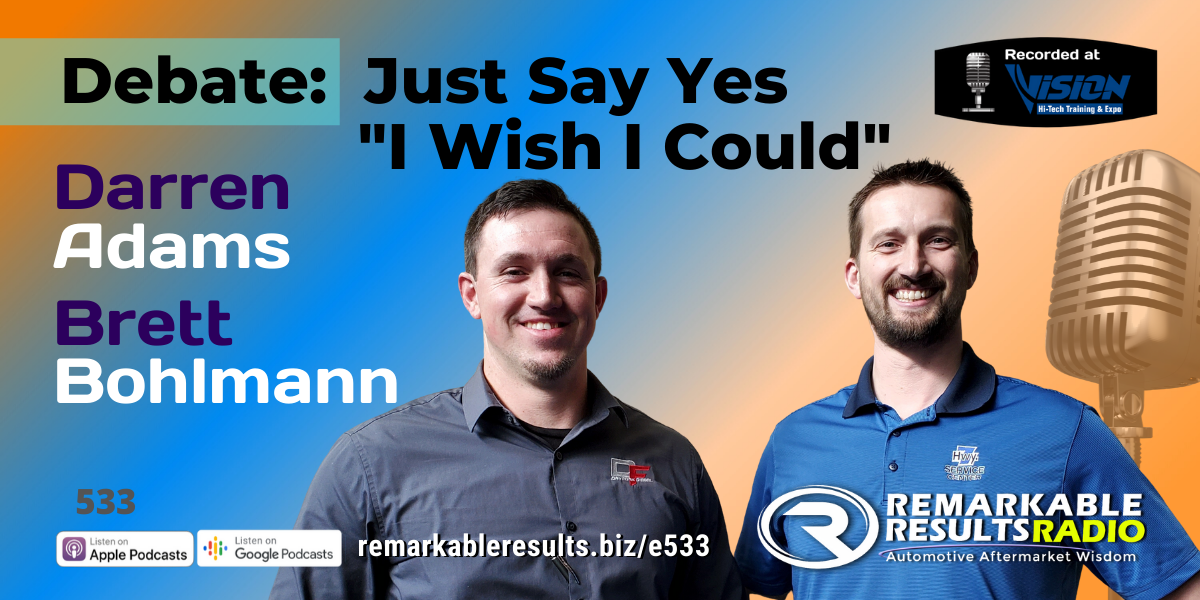 Panel:
Darren Adams from Dryfork Diesel and Auto in Carthage, MO
Brett Bohlman from HWY 7 Service Center, Newell, IA
Talking Points:
"Just say yes, I wish I could"
Brett lost technician- lower car count and sell more. Technician spend more time on a vehicle, less processing time
Top 20% make up 80% of the business- "I wish I could" to other customers and schedule around top 20% customers
"Just say yes"- is more of an attitude and mindset, how can you say yes today or tomorrow, ideally get the customer into the shop within 24-48 hours.
Cannot over 'filter' your customer but need to say yes to the right customer- saying yes to every customer invites chaos into the shop
Salesman time is important- filtering qualified prospects
Get testing done in the morning, repairs in afternoon
Need to have proper front counter service advisors- just as important as technicians
Training is investing in yourself and employees
Problems associated with people are due to lack of leadership- work on leading yourself the way you wish someone else would've led you. Be humble, don't let pride get the best of you. It's the struggle that helps you grow.
Resources:
Thanks to Darren Adams and Brett Bohlmann for their contribution to the aftermarket's premier podcast.
Link to the 'BOOKS' page highlighting all books discussed in the podcast library HERE. Leaders are readers.
Listen for free on Apple Podcasts, Google Podcasts, Spreaker, iHeart Radio, Spotify, Podchaser and many more. Mobile Listening APP's HERE
Find every podcast episode HERE.
Every episode segmented by Series HERE.
Key Word Search HERE.
Love what we do? Buy Carm a cup of coffee HERE.
Be socially involved and in touch with the show:
Facebook Twitter Linked In Email
Join the Ecosystem – Subscribe to the INSIDER NEWSLETTER HERE.

NAPA AutoCare's recent partnership with CarVantage gives your AutoCare Center an easy way to take advantage of telematics, increasing customer retention and boosting customer spend. You provide customers with a CarVantage sensor that plugs into their vehicle and connects via Bluetooth to their smartphone. Then you set up automated marketing campaigns that target customers based on their vehicle's next maintenance interval, for example, or whenever a check engine light is detected. That gives customers peace of mind and the best experience in the market. They also love CarVantage because it's free to them. A special offer only for NAPA AutoCare Centers lets you give CarVantage a try at a very affordable price. And it includes free sensors. Other plans and enhancements are also available.
Learn more about CarVantage and the hundreds of other benefits NAPA offers. Talk with your servicing NAPA store or visit www. NAPAAutoCare.com