Trainers Speak to Their Craft [RR 532]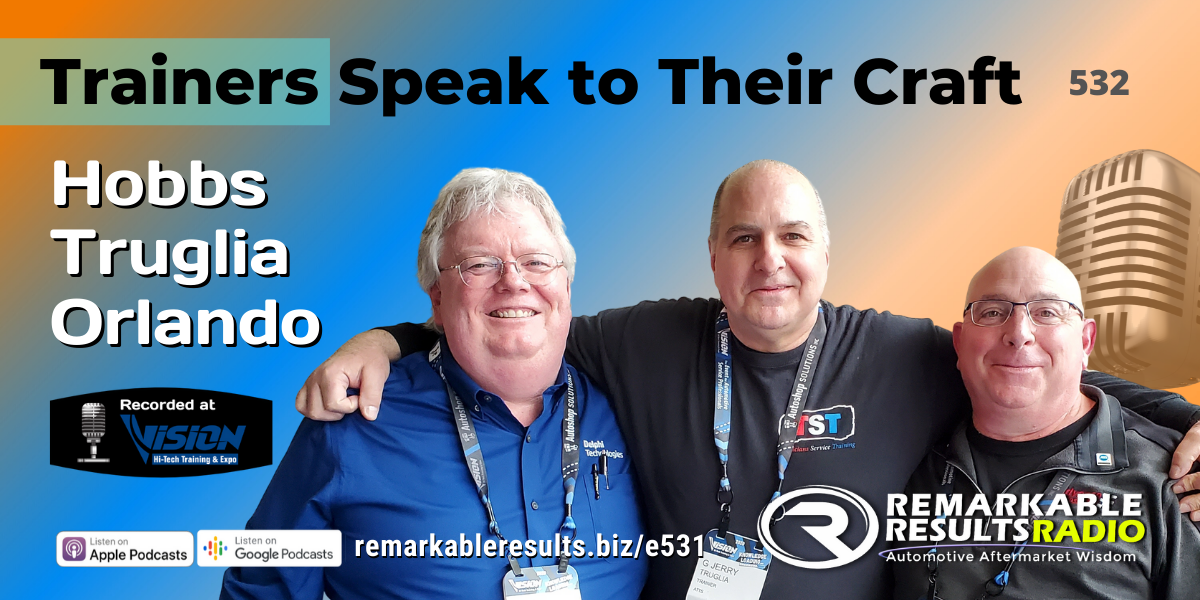 G Jerry Truglia is well known for his automotive training through his company ATTS: Automotive Technician Training Services, where he covers topics ranging from hybrid vehicles, electricity, to Heavy Duty Truck repair. G is also a very proud founding member of the non-for profit Technician Service Training group. G Jerry Truglia Previous Episodes HERE.
Dave Hobbs automotive service experience spans 40 plus years in the industry, starting out as a technician and then as a service manager working in his family's repair shop (Hobbs Auto Electric) in Kokomo, Indiana. After leaving Hobbs Auto Electric, Dave began working as a hotline advisor and field engineer at GM's Delco Electronics. Those roles eventually led to becoming an electronics systems instructor for thousands of Delco Electronics / Delphi engineers throughout North American and Asia.
Dave is currently the lead technical trainer and course developer for Delphi Product and Service Solutions. In addition, he serves part-time as a contributor to Motor Age Magazine and as a field correspondent for MACS Worldwide (Mobile AC Society). Dave's previous episodes HERE.
Peter Orlando Sr. Curriculum Developer/Technical Instructor at Advance Auto Parts Carquest Technical Institute.
Talking Points:
Takes months to prepare and put together, document stories, real-world scenarios
Build relationships with students- students respond better to instructors that do not talk down to them, encourage networking and asking questions
Technicians often have an ego- they can fix any car, but need to also admit they don't know everything, often feel embarrassed or afraid to ask questions
Constant reading and research on curriculum
Retention of information- poll questions and feedback
Keeping students engaged- move around the room, have students highlight and underline during class
Becoming an instructor doesn't happen overnight- need to be seasoned over time, always someone smarter than you who you need advice from
Sometimes you need grace from your audience- constructive feedback and criticism
Resources:
Thanks to G Jerry Truglia, Peter Orlando, and Dave Hobbs for their contribution to the aftermarket's premier podcast.
Link to the 'BOOKS' page highlighting all books discussed in the podcast library HERE. Leaders are readers.
Love what we do, buy a cup of coffee HERE.
Be socially involved and in touch with the show:
Facebook Twitter Linked In Email
Listen for free on Apple Podcasts, Google Podcasts, Spreaker, iHeart Radio, Spotify, Podchaser and many more. Mobile Listening APP's HERE
Join the Ecosystem – Subscribe to the INSIDER NEWSLETTER HERE.
This episode is brought to you by AAPEX, the Automotive Aftermarket Products Expo. AAPEX represents the $740 billion global automotive aftermarket industry and has everything you need to stay ahead of the curve. With 2,500 exhibiting companies, you'll see the latest products, parts, and technologies for your business. As a result, the event also offers advanced training for shop owners, technicians, warehouse distributors (WDs) and auto parts retailers, as well as networking opportunities to grow your business. AAPEX 2020 will take place Tuesday, Nov. 3 through Thursday, Nov. 5, 2020 at the Sands Expo in Las Vegas. Therefore, more than 48,000 targeted buyers are expected to attend, and approximately 162,000 automotive aftermarket professionals. They will be from 135 countries which are projected to be in Las Vegas during AAPEX 2020. For information, visit aapexshow.com