The Relationship you Have with Your Accountant – Beyond the Numbers [THA 169]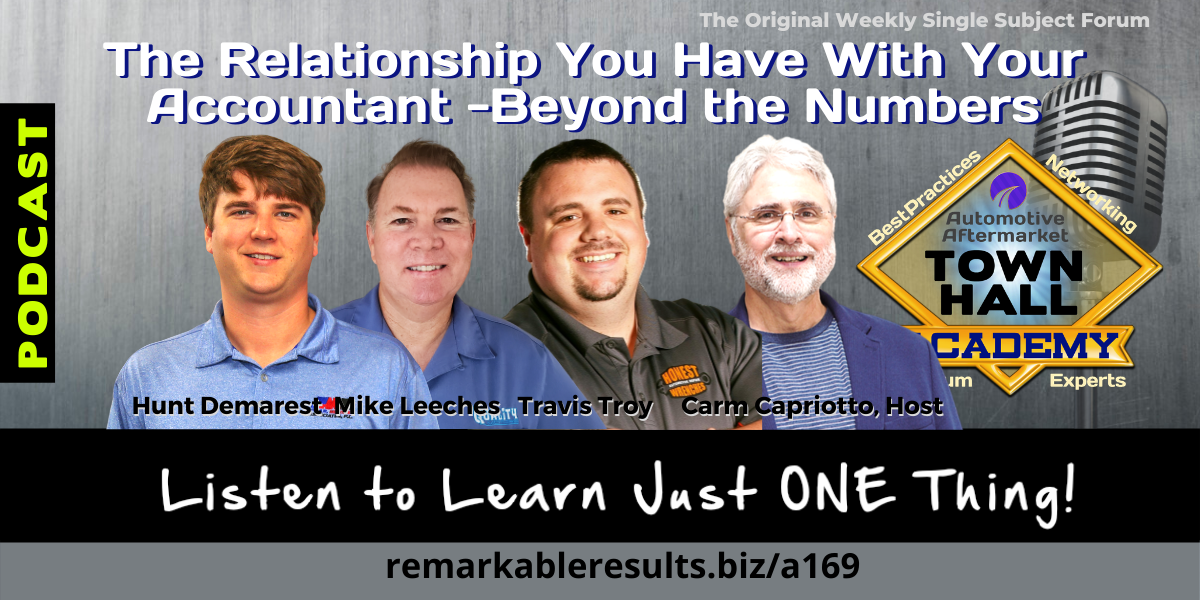 Hunt Demarest, CPA Paar-Melis. Hunt is Accredited in Business Valuation and a licensed Certified Public Accountant that has been with the firm since 2006. He specializes in business taxes, valuations, and does consult work with our clients all across the country. When he's not in the office, Hunt enjoys spending time with his family, golfing, working on and racing his cars.
Travis Troy, Honest Wrenches, DesMoines, IA. Travis, 29 years young, graduated From DMACC Ankeny, IA Automotive Technology Program in 2012, Received my Accredited Automotive Manager in 2019 and will be completing the 4 Year ATI program this fall. Opened Honest Wrenches Automotive Repair in May of 2011 started while still in college and renting a storage 500sqft storage unit. We since moved to a 2800sqft unit, and just completed our 2800sqft expansion for a total of 5600sqft. He employs a total of 9 Employees.
Mike Leeches Quality Motors, Laguna Niguel, CA (leaches)
Key Talking Points:
Travis is leaning on his accountant during these times
Ask them the tough questions
These unprecedented times has proven the strategy of having a CPA firm working with you that goes beyond the numbers
In the case of the firm Parr-Melis, who have hundreds of automotive shop owner clients, they can help you compare yourself to others within our industry
You accountant can help you plan for your future by keeping an eye of your cash and debt position
Both Travis and Mike have a business coach and they credit both for making their business the success it is today
Travis is a zero debt person, yet he knows there is good debt, but his recent expansion was paid for with cash
Putting money away weekly is a great disciplineMake it automatic
Moving to a new accounting firm is a difficult thing to do especially if you have a long term relationship.Evaluate if you are getting your money's worth
You get another set of eyes
Strategic planning
Anyone can do a tax return
Heavily on the education element of financial statements
Accounts can also learn from you
Have your numbers compared to others in the industry. You need benchmarks to understand your performanceBenchmarks are a guide. You need a budget based on unique situations at your business and your marketplace
Your numbers must be matched to your goals
The tendency to always look at the P or L and review your 'net profit' line.Critical information in the P or L (Profit or Loss) Statment
The Balance Sheet also needs to be understoodYour cash position, your receivables, your debt, accruals
Your accountant should drive your discipline to get your numbers in each month.You should see your financial statements at a steady time each month
This is historical data, a snapshot, and you if you need to fix something the later you get your results the longer you don't get a chance to correct or discover a problem
Moving into the 'new normal' you need good financial data
Onboarding to a new accounting firmSwitching to a new accountant is like switching to a new SMS (Shop Management System)You are too comfortable
You need to ask yourself what do you want from a new accountant
You need a good foundation to start with by your accountant understanding what you currently have
Gather all the proper information
Training on understanding your current system in-depth, such as Quickbooks
Resources:
Facebook Twitter Linked In Email
Join the Ecosystem – Subscribe to the INSIDER NEWSLETTER HERE.

This episode is brought to you by Shop-Ware Shop Management. It's time to run your business at its fullest potential with the industry's leading technology. Shop-Ware Shop Management will increase your efficiency with lightning-fast workflows, help your staff capture more sales every day, and create very happy customers who promote your business. Shops running Shop-Ware have More Time and generate More Profit—join them! Schedule a free live demonstration and find out how 30 minutes can transform your shop at shop-ware.com