Bright Light Shines from this Business Coaches Round-Table [RR 531]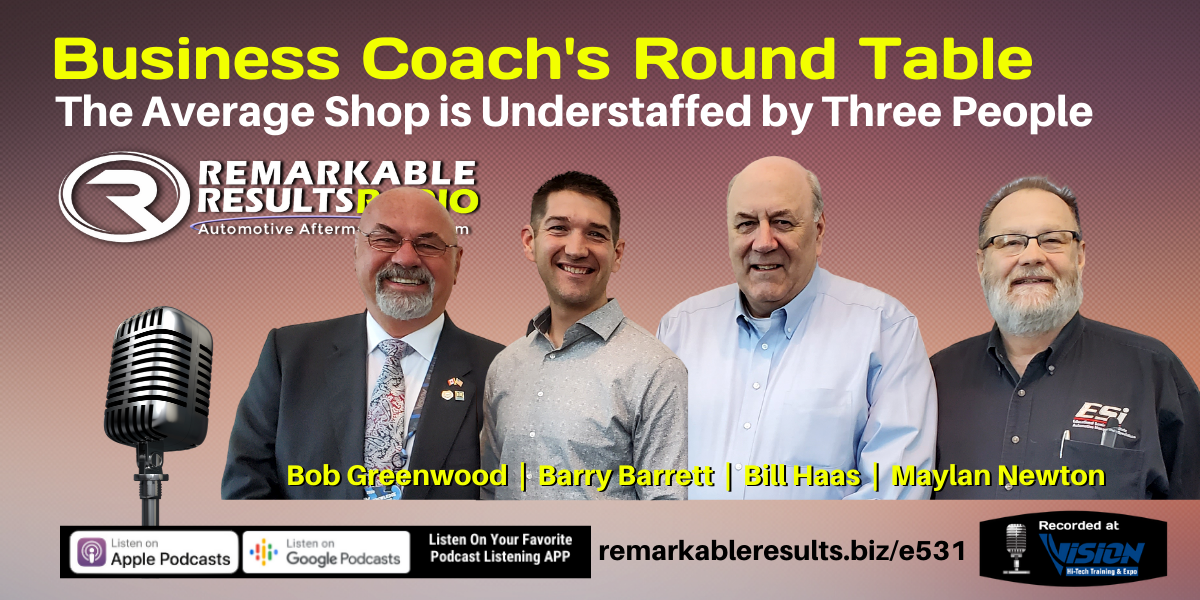 Bob Greenwood, AMAM (Accredited Master Automotive Manager) is President and C.E.O. of Automotive Aftermarket E-Learning Centre Ltd. (AAEC). AAEC is a company focused on providing Business Management Resources and Development for the Independent Sector of the aftermarket industry. AAEC content and technology is recognized as part of the curriculum of the Fixed Operations Diploma and the Aftermarket Degree courses taken at the Automotive Business School of Canada at Georgian College located in Barrie Ontario Canada. This school is the leader and only college in Canada that offers an automotive business education. AAEC is also recognized by the Automotive Management Institute (AMI), located in North Richland Hills, Texas USA, allowing 80 credits for successful completion of the AAEC E-Learning portion of the site towards the 120 credits required to obtain the reputable Accredited Automotive Manager (AAM) designation. Bob's previous episodes are HERE.
Maylan Newton from ESI – Educational Seminars Institute is a business coach, trainer and industry speaker. Maylan is no stranger to the podcast having paid it forward many times. He is a much sought our speaker at industry events in the US. Find Maylan's previous episodes HERE.
Bill Haas, AAM, is the owner of Haas performance consulting LLC, with 40 years of experience in the automotive service and repair industry. Clients have access to Bill's solution-based focus, expertise, unique perspectives and in-depth knowledge of the industry.
Bill began his career working part-time at a full-service gasoline station in Appleton, Wisconsin. His career includes time as a technician, shop owner, technical trainer and on the staff of the automotive industry's oldest and largest association representing automotive service and collision repair businesses. While at the association Bill had the opportunity to work with all segments of the industry.
His knowledge of the industry has been shared on many occasions as he has been invited to speak at numerous industry events as well as providing testimony at hearings of the US Congress and several state legislatures on important legislation and regulation affecting the automotive industry.
Bill received the Accredited Automotive Manager (AAM) credential from the automotive management institute in 1996 and has been a member of the automotive management institute's faculty since 2002.
Bill is also the business manager for NACAT, the North American Council of Automotive Teachers. His services include business management seminar development and delivery, keynote presentations, business consulting, performance coaching, and strategic planning facilitation. Listen to Bill's previous episodes HERE.
Barry Barrett covers the premise of the book that builds a foundation for negotiation on the basis of understanding the other party through empathy and active listening skills.
During Barry's career as a Service Manager and top salesperson, he honed his talents in communicating with people.
Barry is tireless in his pursuit of excellence in the automotive industry and in all that he does. His passion for providing tools to train owners and their teams to the next level is unlimited. He is a Ziglar Legacy Certified Coach. Find Barry's other episodes HERE.
Key Talking Points:
First Coaches Round Table was a Vision in 2017. It was Episode 208 Link HERE
Takes time to gain experience, need to continue to listen and share with others your experiences to shorten the learning curve
Experience is often the name we give to mistakes- ask advice and opinion
Insanity- doing the same thing over and over again expecting different results, coaches want you to do different things and change to get different results. Starting building confidence with each change.
RPRS (Right People Right Seat): Share same values, get it – want it and have the capacity to do it, know what is expected and held to standard with accountability
The right team in place have careers not jobs- have you found your passion? Can you afford the mistakes the wrong person makes in your business?
Cannot lose revenue by coming to training- you are rewarding your team with efforts, come back more educated and gain a better perspective by networking with others. Training is an investment, not a cost. If you're not at training, how are you going to compete with the shops that are?
Math not magic to increase efficiency
Millennial wants to participate and be involved in business- contribute and want respect, not just about fixing cars
Succession planning- The biggest failure is not getting a succession person involved in the business side early enough. Takes 4-7 years to put a proper plan together for internal systems and processes are in place. Not selling hard assets.
The average shop is understaffed by three people- bays, front counter, back office. You cannot maximize productivity when understaffed.
If you don't confront problems in business then you condone it
Resources:
Thanks to Bob Greenwood, Maylan Newton, Bill Haas, and Barry Barrett for their contribution to the aftermarket's premier podcast.
Link to the 'BOOKS' page highlighting all books discussed in the podcast library HERE. Leaders are readers.
Listen for free on Apple Podcasts, Google Podcasts, Spreaker, iHeart Radio, Spotify, Podchaser and many more. Mobile Listening APP's HERE
Find every podcast episode HERE.
Every episode segmented by Series HERE.
Key Word Search HERE.
Love what we do? Buy Carm a cup of coffee HERE.
Be socially involved and in touch with the show:
Facebook Twitter Linked In Email
Join the Ecosystem – Subscribe to the INSIDER NEWSLETTER HERE.

The NAPA Insurance Center can help you with a variety of other insurance benefits too. For more information about The NAPA National Health Benefits program as well as all of the insurance benefits available to your AutoCare Center and your employees, visit the NAPA Benefits Center, at www.napabenefitscenter.com or call the NAPA Benefits Center at 844-627-2123.
Learn more about NAPA AutoCare, Gold Certification, and the hundreds of other benefits the NAPA family has to offer by talking with your servicing NAPA store or visit www.NAPAAutoCare.com