Gamification – Changing Behavior with Kent Bullard [RR 534]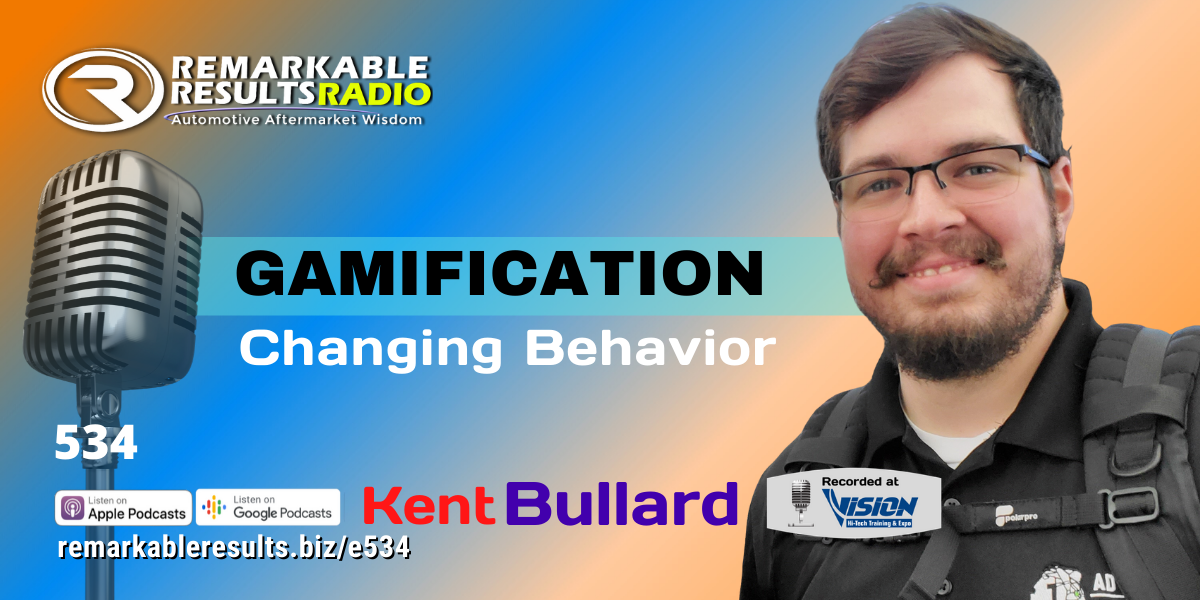 Kent Bullard. Find Kent's other episodes HERE.
Key Talking Points:
Gamification- changing behavior, designing an experienceHow do you engage people with game theory?
Focus on process orientation than goal orientation- not outcome focused, be action focused
Customer's want to come back again
The Big E'sEnvironment: Physical triggers for customers and employees- is it distracting them or focusing? Putting mirror by phone so service advisors smile when they answer the phone
Engagement: What, how, when, do they interact with each other? Instruction- walk in door, reward is smell of cookies
Rules of play- "restrictions" calling customer back by certain time determined by shop and try to beat that time
Effect: What are possible outcomes during experience? Illusion of choice- simplify set of outcomes that you can control
Design experience- three service advisors, two on phone, one has green light on desk and is waiting to help customer
Emershion: How do I continue to convince customers to keep coming back? Marketing and advertising- emails or phone calls as touch point
Easy and positive experience equals customers wanting to come back
Evolution: Adding new things to your process, always be evolving, constant and consistent growth. People get bored easily DVI in shop
Experimentation- Customers using rules and restrictions to create difference experience Be aware and flexible- have limitations or expiration on promotional discounts
Enjoyment and EventsExpected to pay certain amount and ends up paying less
End game: what ways do we continue to engage customers? Mentor-ship, rewards points, events, involve customers with community
Resources:
Thanks to Kent Bullard for his contribution to the aftermarket's premier podcast.
Link to the 'BOOKS' page highlighting all books discussed in the podcast library HERE. Leaders are readers.
Love what we do, buy a cup of coffee HERE.
Be socially involved and in touch with the show:
Facebook Twitter Linked In Email
Listen for free on Apple Podcasts, Google Podcasts, Spreaker, iHeart Radio, Spotify, Podchaser and many more. Mobile Listening APP's HERE
Join the Ecosystem – Subscribe to the INSIDER NEWSLETTER HERE.
This episode is brought to you by AAPEX, the Automotive Aftermarket Products Expo. AAPEX represents the $740 billion global automotive aftermarket industry and has everything you need to stay ahead of the curve. With 2,500 exhibiting companies, you'll see the latest products, parts, and technologies for your business. As a result, the event also offers advanced training for shop owners, technicians, warehouse distributors (WDs) and auto parts retailers, as well as networking opportunities to grow your business. AAPEX 2020 will take place Tuesday, Nov. 3 through Thursday, Nov. 5, 2020 at the Sands Expo in Las Vegas. Therefore, more than 48,000 targeted buyers are expected to attend, and approximately 162,000 automotive aftermarket professionals. They will be from 135 countries which are projected to be in Las Vegas during AAPEX 2020. For information, visit aapexshow.com