A Supplier's Strategy Amid Pandemic – Helping the Service Professional with Lee Walker [RR 537]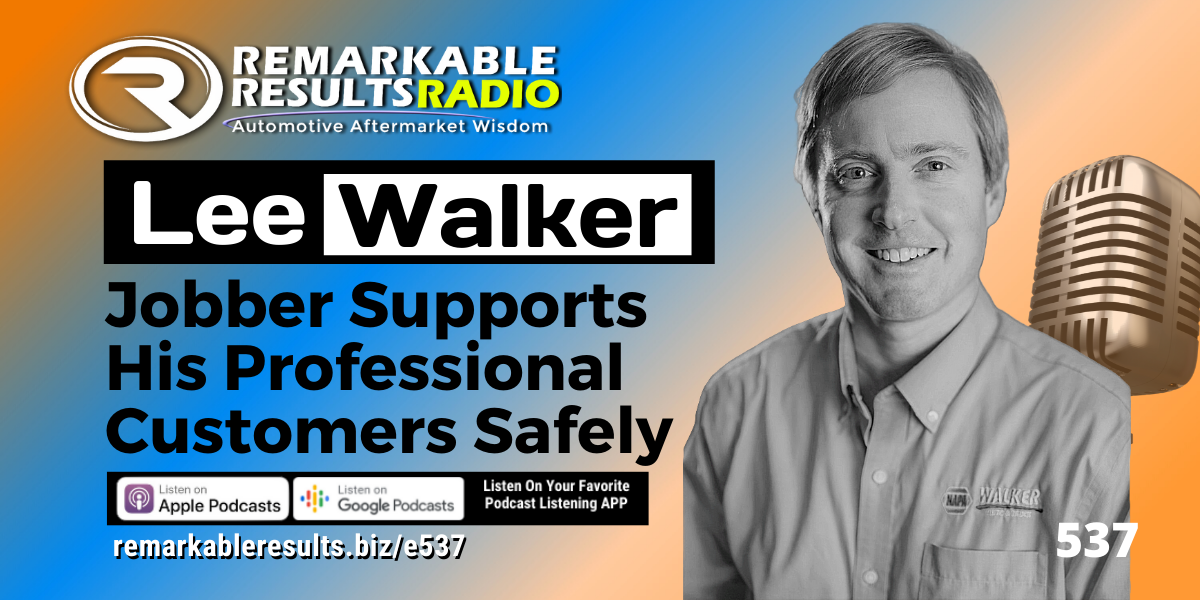 Lee Walker is the President of Walker Auto Parts in Raleigh-Durham, North Carolina.
In 2009 Lee rejoined our family business as the first of the third generation of Walkers. Harry G. Walker Jr. started the family's journey in the automotive aftermarket back in 1960 in Raleigh. Three of his four sons joined him in the business in the 70s and 80s and now there are 6 Walkers working in the business.
In 2009, when the firm transitioned from being an independent parts supplier into the NAPA family, Iit was Lee's first few months back in the business. His focus was on getting to know and understand their customers and to lead the integration of other business teams into the organization. Walker's acquired and launched a NAPA store every year since 2009 and now are humble and proud to represent NAPA in 35 counties in NC. The team of 725 embodies old school integrity and new school innovation. Lee is poised to lead that team into the future of the next 60 years of the Automotive Aftermarket.
Key Talking Points:
Protecting employees and customers- how to continue to operate Constant communication and being proactive for safe social distancing- abnormal circumstances often open up opportunities for better dialogue
PPE masks, gloves, face shields and drop boxes outside shop doors
Giving resources and advice for PPP Loan for businesses
Making customer-facing videos to use on social media and demonstrate safety
Let your core beliefs shine through- all have to work together
Value breakdown of a businessSales, relationships and performance
Independent repair shops- faired better than national brands Established customer relationship- loyalty
DigitizingRolling out digital delivery dispatch system
A better understanding of repairs- often times $5 filter more important to be rushed for delivery than $180 flywheel
Cost of delivery- shouldn't matter where product comes from as long as there is a committed time of delivery
Supply chainsA crisis will expose where supply chains are weak and strong
Supply chains that built robust networks, inventory and supply strategies are thriving right now
Resources:
Thanks to Lee Walker for his contribution to the aftermarket's premier podcast.
Link to the 'BOOKS' page highlighting all books discussed in the podcast library HERE. Leaders are readers.
Listen for free on Apple Podcasts, Google Podcasts, Spreaker, iHeart Radio, Spotify, Podchaser and many more. Mobile Listening APP's HERE
Find every podcast episode HERE.
Every episode segmented by Series HERE.
Key Word Search HERE.
Love what we do? Buy Carm a cup of coffee HERE.
Be socially involved and in touch with the show:
Facebook Twitter Linked In Email
Join the Ecosystem – Subscribe to the INSIDER NEWSLETTER HERE.

The NAPA Smart Sign, previously known as Digital Menu Board, gives your shop a professional, state-of-the-art look and feel. It's a great way to educate and inform your customers about needed repairs and service, plus increase awareness of your current promotions. NAPA AutoCare Center that have installed a Digital Menu Board found one out of five consumers ask for a repair or service they've seen on the board. Targeted promotions resulted in double-digit increases. You choose the content from a library of auto care service and repair topics. The latest NAPA national promotions are downloaded to you automatically. And with the Digital Menu Board it's easy to change your services, prices, and video content anytime you'd like. Talk to your servicing NAPA store to find out more.
Learn more about NAPA Smart Sign and the hundreds of other benefits NAPA offers. Talk with your servicing NAPA store or visit www. NAPAAutoCare.com