Recruiting and Job Search for Industry Technicians and Owners – Elie Massabki [RR 536 ]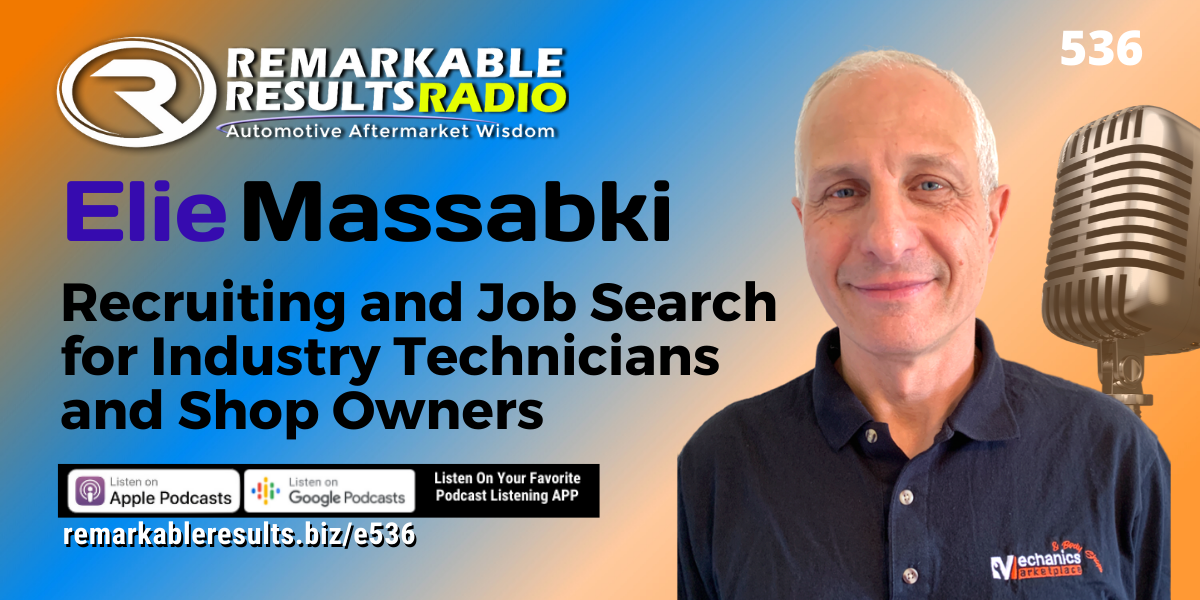 Elie Massabki is the founder and CEO of Mechanics & Body Shops Marketplace, a company focused on helping auto repair shops find talent and empowering automotive professionals through permanent job placement, free career advice, resume reviews and an App to find permanent jobs with reputable businesses and side/temporary jobs quickly. Elie is an automotive enthusiast who likes fixing his own car and advising business owners on business and HR-related issues. As a corporate executive, he led and coached large teams. He enjoys chatting with technicians on social media and brainstorming on ways to improve the industry. Elie holds a Bachelor of Science in Electrical Engineering (a Minor in Automotive Technology), and a Masters degree in Business Administration.
Key Talking Points:
Replacing technicians during Pandemic 10-15% layoffs right now
70% income impacted with fewer hours/days
Average time to find and hire technician normal is 3.5 months
Businesses that are getting PPP loan are starting to look ahead for hiring
Master techs/diagnostician/specialists are scarce- smart business owners protect and retain them- strong defense is better than a strong offense
Temporary placement More than half of technicians are over the age of 50- next 20 years we will lose half of them to retiring but most will want to continue to work.
Cannot work 50 hours/week but want to help and temporary placement is the answer
Mechanicsmarketplace.com- building vertical, consolidated marketplace for the automotive industryHelp with placement, career advice and resume
ASC certifications- part of career growth and education
Normally you don't want to rush hiring- the automotive industry does not have this luxury, technicians make very quick decisions shop owners need to make an equally quick offer
"Try before you hire" – hire for few days
Prepare, plan, get readyBe ahead of the curve when pandemic ends- what are your needs?
Replace talent and find better talent for your shop
Resources:
Thanks to Elie Massabki for his contribution to the aftermarket's premier podcast.
Link to the 'BOOKS' page highlighting all books discussed in the podcast library HERE. Leaders are readers.
Love what we do, buy a cup of coffee HERE.
Be socially involved and in touch with the show:
Facebook Twitter Linked In Email
Listen for free on Apple Podcasts, Google Podcasts, Spreaker, iHeart Radio, Spotify, Podchaser and many more. Mobile Listening APP's HERE
Join the Ecosystem – Subscribe to the INSIDER NEWSLETTER HERE.
This episode is brought to you by AAPEX, the Automotive Aftermarket Products Expo. AAPEX represents the $740 billion global automotive aftermarket industry and has everything you need to stay ahead of the curve. With 2,500 exhibiting companies, you'll see the latest products, parts, and technologies for your business. As a result, the event also offers advanced training for shop owners, technicians, warehouse distributors (WDs) and auto parts retailers, as well as networking opportunities to grow your business. AAPEX 2020 will take place Tuesday, Nov. 3 through Thursday, Nov. 5, 2020 at the Sands Expo in Las Vegas. Therefore, more than 48,000 targeted buyers are expected to attend, and approximately 162,000 automotive aftermarket professionals. They will be from 135 countries which are projected to be in Las Vegas during AAPEX 2020. For information, visit aapexshow.com

This episode is brought to you by Shop-Ware Shop Management. It's time to run your business at its fullest potential with the industry's leading technology. Shop-Ware Shop Management will increase your efficiency with lightning-fast workflows, help your staff capture more sales every day, and create very happy customers who promote your business. Shops running Shop-Ware have More Time and generate More Profit—join them! Schedule a free live demonstration and find out how 30 minutes can transform your shop at shop-ware.com