Multi Shop Operations – Acquisition – Selling [THA 171]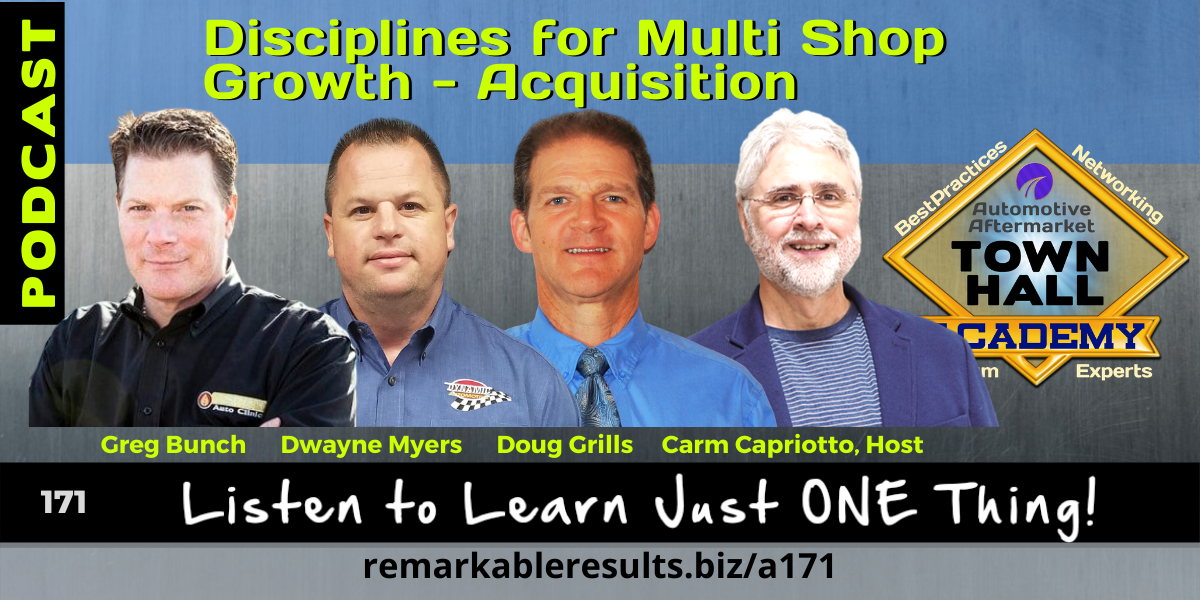 Greg Bunch is the owner of Aspen Auto Clinic, a five-location automotive and service business in Colorado. Greg started his passion for cars at 15 when he began rebuilding a 1966 Volkswagen Bug. Greg has moved from a Volkswagen mechanic to ASE Master Technician, to Management, to starting his shop 18 years ago in his garage, to an award-winning multi-location business.
Greg is currently a board member for the STEM-based charter school call "Automotive Institute of Science & Technology" and on the Advisory board of Ratchet and Wrench Magazine. Greg is also a board member of the Autocare organization and a certified instructor for the Worldpac Training Institute and Carquest Technical Institute. Greg's unwavering passion for the industry has also led him to form a company called Transformers Institute, a coaching and training company dedicated to transforming the automotive industry.
Listen to Greg's previous episodes HERE. Transformers Institute HERE.
Dwayne Myers is a partner in Dynamic Automotive in the greater Maryland area. Dwayne invests time in the industry with the Auto Care Association and serves on the education committee with CCPN (Car Care Professional Network). Dwayne was recently honored as one of only 17 outstanding individuals that qualified for the prestigious 2017 World Class Technician Award presented by The Auto Care Association and ASE. He is very passionate about hiring and sustaining a strong and engaged team. Listen to Dwayne's previous episodes HERE.
Doug Grills from AutoStream Car Care Center is a chain of FIVE family-owned, automotive service facilities that deliver honest and professional automotive repair and maintenance services to customers in the Greater Baltimore/Washington, DC area. Doug along with his partner Rick Levitan has been around the service station business for over 25 years and have built their reputation by offering best-in-class service to their customers.
All AutoStrem Car Care technicians are ASE Certified and the shops are AAA approved. Listen to Doug's previous episodes HERE.
Key Talking Points:
Don't fall in love with an opportunityA magazine survey a few years ago: 56% of shop owners wanted to be out of business by 2020. They are shopping their business
Disciplines to haveLocation, Location, LocationDo your research, internet search on demographics, traffic count
Cash is King
Team, People
If you don't have strong systems and processes don't even consider growing to another location
Standard Operating Procedures (SOP) are required to scaleWritten and documentedWriting it down forces you to understand it and know how it works.
Perpetually tweaked
Each operation should engage with the customer the same way and operate the same way
Watch the movie 'The Founder' all about Ray Kroc from McDonald's
Watch the TV show 'The Profit' all about People, Process and Product
A diamond in the rough could entice youLong time business
You feel strongly you can turn it around. The Potential with new energy and perspective
Strong location and business that is not keeping up
You know your strategy, systems, processes and people will work in the marketplace
If the owner is the reason for the business and he/she leaves this could impact your diamond
Everyone wants $1,000,000 for their business but the numbers must substantiate it. It is an emotional life work valueThe seller needs to show you how they came up with $1MAn emotional issue
What is your cash flow
Strenght in the fundamentals of the business
Come to common ground
Understand the multiple or blue sky value (premium above cash flow)
You must have good financial statements
Make sure your business can function without you and be profitableNo vacation for years
Consider a broker to help you legitimize your valueThere are pros and cons to hire a broker
There are fees and the process may be longer
Show no emotion to the seller over the asking price
A Business Broker will be able to help make the numbers real
Your banker will not let you over-invest
The final number will constituteWill the owner carry paper
Do they want one check
Do they want a monthly check to support their income once retired/sell
Cash is King and so is your BankerYou need a good cash position, well-capitalized
A banking relationship is key. Highly suggest community banks versus the large nationals
Practice Profit First to put cash in places that you can not spend it.War chest monies for tough times and growth
Lines of credit are important when you need them. Pandemic is perfect example of a huge need
Determine a strong or smart multiplierA multiplier is the monies paid for a business over and above the EBITDA (earnings before interest, taxes, depreciation, and amortization) depending on the value of the business in the marketplace and to the buyer. For example, the business makes an average of $200K for the last three years. Because of the marketplace, location and many other factors the multiplier could be 3.5 times, therefore $200K x 3.5 would be $700K to offer for the business
Multipliers vary but can be stable within a market or at a premium for a top-flight business. Multip shop operators will get a higher multiple.
Pandemic has put some holds on private equity invests however there will be opportunities to grow because some shop owners are going to want to call it quits and there will be some great locations to choose from
To research a demographic profile on a location you can get from Google and there is also traffic count available.Income levels, cars per household, etc. are necessary to help evaluate the location
Ask around from businesses in the area and town
Look at Google reviews
Permits for buildings and growth in the town
Is the area alive are dead
You can pay for this information
A gut check is to ask yourself if you would want the business if there wasn't an auto shop in it?
The location and demographics It needs to fit your business model
Performing a strong due diligence review is a must and will provide you information to help you make a smart decision
You get paid on what you are doing and the buyer find the synergies to help him afford the deal. The better your business runs and the more profit it has will get you a premium price or multiple.
Resources:
Facebook Twitter Linked In Email
Join the Ecosystem – Subscribe to the INSIDER NEWSLETTER HERE.

This episode is brought to you by Shop-Ware Shop Management. It's time to run your business at its fullest potential with the industry's leading technology. Shop-Ware Shop Management will increase your efficiency with lightning-fast workflows, help your staff capture more sales every day, and create very happy customers who promote your business. Shops running Shop-Ware have More Time and generate More Profit—join them! Schedule a free live demonstration and find out how 30 minutes can transform your shop at shop-ware.com