Key Trigger For Success – Communicate Better with Our Younger Generation [RR 550]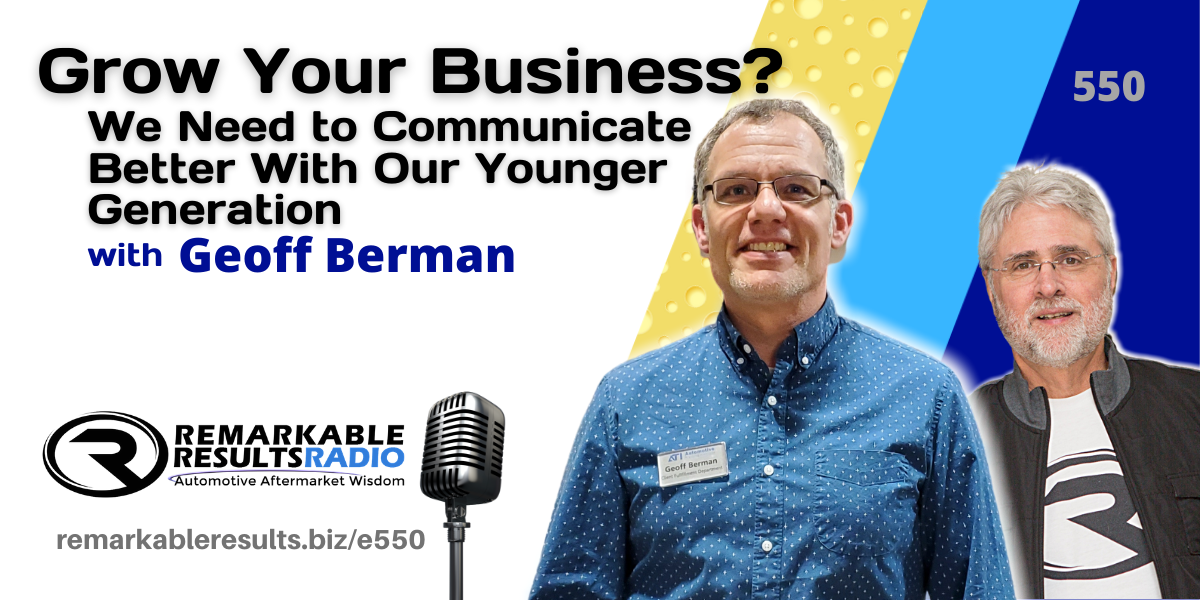 Before joining ATI, Geoff Berman worked in his family business for 16 years and had realized that the changes I wanted to make in the business were never going to happen under the current leadership. I hit the lottery when I found ATI. Now I can influence many businesses, not just the one I work in. I found very quickly how much I loved helping shop owners and their staff change their lives.
Key Talking Points:
Employee Engagement ClassPositive feedback from students
Animated and emotional presentation- effective because coming from the heart and passion from Geoff
Top problem with the industryTech shortage due to the ego- need to communicate better with the younger generation
Becoming a coachStarted working at the family business
Sent Geoff to classes and schools but wouldn't let him implement changes
Left family business and replied to an ad in the newspaper as a manager for ATI- able to finally impact so many lives as a coach
16 years at ATI
As a coach you need to be patient, looking past own ego as coach- humbling experience
Husband and wife duos- can be challenging working and living together 24/7, successful ones have strategies in place for it
Succession planning- most shop owners have skewed ideas of their shop's worth, if you're an intricate part of the business all you have to sell is a job. Replace yourself in business first.
Resources:
Thanks to Geoff Berman for his contribution to the aftermarket's premier podcast.
Link to the 'BOOKS' page highlighting all books discussed in the podcast library HERE. Leaders are readers.
Love what we do, buy a cup of coffee HERE.
Be socially involved and in touch with the show:
Facebook Twitter Linked In Email
Listen for free on Apple Podcasts, Google Podcasts, Spreaker, iHeart Radio, Spotify, Podchaser and many more. Mobile Listening APP's HERE
Join the Ecosystem – Subscribe to the INSIDER NEWSLETTER HERE.
This episode is brought to you by AAPEX, the Automotive Aftermarket Products Expo. AAPEX represents the $740 billion global automotive aftermarket industry and has everything you need to stay ahead of the curve. With 2,500 exhibiting companies, you'll see the latest products, parts, and technologies for your business. As a result, the event also offers advanced training for shop owners, technicians, warehouse distributors (WDs) and auto parts retailers, as well as networking opportunities to grow your business. AAPEX 2020 will take place Tuesday, Nov. 3 through Thursday, Nov. 5, 2020 at the Sands Expo in Las Vegas. Therefore, more than 48,000 targeted buyers are expected to attend, and approximately 162,000 automotive aftermarket professionals. They will be from 135 countries which are projected to be in Las Vegas during AAPEX 2020. For information, visit aapexshow.com

This episode is brought to you by Shop-Ware Shop Management. It's time to run your business at its fullest potential with the industry's leading technology. Shop-Ware Shop Management will increase your efficiency with lightning-fast workflows, help your staff capture more sales every day, and create very happy customers who promote your business. Shops running Shop-Ware have More Time and generate More Profit—join them! Schedule a free live demonstration and find out how 30 minutes can transform your shop at shop-ware.com