Your Cash Position – Staff Reductions – Overall Outlook Coming out of COVID-19 [THA 178]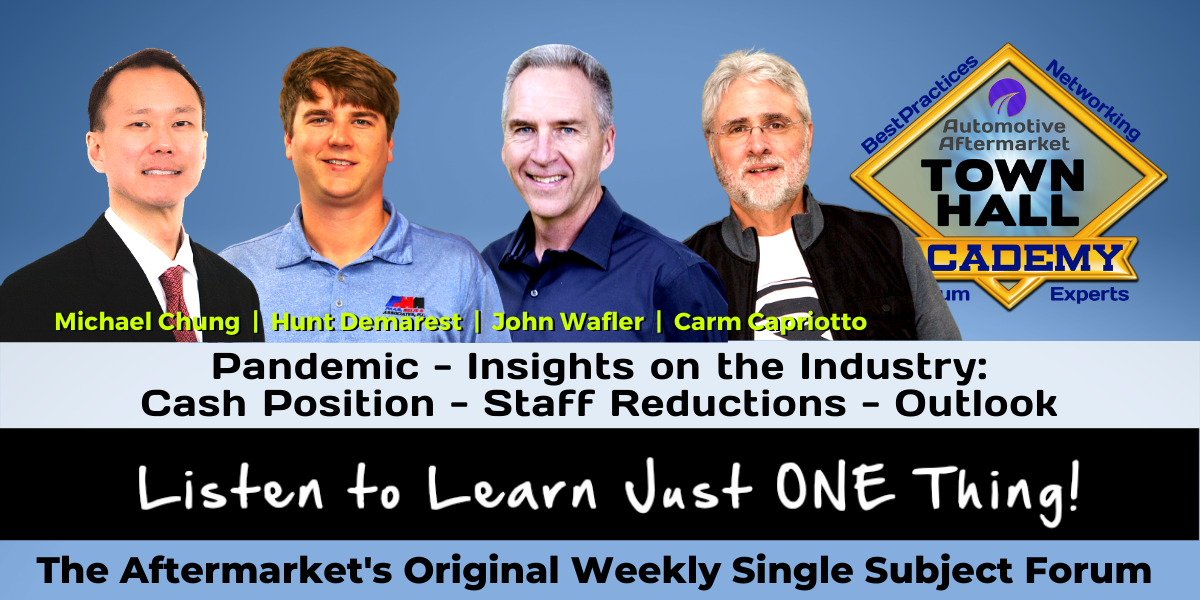 Mike Chung is director, market intelligence at Auto Care Association. With more than a dozen years of experience in market research, Chung and his team provide the industry with timely information on key factors and trends influencing the health of the automotive aftermarket and serving as a critical resource by helping businesses throughout the supply chain to make better business decisions. Chung has earned a Bachelor of Science in chemical engineering from Massachusetts Institute of Technology (MIT), a Master of Science in environmental health management from Harvard University and a Master of Business Administration with a concentration in marketing from Montclair State University.
Hunt Demerest, CPA at Paar-Melis. Hunt is Accredited in Business Valuation and a licensed Certified Public Accountant that has been with the firm since 2006. He specializes in business taxes, valuations, and does consult work with our clients all across the country. When he's not in the office, Hunt enjoys spending time with his family, golfing, working on and racing his cars. Listen to Hunt's previous episodes HERE.
John Wafler has spent all of his working career in the automotive industry and has experienced almost every position in an automotive repair facility (yes, he started as a technician back in 1982) and also owned his own automotive repair business for several years. This background, in addition to the post-secondary education he received in Business Management, Marketing, and Computerized Management Systems gives him a unique perspective on what it takes to be a successful business owner in today's challenging automotive aftermarket service industry.
John also worked as a Systems Integrator/Franchise Consultant/Management Trainer for Pace Automotive Systems in Canada for seven years and for Horizon Training and Management for the next five years, where he was introduced to RLO Training and the "Series One" Automotive Management Workshops developed by Bob O'Connor.
At RLO Training John started as a Bottom-Line Impact Groups Facilitator with Bob O'Connor back in 2001, and since then has helped hundreds of shop owners achieve high levels of success through his training, facilitation, and coaching. Listen to John's previous episodes HERE.
Key Talking Points:
AutoCare Association has been pulling data from it's members regarding the impact of the pandemic to help them understand and cope. They've provided a few slides for this Town Hall Academy
Cash PositionIn early April 36% were highly concerned
In May and June, 16% were highly concerned
A very strong discipline for the service professional happened within the first two weeks or months when Covod-19 hit was to look at every expense.Called every vendor. They found items they were paying for and not enjoying
Many found a 20% reduction in costs
Too many shop owners were costing along as they become more profitableMargins, and getting fat with their fixed expenses
Budgets need to be reviewed
Every cent needs to be scrutinized, pandemic or not
Many shops that put cash aside did not worry about getting through this
The pandemic was the single most stress test on your business
Many shops got the PPP money and EILD has provided them a strong cash position
The aftermarket is typically immune to certain downturns, the industry is cautiously optimistic.
Staff ReductionsSmaller companies were not going to reduce staff as much as the larger ones were
Service professionals do not have to go into board rooms to decide and they are closer to their people and their families to ride out their decision to reduce staffIf they did it was a short period of time
Reduced hours
Opportunities for the independent to hire technicians from dealership layoffsDealerships were always a smart and solid place to work. Covid-19 changed that
They were quick to shut down their service bays even though they were essential
A number of shops considered letting people go, were not great contributors to the business.
Many did whatever they had to do to keep their best people on the payroll
The tough problem is the extra amount of federal unemployment is making it tough to get people back to work. The extra $600 per week makes it hard to go back.
Many shop owners are rethinking wages
Labor rates need to go up
Charging for extra charges like concierge service is not the right moveIncrease your labor rate to cover any extra cost of doing business
The optics for the customer will feel they are nickel and dimed to death
Don't be the cheapest in town
OverallMany shop owners are having the best June ever. Some are booked out a few weeks
We are not out of the woods and need to be cautious and be safe. Virus hot spots are growing
Very optimistic for the year at the service level
Road trips are being planed. May be safer than air travel
The RV industry is booming
Will the work from home and back to school have an impact on miles driven
Many shop owners have said that the pandemic is the best thing that happened to themWith PPP and EIDL monies smart operators have helped their cash position
They got caught up with debt
Opportunities to buy weaker shopsSome are using pandemic as an exit excuse
Resources:
Facebook Twitter Linked In Email
Join the Ecosystem – Subscribe to the INSIDER NEWSLETTER HERE.

This episode is brought to you by Shop-Ware Shop Management. It's time to run your business at its fullest potential with the industry's leading technology. Shop-Ware Shop Management will increase your efficiency with lightning-fast workflows, help your staff capture more sales every day, and create very happy customers who promote your business. Shops running Shop-Ware have More Time and generate More Profit—join them! Schedule a free live demonstration and find out how 30 minutes can transform your shop at getshopware.com