Female Impact: Getting Through [RR 549]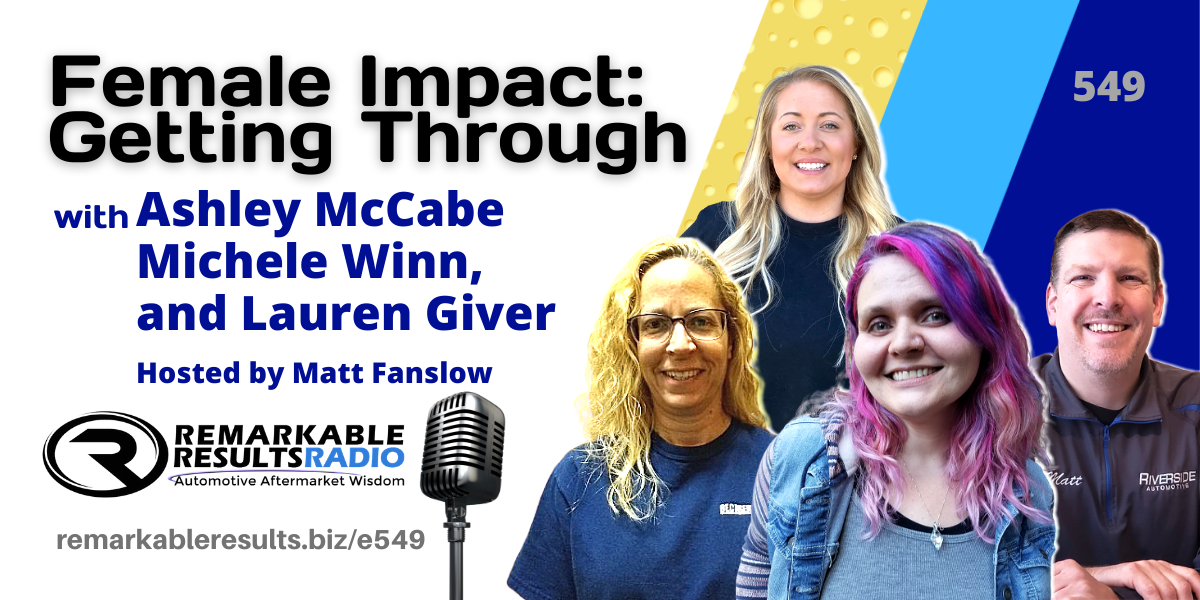 Ashley McCabe – McCabe's Automotive Specialist, University Place, WA. In 2015, Ashley took over her father's decades-old automotive business. She might not have known much about cars when she started, but she sure did know about customers. Ashley started at the front counter, and her father said he could tell that she understood customer service and how to connect with people on a deeper, more emotional level. Fast forward — Ashley is vice president of the company. Ashley has hired her first office team, and they have outperformed some of her father's best years in business. Her father and the rest of her family couldn't be prouder. She has a true passion for helping customers and finding her voice as a woman in a male-dominated industry. She hopes to inspire more women to take the leap and join this amazing ever-growing and changing industry.
Michele Winn graduated from Lincoln Technical Institute in Indianapolis, Indiana in 1994. Here is her resume:
She worked for an independent Goodyear service center for 6 years where she did brakes, steering and suspension and under hood maintenance.
In 2000 she taught an 'Intro To Drivability' class at Linder Technical Services. She also helped recondition fuel injectors, answered hotline calls from member shops and figured out tough drivability problems that were brought into the shop.
Michele always enjoyed turning wrenches and went back into a large shop environment in 2009 working for Beck Service Center on the south side of Indianapolis. She has been the only drivability and electrical technician in the shop for the past 4 years. Beck is a large shop with over 30 bays and 18 lifts. Listen to Michele's previous episodes HERE.
Lauren Giver started in the industry in July 2016 when she went to work for the repair shop that had been maintaining her vehicle for two years. She was hired as the Office Manager, but a big part of her job was talking to customers on the phone and at the counter. Lauren quickly found that this was the favorite part of her job, and truly why she wanted to work there in the first place. She had never received that level of customer service or felt valued as a customer at any other repair shop and she was excited to provide that experience from the other side of the counter. After the shop manager challenged her to make a sale, when she had absolutely no technical or sales experience, she sold the job and found that she enjoyed writing service just as much. It allowed Lauren to help people, which is what she wanted to do. After nine months, she was informed that the owners were retiring and selling the building, but through the connections that she made, Lauren found a wonderful home at Los Gatos Auto Service in Campbell, California where she currently writes service, full-time. Listen to Lauren's previous episodes HERE.
Matt Fanslow is the diagnostic tech/shop manager at Riverside Automotive in Red Wing, MN. His primary responsibilities are to diagnose driveability and electrical/electronic issues, and perform most all programming, coding, initializing, adoptions, etc. Basically, if it needs to be figured out or has wires, it goes to Matt. He's been a tech since 1996.
Matt is also a subject matter expert for ASE and has instructed at Vision Hi-Tech Training and Expo.
Matt has participated on 18 ASE technical committees for the ASE Practice Test, A6, A7, A8, and L1 tests. He's also done case studies for Standard Motor Products.
Fanslow's goal is to do everything in his power to improve the overall level of professionalism within the automotive and light truck repair trade and also raise the level of its public image. Matt Fanslow's Previous Episodes HERE.
Key Talking Points:
Technician shortage- women are an untapped talent3% of technicians are female
20% of service advisors are female
Under 1% shop owners are female
Over 50% of customers bringing a vehicle to shop are women/wives
Women in the automotive industryValue and worth isn't based on gender
Skills are questioned more from customers than coworkers
When customers respect the shop owner they respect the people that work for the owner
Age discrimination with elderly male customers
Don't assume shop owners aren't women
Younger generation typically doesn't care about who is doing the work as long as it gets done and they had a good experience
Culture- support women Not "My way" it's the way of your shop as a business
Double standard, women being assertive can be perceived as "bitchy"
Having a mentality of not making others change in order for you to fit in
Welcoming more women in the automotive industry- lack of knowledge for younger women Need more women shop owners and women speakers at schools
A clean environment is important to attract all employees especially women
Resources:
Thanks to Ashley McCabe, Michelle Winn, and Lauren Giverfor his contribution to the aftermarket's premier podcast.
Link to the 'BOOKS' page highlighting all books discussed in the podcast library HERE. Leaders are readers.
Listen for free on Apple Podcasts, Google Podcasts, Spreaker, iHeart Radio, Spotify, Podchaser and many more. Mobile Listening APP's HERE
Find every podcast episode HERE.
Every episode segmented by Series HERE.
Key Word Search HERE.
Love what we do? Buy Carm a cup of coffee HERE.
Be socially involved and in touch with the show:
Facebook Twitter Linked In Email
Join the Ecosystem – Subscribe to the INSIDER NEWSLETTER HERE.

The NAPA Smart Sign, previously known as Digital Menu Board, gives your shop a professional, state-of-the-art look and feel. It's a great way to educate and inform your customers about needed repairs and service, plus increase awareness of your current promotions. NAPA AutoCare Center that have installed a Digital Menu Board found one out of five consumers ask for a repair or service they've seen on the board. Targeted promotions resulted in double-digit increases. You choose the content from a library of auto care service and repair topics. The latest NAPA national promotions are downloaded to you automatically. And with the Digital Menu Board it's easy to change your services, prices, and video content anytime you'd like. Talk to your servicing NAPA store to find out more.
Learn more about NAPA Smart Sign, and the hundreds of other benefits the NAPA family has to offer. Talk with your servicing NAPA store or visit www.NAPAAutoCare.com