Tire Pro Wants Your Customer Experience to Be Your Differentiator [RR 548]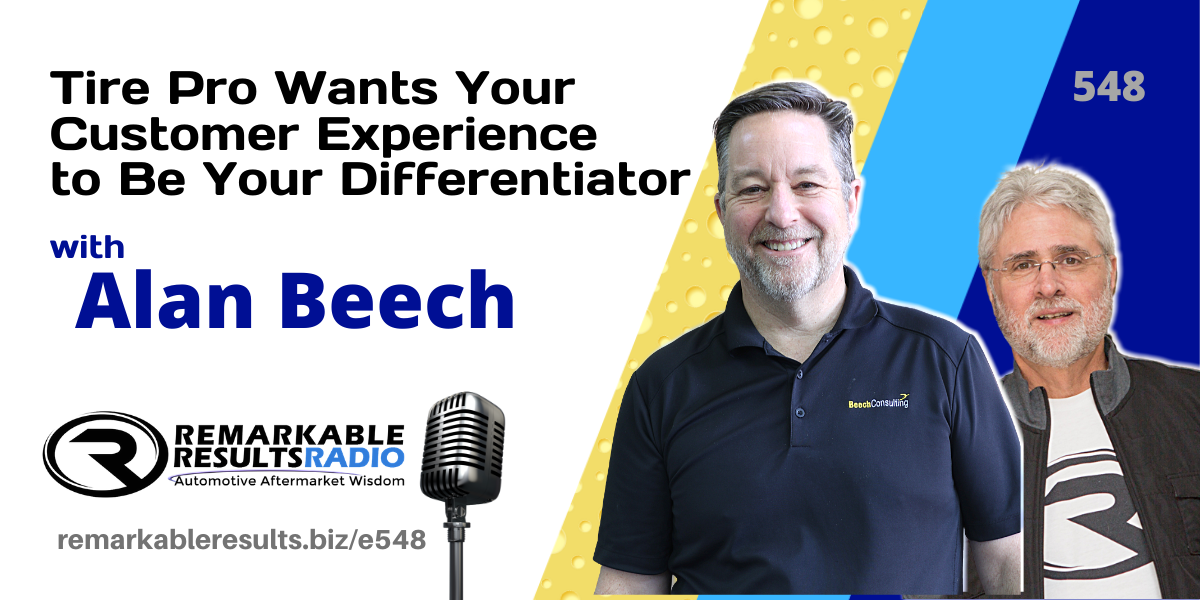 Alan Beech knows what it takes to succeed in today's marketplace. With more than 30 years of experience in the business world, he has worked his way to the top of the automotive service industry in Canada.
Alan's professional career has spanned within both the corporate and entrepreneurial spaces. Today Alan has a number of successful businesses to his credit.
Alan is driven by his desire to share his extensive knowledge of the industry and to help others succeed. His main focus today is coaching, consulting and training independent shop owners and dealer groups. Alan's passion is to see businesses be revitalized through great process and amazing customer experience. Find Alan Beech's previous episodes HERE.
Key Talking Points:
Tire business in Canada
75% of population use winter tires- rubber compound remains flexible under 35 degrees
Winter tires brake 25-30% better than regular tires- braking is most important with driving a vehicle
Symbol for winter tires- 3 peak mountain and inside is snowflake symbol
All-weather tire- not comparable to pure winter tire, gives less mileage and less traction
Quebec is the only province in Canada that has legislation laws for winter tires
Key to business is inspection- can always improve
Production facilities in North America/Asia do not have the capacity to service the winter tire market in USA
Customer for life
How much is a customer worth over the course of their lifetime in automotive purchases/services/accessories? $332,000 in 1985
If you let your customer go somewhere else for goods/services chances are they won't come back
Displaying tires in the shop
Recommend having 2 tires out on the floor
Tire buying program/storing winter tires
Tire focused business to maintenance focused business
People, process and product
Training basic automotive understanding-emotional intelligence is most important for hiring
Help your customer's get ahead- cheaper for them to keep vehicle than replace vehicle
For every dollar spent in maintenance, you save $15 in repairs- keep open communication with customers especially with products and warranties
Does customer satisfaction make a difference if they return or not? The reality is no. If the customer has emotional attachment/connection to you they will come back
Slow the process down- take time with your customers and employees, have a business that cares for people
Resources:
Thanks to Alen Beech for his contribution to the aftermarket's premier podcast.
Link to the 'BOOKS' page highlighting all books discussed in the podcast library HERE. Leaders are readers.
Love what we do, buy a cup of coffee HERE.
Be socially involved and in touch with the show:
Facebook Twitter Linked In Email
Listen for free on Apple Podcasts, Google Podcasts, Spreaker, iHeart Radio, Spotify, Podchaser and many more. Mobile Listening APP's HERE
Join the Ecosystem – Subscribe to the INSIDER NEWSLETTER HERE.
This episode is brought to you by AAPEX, the Automotive Aftermarket Products Expo. AAPEX represents the $740 billion global automotive aftermarket industry and has everything you need to stay ahead of the curve. With 2,500 exhibiting companies, you'll see the latest products, parts, and technologies for your business. As a result, the event also offers advanced training for shop owners, technicians, warehouse distributors (WDs) and auto parts retailers, as well as networking opportunities to grow your business. AAPEX 2020 will take place Tuesday, Nov. 3 through Thursday, Nov. 5, 2020 at the Sands Expo in Las Vegas. Therefore, more than 48,000 targeted buyers are expected to attend, and approximately 162,000 automotive aftermarket professionals. They will be from 135 countries which are projected to be in Las Vegas during AAPEX 2020. For information, visit aapexshow.com

This episode is brought to you by Shop-Ware Shop Management. It's time to run your business at its fullest potential with the industry's leading technology. Shop-Ware Shop Management will increase your efficiency with lightning-fast workflows, help your staff capture more sales every day, and create very happy customers who promote your business. Shops running Shop-Ware have More Time and generate More Profit—join them! Schedule a free live demonstration and find out how 30 minutes can transform your shop at shop-ware.com