Business Processes and Better Staffing with Brian Gillis [RR 547]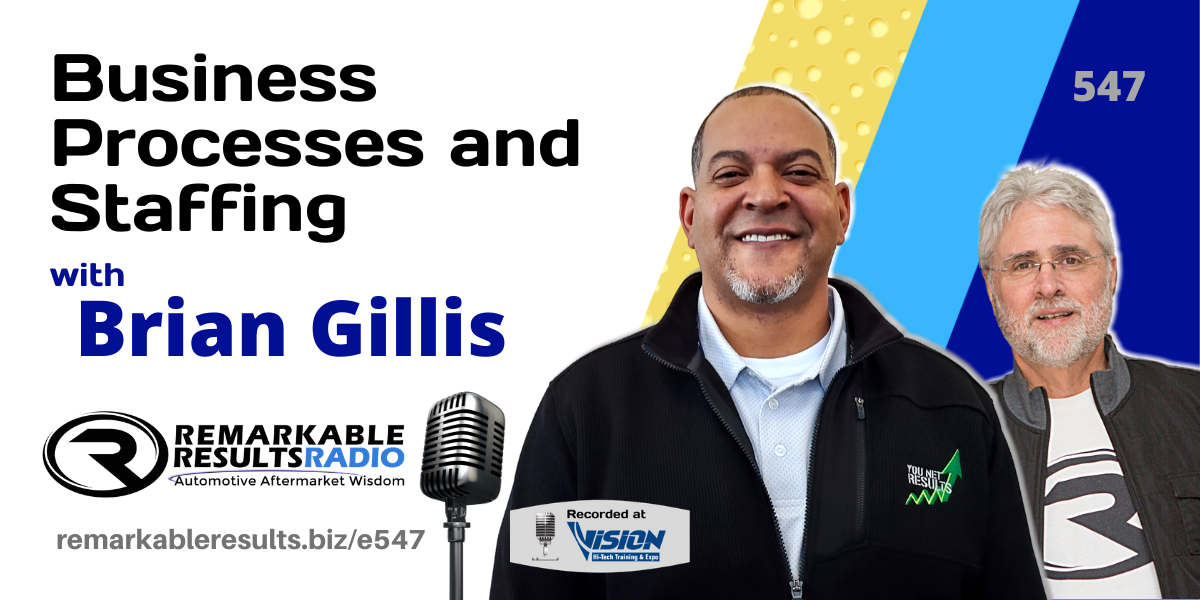 Brian is the Chief You Net Results Strategist, with 25+ years experience in auto shop operations, hiring, recruiting, systems, processes, multi-store experience, and employee training.
More about Brian Gillis…
25+ Years owning and operating auto repair shops in Texas, Georgia and Colorado, multi-unit stores
Hired and Trained over 2000 staff members
Budgeting and Profits Brian's Specialty
Smooth as silk with customers
Key Talking Points:
Processes in a businessCritical to have systems in place- easier to manage processes and procedures than managing actual person
Follow up is most important- inspect what you expect, teaching opportunity
Phone call etiquette- welcoming and inviting customer into shop, remain upbeat, play back examples
Rewatch surveillance cameras- are you greeting customers at the door?
Recognize good behavior- keep employees engaged and motivated to continue to follow
Be consistent especially if you have more than 1 location
StaffingDevelop criteria for what you're looking for for each specific position
Pre check- spend 20-25 minutes with scheduled phone interview first
Face to face interview- confidence and energy?
Never make someone work for you- you can teach someone to have passion, drive and desire
Observing/shadowing at a shop- is it a good fit for them? See processes/procedures. Interact with current employees
Always be recruiting- continue to build network and relationships in case you do lose an employee. Look for talent outside of the auto industry.
YouNetResults- coaching companyService advisor training
Focus on leadership, hiring/recruiting, general manager training, daily operations, financials, workflow tools, front counter interactive workshop
Resources:
Thanks to Brian Gillis for his contribution to the aftermarket's premier podcast.
Link to the 'BOOKS' page highlighting all books discussed in the podcast library HERE. Leaders are readers.
Listen for free on Apple Podcasts, Google Podcasts, Spreaker, iHeart Radio, Spotify, Podchaser and many more. Mobile Listening APP's HERE
Find every podcast episode HERE.
Every episode segmented by Series HERE.
Key Word Search HERE.
Love what we do? Buy Carm a cup of coffee HERE.
Be socially involved and in touch with the show:
Facebook Twitter Linked In Email
Join the Ecosystem – Subscribe to the INSIDER NEWSLETTER HERE.

NAPA AutoCare's PROimage program makes it easy for you to make the most of the NAPA brand. A PROimage upgrade lets you maintain your shop's identity as a reliable, locally-owned business while letting your customers and potential customers know you're partnering with NAPA, the most recognized and trusted name in the automotive aftermarket. AutoCare Centers that have completed a PROimage exterior upgrade enjoy an average 23 percent sales increase during the first year. You can also choose to go PROimage on the interior and transform your customer waiting area from merely utilitarian to warm and welcoming. You can even get a free look by visting www.NAPAAutoCare.com and clicking on the NAPA PROimage link under the NAPA PROimage tab. Of course, the AutoCare site is also the place to go to find out about all the advantages being part of the NAPA family has to offer.
Learn more about NAPA PROimage, and the hundreds of other benefits the NAPA family has to offer. Talk with your servicing NAPA store or visit www.NAPAAutoCare.com