Financial Help For Your Team [THA 177]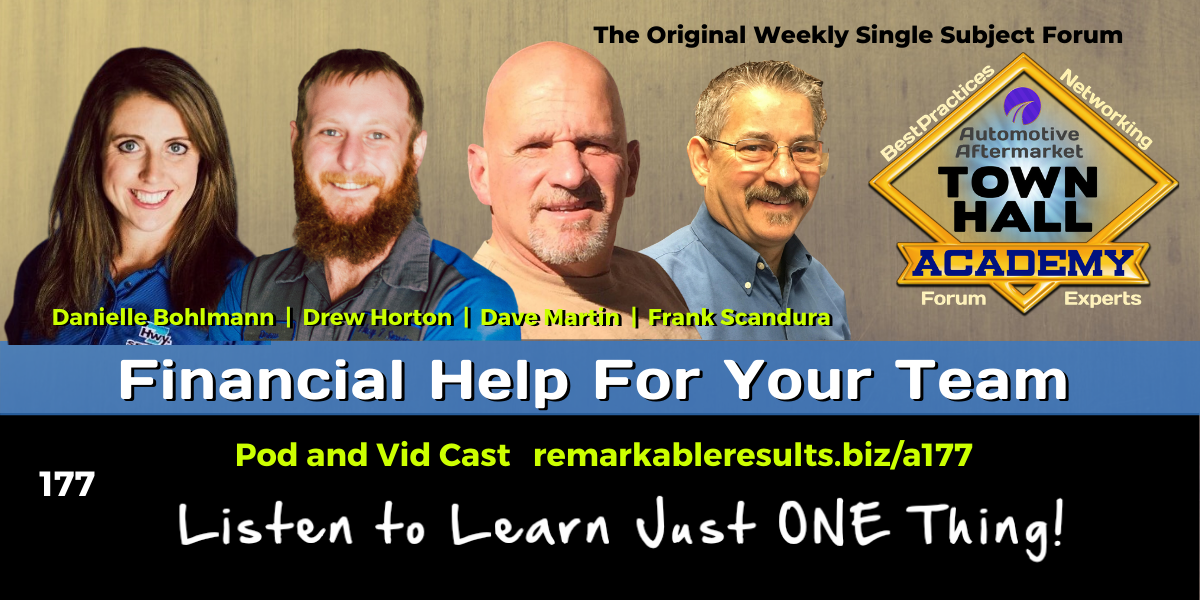 Danielle Bohlman is an owner with husband Brett of Highway 7 Service Center in Newell, IA. Find Danielle's other episodes HERE.
Dave Martin is the Owner and President of Martin's Auto Repair in Phoenix, AZ. His automotive career began pulling weeds on the shop property then as he got older Dave moved into a station helper and gas attendant. Dave then became the shop manager before taking over the family business from his father in 2006.
Dave married his wife Bo in 1992 and they have an adult daughter, Qamree. Dave bowls, plays over the line baseball, and is a passionate football fan, proudly supporting his lifelong favorite team, The Dallas Cowboys.
Dave was born with Spina Bifida and wants to help others affected and increase public awareness. Elected as Chairman of the Board for the Spina Bifida Association of Arizona in 2012 and has been involved of in its growth through events and fundraisers. Dave also volunteers as a speaker to community organizations and young adults showing how he doesn't let Spina Bifida keep him from his goals. Find Dave's other episodes HERE.
Frank Scandura, Franks European, Las Vegas, NV started working on cars as a teenager in upstate New York and moved to Las Vegas in 1988. After years of writing service for Mercedes, he opened Frank's European service in 2001 and grew to a 12,000-square foot, 10 bay shop in the northwest part of Las Vegas, not far from the famous Strip! He has 15 team members and is partnered with his wife Deborah. From his first immersion, in the business, pumping gas at 15 years old in Orange County New York, to writing service at a Mercedes dealer in Las Vegas Frank Scandura shares his business acumen and offers insights and trends on leadership as a business coach. Frank's previous episodes HERE.
Drew Horton is a Technician from HWY 7 Service Center in Newell, IA
Key Talking Points:
78% of Americans live paycheck to paycheck – 50% worry about it.
It is a spending problem not an income problem. When people get nice raises over time they never pull out of their spending habits because they always spend more than they makeMany cannot see beyond their next paycheck
The amount of pressure at work is high whey you can't pay your bills and is much less when you have a handle on your spending
Many don't know where their money goesWhen they list what they spend their money on it is an eye-opener
Part of the problem is financial institutions offer credit cards, a line of credit, loans.
You can get a car loan for 84 months. That is the only way an affordable monthly payment can be made
Shop owners need to share financial responsibility with their people. It is not normal to live paycheck to paycheck
Dave was giving an advance on their paycheck and that didn't help them. He eventually stopped it when he sent his people to Dave Ramsey's Financial Peace seminar. Find it on the Books Page Here
Drew's marriage is improved as they went through the class last February.They are happier now that they have a money management discipline
Frank: A couple with $10K in debt and no savings are twice as likely to get divorced and a couple with $10K in savings and no debt
A Ramsey quote: Live like no one else to later you can live and give like no one else
As a couple, you need to have one goal as it relates to money
Sure use credit cards but you must pay them off every monthCredit card interest and fees is highest you find anywhere
In the financial world, there is the FICO scamYou have to have a good credit score scam
People borrow to increase their credit score. The dichotomy
What are we overspending on?The little things. It all adds up and you do not realize it
If you are looking for credit card incentives you tend to spend more
People spend money to feel comfortableKeeping up with the Jone's
Thirsty? Spend $4 at Starbucks
Going to dinner makes you feel comfortable
BOOK FRANK MENTIONED???The Millionare Next Door Find it on the Books Page Here
How to start!You don't have to be great to start you have to start to be great
Find the discipline
You can climb out, but you'll need help and gain a commitment to the end
Do things tougher as a team to get through your financial strugglesWork together to see debt disappear
Similar goals as a couple
When Drew and his wife pay off a debt they do it together
Dave Ramsey says: If you are broke you can't help anyone else
It is easy to fall of track. It is a mindset, but you can fall off. It requires a strong discipline. It is worth it to continue the lessons to keep you tuned in.
DaveRamsey.com can get you started
A budget is a big part of financial peace. A budget tells your money where it is allowed to go before it is gone
Stop being sick and tired being sick and tired
Invest in your people. Pay for a Dave Ramsey class.
Resources:
Facebook Twitter Linked In Email
Join the Ecosystem – Subscribe to the INSIDER NEWSLETTER HERE.

This episode is brought to you by Shop-Ware Shop Management. It's time to run your business at its fullest potential with the industry's leading technology. Shop-Ware Shop Management will increase your efficiency with lightning-fast workflows, help your staff capture more sales every day, and create very happy customers who promote your business. Shops running Shop-Ware have More Time and generate More Profit—join them! Schedule a free live demonstration and find out how 30 minutes can transform your shop at getshopware.com