Remedy: Shop has Case of COVID-19 [RR 546]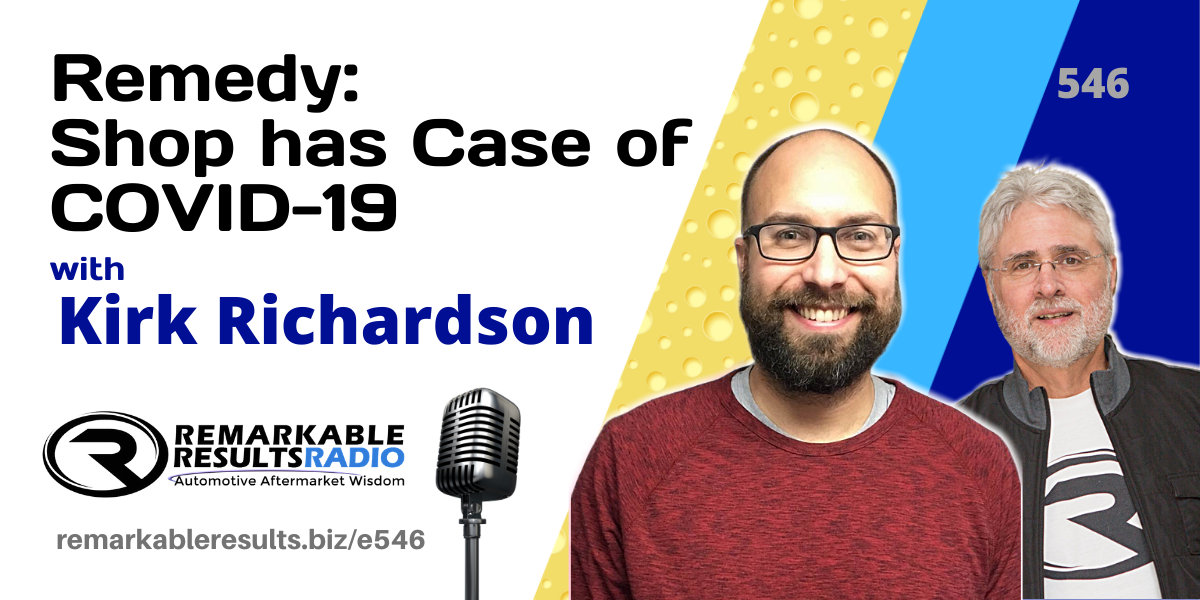 Kirk Richardson is a young and successful entrepreneur. Born into a blue-collar, hard-working family, he was a below-average student in high school and college. At the age of 22, he left school and started his first business. He bought his first three-bay shop at the age of 24. Seven years later he bought his second shop, South Street Auto Care in Rochester, MI.
Richardson really prides himself on his ability to create a family culture within his businesses. The culture is a blend of hard work, accountability, fun, and hi-jinx, which combine to make loyal and dedicated coworkers. Kirk loves business and people in general and will talk for hours about business! Listen to Kirk's previous episodes HERE.
Key Talking Points:
A Technician tested positive for Corona Virus and discovered on a Wednesday
His shop was closed Thursday, Friday and Saturday
Symptoms can't taste food or smell (not typical)
Kirk told everyone he would have been in contact or interacted with him
He will require a negative test before he comes back to work
Many of his co-workers were not that concerned with the virus and everyone got a dose of reality
His shop went to a grinding halt. There were 13 employees involved.
His first thought was to keep everyone safe
There was a physiological switch in people that a co-worker got the virus (can't happen to me)
One of his first goals was to locate testing centers that could give him a quick turn-around for his team to minimize the days he would be closedHis team went in their own direction which delayed his re-opening
Find a testing center that can turn results around in 24 – 48 hours if you will ever need it In some cases, it took 4 days to get results
He had to find a company to sanitize the entire building
Customer messaging was also importantEvery customer was understanding
Got some test results by Sunday, but not all results were in on Monday, yet he still re-openedSome test results came in Monday
The county did call them and ask what he did to remedy the situation
Kirk is a multi-shop owner. Early on when COVID-19 he created a policy that no-one could work or visit another of his location. He did not want any cross-contamination to minimize exposureHe had a breach in the policy when they transferred loaner cars, and the people from the second shop had to be tested
One of the techs at the second store refused to get tested. He also said he had Cornona Virus. Be prepared for some of your people who don't want to be tested and what you will need to do to remedy the situation
Kirk is using diluted bleach for sanitizing the shop and customer vehicles
Based on questions and being inquisitive Kirk believes his tech may have gotten COVID-19 from a vehicle he was working on
As a shop owner Kirk has established rules to protect his people and customers. But he cannot patrol every person every minute of the day.It is important to use this example to remind your people of the important of sanitizing, social distancing and protecting yourself and others
If it happens to you:Close your business
Get everyone tested. Know where you are to send your people (predetermined)
Sanitize the entire operation (do your research before you have a need)
Keep your plan to yourself or your manager
Resources:
Thanks to Kirk Richardson for his contribution to the aftermarket's premier podcast.
Link to the 'BOOKS' page highlighting all books discussed in the podcast library HERE. Leaders are readers.
Love what we do, buy a cup of coffee HERE.
Be socially involved and in touch with the show:
Facebook Twitter Linked In Email
Listen for free on Apple Podcasts, Google Podcasts, Spreaker, iHeart Radio, Spotify, Podchaser and many more. Mobile Listening APP's HERE
Join the Ecosystem – Subscribe to the INSIDER NEWSLETTER HERE.
This episode is brought to you by AAPEX, the Automotive Aftermarket Products Expo. AAPEX represents the $740 billion global automotive aftermarket industry and has everything you need to stay ahead of the curve. With 2,500 exhibiting companies, you'll see the latest products, parts, and technologies for your business. As a result, the event also offers advanced training for shop owners, technicians, warehouse distributors (WDs) and auto parts retailers, as well as networking opportunities to grow your business. AAPEX 2020 will take place Tuesday, Nov. 3 through Thursday, Nov. 5, 2020 at the Sands Expo in Las Vegas. Therefore, more than 48,000 targeted buyers are expected to attend, and approximately 162,000 automotive aftermarket professionals. They will be from 135 countries which are projected to be in Las Vegas during AAPEX 2020. For information, visit aapexshow.com

This episode is brought to you by Shop-Ware Shop Management. It's time to run your business at its fullest potential with the industry's leading technology. Shop-Ware Shop Management will increase your efficiency with lightning-fast workflows, help your staff capture more sales every day, and create very happy customers who promote your business. Shops running Shop-Ware have More Time and generate More Profit—join them! Schedule a free live demonstration and find out how 30 minutes can transform your shop at shop-ware.com