Social Media Strategies as we Re-Open the Economy [THA 176]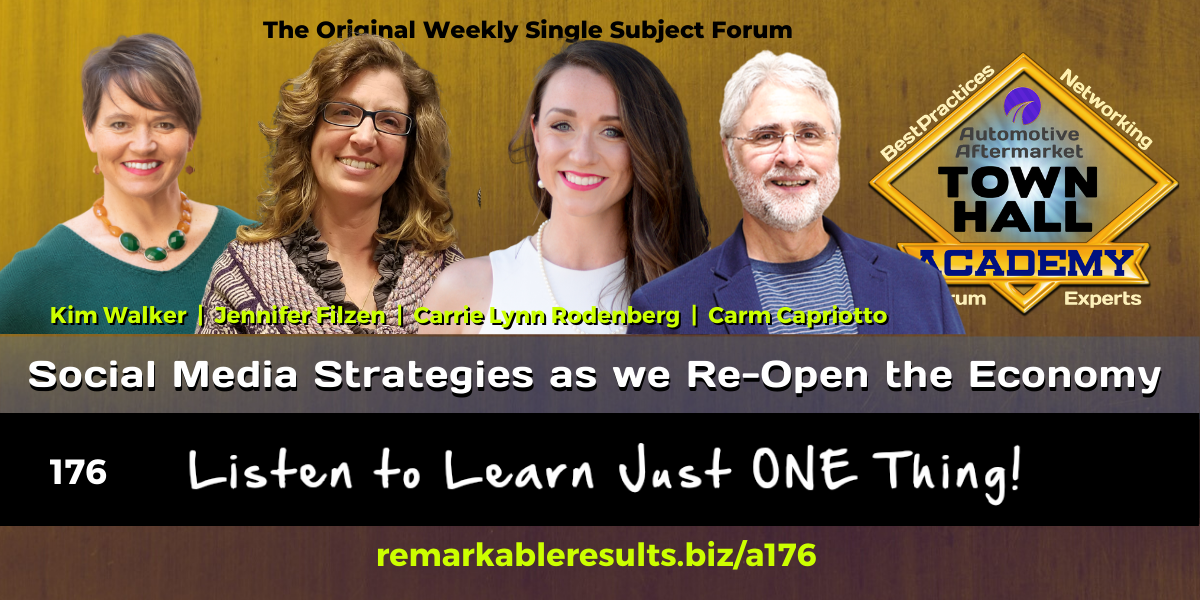 Carrie-Lynn Rodenberg, the owner of Turnkey Marketing, founded her boutique marketing firm after moving from New York where she was in charge of the direct response marketing for a 10 BILLION dollar company (Emblem Health). She went on to be the Director of Marketing and won the 2nd place Infusionsoft Ultimate Marketer Of The Year Award.
Carrie-Lynn graduated from the University of Virginia, which is considered a "Public Ivy League University" and is one of the top 25 universities in the United States. She is a hard charger that is a total marketing nerd. Most weekends you can find her reading books on business and marketing, playing with her two dogs Paxton and Charlotte, or volunteering at church. She and her husband/business partner, James, live in the Kansas City Metro.
Turnkey Marketing was founded on the principle that all work done well is important. The work done in the aftermarket automotive industry is important – it keeps us and our cars safe, and lets us live with much more freedom.
Carrie-Lynn says "Turnkey Marketing exists to help shops effectively communicate in their community, with their customers, and potential customers, all the good work they do so that your repair shop can be known as the trusted, "go-to" shop in your area". Turnkey Marketing does this by providing cutting-edge marketing that actually works and increases car count.
Turnkey Marketing is a family-owned and operated "one-stop-shop" boutique marketing firm that does everything from social media campaigns to providing the professional shop an entire marketing department. Find her previous episodes HERE. Turn-Key Marketing Website HERE
Kim Walker from Shop Marketing Pros is a social media expert. Kim's experience includes a school counselor and teacher. Her
husband Brian, started his own shop while he was a Mercedes technician in North Carolina. Then asked Kim to leave her school job and join his service business. Then for specific reasons left to go back home to Louisiana. It was almost destiny that they engaged with Shop Marketing Pros. As a former shop owner, Kim's advice and expertise on social media is perfectly matched because she's been there and done that.
She is on the Car Care Council's Women's Board, an ATI and Management Success Graduate, and their shop was a Motor Age Top Shop winner two years in a row. Their shop experience is without question, so when she talks about social media as it relates to the automotive service professional, she has the experience that matters. Look for Kim's other episodes HERE. Shop Marketing Pros Website HERE.
It all started when Jennifer Filzen decided to become a singer/songwriter and created her first pop music album, Sirena. Her marketing and sales talents afforded her the opportunity to get her music heard around the world, including India, China, Europe, Australia, and the United States.
Her writing talents launched her into writing SEO content for websites, social media marketing posts, and custom blogs. Today, many auto repair shops around the country choose Rock Star Marketing to put their businesses in the limelight.
Jennifer Filzen Previous Episodes HERE. Rock Start Marketing Website HERE.
Key Talking Points:
Carm's opening thoughts: Authenticity, organic, community, family, business family, restaurants, celebrations, grateful
It is hard for some to be authenticWe are special and unique but we all do one thing together and the same we repair vehicles to make them safe and reliable
Let people see who you really are
Authenticity shows your vulnerability that connects to your tribe
Tell your customers story
Connect with your customer at their level
Don't talk above them but with themEating lunch with the team or celebrating a birthday
Bring authenticity to every new relationship
Take your tribe on a journey so you can trust us
You have to give before you can ask
Go easy on the hard sell
Social media is but one piece of your marketing
Step back and look at your big picture. There is more than fixing cars, your people and
Kim recommends a book They Ask You Answer by Marcus Sheridan. Find it on the website's books page HERE.
Be a better listener what are your customers asking?
Are you posting on your Google listing?
Customers look at so much before they call you. Put your customer's eyes on. See what they are seeing
Shop owners are too close to their story. They are super hero's and that story needs to be toldDig deeper in your story
Share what makes you special and unique and find a resonance in your tribe. Not everyone will resonate what makes you unique
You need to do Facebook LiveDon't spend on making a perfect 'commercial'. You do not need that.
Sincere, authentic, organic
One to three minutes.
Share about your shop what you do what is happening.
Think like a customer not a technician or shop owner
You can do FB Live privately (only to yourself), so no one sees it so you can gain confidence
Please put in a description
You are falling behind if you don't do FB Live
Be human. No need to be perfect and slicked back
Find something Educational, Engaging and Entertaining
WhatWhat are you posting
Capture the moment 'in the moment'Stuff that is going on in your world
Take a lot of pictures. Pick something you can use
Don't worry if you don't get a lot of likes or shares. Move on do another. Don't get discouraged. There is more to the success of a post than just a few likes
What is your end goal is to get people in your shop
During the major lockdown, many shop owners were doing a 'concierge' service which you can call touchless and a level of differentiation. That may be here for a long time and there is a great reason to continue indefinitely
Coming out of COVID may necessarily be a big change in messaging, not reinventing the wheel, but help them in the coming out and into the next phase and make them comfortable
What are my customers thinking and create posts that are connected to that?Sick of being stuck at home
Where do we go on vacation today, can we be safe
Idea. Give your customer a 'first aid' kit that includes mask, hand sanitizer etc
Ask your customer where they are with COVID. Do they want to wear a mask?? Create a conversation starter
Don't let your struggle go to waste. Learn from it.
Resources:
Facebook Twitter Linked In Email
Join the Ecosystem – Subscribe to the INSIDER NEWSLETTER HERE.

This episode is brought to you by Shop-Ware Shop Management. It's time to run your business at its fullest potential with the industry's leading technology. Shop-Ware Shop Management will increase your efficiency with lightning-fast workflows, help your staff capture more sales every day, and create very happy customers who promote your business. Shops running Shop-Ware have More Time and generate More Profit—join them! Schedule a free live demonstration and find out how 30 minutes can transform your shop at getshopware.com