Theft of Catalytic Converters with Peter Neilson [RR 545]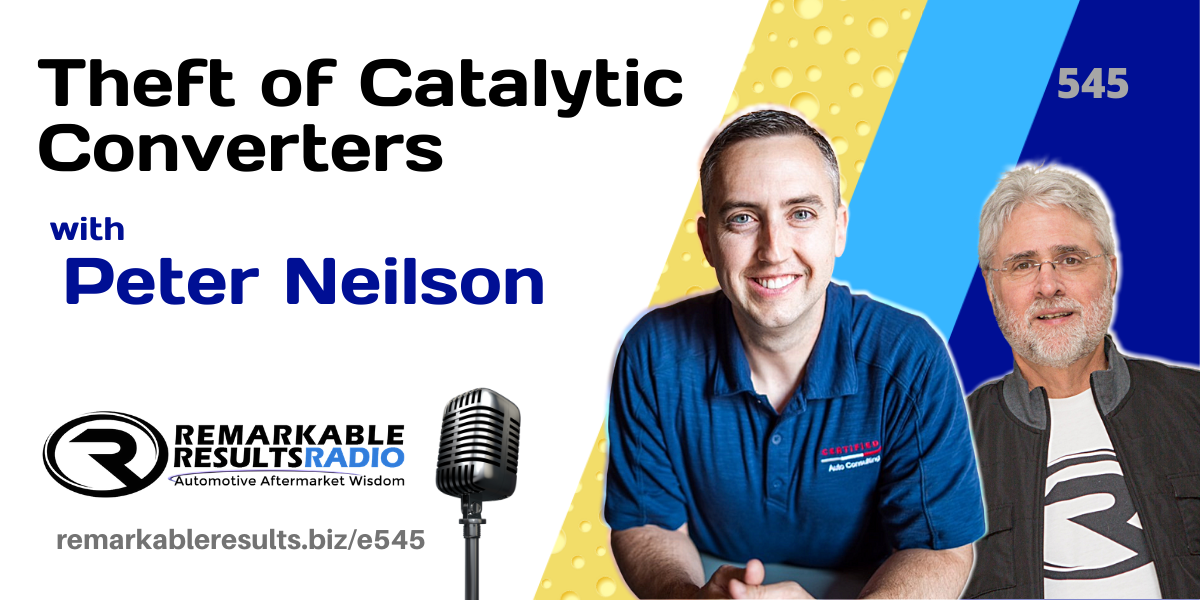 Peter Nielson is the Hybrid Guy in the hybrid and electric car space of our industry. His company Certified Auto Consulting, came about to help other niche companies inside the hybrid and electric car market grow. As an independent contractor for sites like TorqueNews, he use his professional skill set to help others achieve success. Peter is always looking to help any specialty shop get more on their bottom line, but he is partial to the hybrid market at this time.
He is currently working towards building a hybrid repair and training facility. He want to provide quality hybrid and electric car training material to shops and schools. He will also do charity repair work for families that have children with cancer. Building his personal brand and influence will allow him to make a bigger impact.
Peter have been key in launching the Cat Security™ protective shield. He has also been studying under Craig VanBatenburg to become a west coast trainer for ACDC. He has a great sense of online marketing and sales that has helped many other small businesses grow exponentially. Something interesting about him is that he have now owned 9 hybrid cars. He enjoy solving problems on hybrids which is one reason he keeps buying them.
On a more personal note, He has been married for 12 years this year and have 3 boys. He holds a bachelor of science in Automotive Technology from Weber State University In Ogden Utah.
Key Talking Points:
Author and writer for TorqueNewsStarted working on hybrid vehicles and became involved with hybrid Facebook groups. One of the administrators was Chief Editor for TorqueNews and reached out.
Cat converter theft- multi billion dollar black market industryPrecious metals are densely packed and sold. Prices for precious metals are constantly changing.
Recently, China has sought after Palladium- roughly worth over $2000/ounce
Prius converters very popular especially Generation IIHave 2 separate converters
Easily taken off
Toyota of San Francisco dealership- over past 3 months had almost 600 replacement converters
Can cost car owner over $5000 to replace converter
Cap City Muffler- Cat Security Shield (www.getcatsecurity.com)Customer had converter stolen twice within few weeks, owner designed shield to cover without compromising vehicle
Designed per vehicle- tailored fit
Price for insurance to replace cat converter is $2,500+Some insurance companies will cover it, some will total vehicle
Resources:
Thanks to Peter Nielson for his contribution to the aftermarket's premier podcast.
Link to the 'BOOKS' page highlighting all books discussed in the podcast library HERE. Leaders are readers.
Listen for free on Apple Podcasts, Google Podcasts, Spreaker, iHeart Radio, Spotify, Podchaser and many more. Mobile Listening APP's HERE
Find every podcast episode HERE.
Every episode segmented by Series HERE.
Key Word Search HERE.
Love what we do? Buy Carm a cup of coffee HERE.
Be socially involved and in touch with the show:
Facebook Twitter Linked In Email
Join the Ecosystem – Subscribe to the INSIDER NEWSLETTER HERE.

NAPA AutoCare's recent partnership with CarVantage gives your AutoCare Center an easy way to take advantage of telematics, increasing customer retention and boosting customer spend. You provide customers with a CarVantage sensor that plugs into their vehicle and connects via Bluetooth to their smartphone. Then you set up automated marketing campaigns that target customers based on their vehicle's next maintenance interval, for example, or whenever a check engine light is detected. That gives customers peace of mind and the best experience in the market. They also love CarVantage because it's free to them. A special offer only for NAPA AutoCare Centers lets you give CarVantage a try at a very affordable price. And it includes free sensors. Other plans and enhancements are also available.
Learn more about NAPA CarVantage, and the hundreds of other benefits the NAPA family has to offer. Talk with your servicing NAPA store or visit www.NAPAAutoCare.com