Industry Terminology: It's Time to Change it. Can You Get Behind This? [RR 571]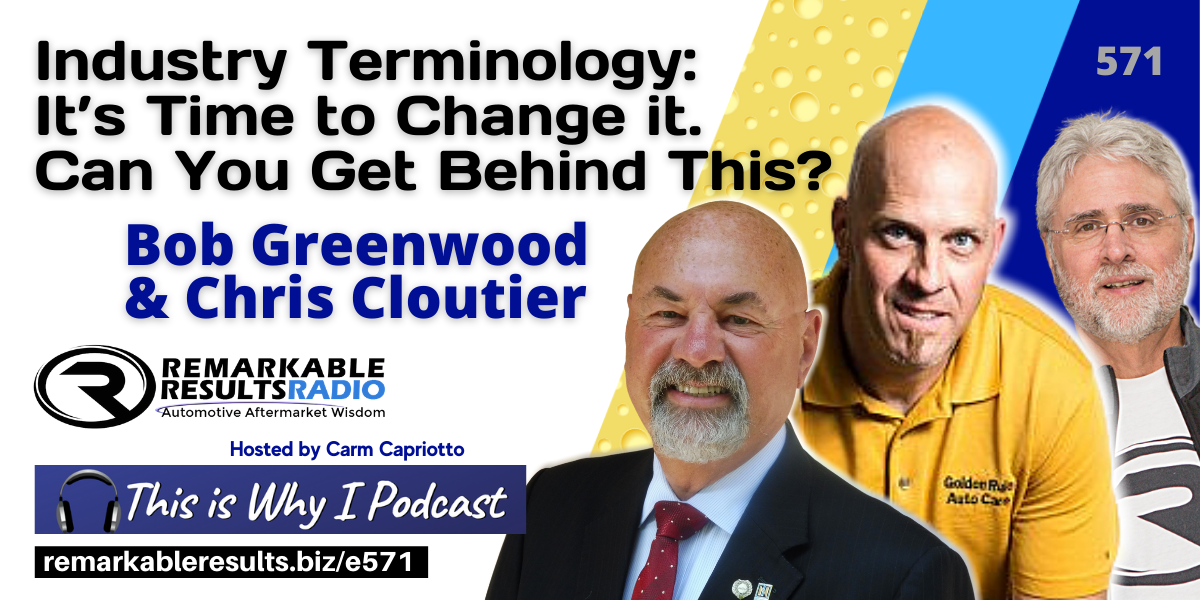 Chris Cloutier is co-owner of Golden Rule Auto Care in Dallas Texas and CEO of Auto Tex Me. He spent many years in the software industry developing solutions for companies like Southwest Airlines, and Wyndham Intl. He's worked for companies that understood the marriage of service and software, and have applied it in an effective way. Chris has his ASE C1: Automobile Service Consultant Certification Test (C1). He brings the business side to the business and his brother Pat brings the Braun. Chris is also a musician. Hear Chris's previous episodes HERE. Autotex.me website HERE.
Bob Greenwood, AMAM (Accredited Master Automotive Manager) is President and C.E.O. of Automotive Aftermarket E-Learning Centre Ltd. (AAEC). It is a company focused on providing Business Management Resources and Development for the Independent Sector of the aftermarket industry. Its content and technology is recognized as part of the curriculum of the Fixed Operations Diploma and the Aftermarket Degree courses taken at the Automotive Business School of Canada at Georgian College located in Barrie Ontario Canada. This school is the leader and only college in Canada that offers an automotive business education. AAEC is also recognized by the Automotive Management Institute (AMI), located in North Richland Hills, Texas USA, allowing 80 credits for successful completion of the AAEC E-Learning portion of the site towards the 120 credits required to obtain the reputable Accredited Automotive Manager (AAM) designation. Bob's previous episodes are HERE. AAEC website HERE.
Key Talking Points:
Necessary changes to our Industry terminology because of the profession we've become
We use too many industry terms with our customers such as work order instead of invoice
Business Owner – IN vs Shop Owner – OUT Anyone can own a shop, but it takes a certain person to own a business and be a leader.There is also a difference between entrepreneurs and business owners- chasing a dream and ideas vs looking at numbers in business and building people within a business.
Work on your business instead of in your business
The business owner should elevate to a CEO – Chief Executive Officer
Going from a Trade -OUT to a Profession – IN.A change in mindset and discipline to be focused on making net profit.
Client strategic business – IN vs Customer-based business – OUT You have a responsibility for clients and have earned trust. Customers come and go.
What makes you unique and different? Your value proposition
What do you bring to the table that others do not?
You don't sell clients. You council them.
Relationships build trust
Council not sell- understand vehicle and client.
Changing your mindset using language. If you think of yourself as a CEO vs an owner will change how you approach things as a leaderCEO- IN vs Shop Owner – OUT
Service Consultant/Advisor – IN vs Counter salesperson/writer – OUTRelationships built trust
Technician- IN vs Mechanic -OUT
Invoice – IN vs Work order – OUT
The terminology of business software. Acronyms SMS shop management system,
DMS (dealer management system) vs POS (point of sale system)
Development – IN vs Training – OUTDevelopment classes scheduled for the next year for entire team
Attracting younger generation- skill level continues to elevate with the amount of technology within vehicles
Business cards for your team members should include their certifications or professional accreditations
Change starts with the owner- set expectations and defines the language used within the business You have to understand your people, how to communicate, motivate, and train.
Are you training and developing your technician? Are they certified? Continue to develop your knowledge
Every team member should have a business card with certifications
Instructors – IN vs Trainers – OUT – instructors have done research priorAnswer all questions
Have a thorough investment with their time and always continue to work on presentation skills
Having great knowledge does not necessarily help be a great instructor. You need to know how to be a great presenter. Always looking at how to transfer knowledge and engagement with student
A language improvement starts with the ownerThe owner has to lead
Are you taking the time to make your people feel like technicians or consultant
DVI does not mean you are paperlessDigital does create a paper trail
Pro Market Collaborative – IN vs Independent Aftermarket – OUT
VSP – Vehicle Service Professional
Resources:
Thanks to Bob Greenwood and Chris Cloutier for their contribution to the aftermarket's premier podcast.
Link to the 'BOOKS' page highlighting all books discussed in the podcast library HERE. Leaders are readers.
Listen for free on Apple Podcasts, Google Podcasts, Spreaker, iHeart Radio, Spotify, Podchaser and many more. Mobile Listening APP's HERE
Find every podcast episode HERE.
Every episode segmented by Series HERE.
Key Word Search HERE.
Be socially involved and in touch with the show:
Facebook Twitter Linked In Email
Join the Ecosystem – Subscribe to the INSIDER NEWSLETTER HERE.

NAPA AutoCare's PROimage program makes it easy for you to make the most of the NAPA brand. A PROimage upgrade lets you maintain your shop's identity as a reliable, locally-owned business while letting your customers and potential customers know you're partnering with NAPA, the most recognized and trusted name in the automotive aftermarket. AutoCare Centers that have completed a PROimage exterior upgrade enjoy an average 23 percent sales increase during the first year. You can also choose to go PROimage on the interior and transform your customer waiting area from merely utilitarian to warm and welcoming. You can even get a free look by visting www.NAPAAutoCare.com and clicking on the NAPA PROimage link under the NAPA PROimage tab. Of course, the AutoCare site is also the place to go to find out about all the advantages being part of the NAPA family has to offer.
Learn more about PROimage and the hundreds of other benefits NAPA offers. visit the NAPA Benefits Center, at www.napabenefitscenter.com or call the NAPA Benefits Center at 844-627-2123.