Delayed Maintenance: The Power of Appointments [THA 189]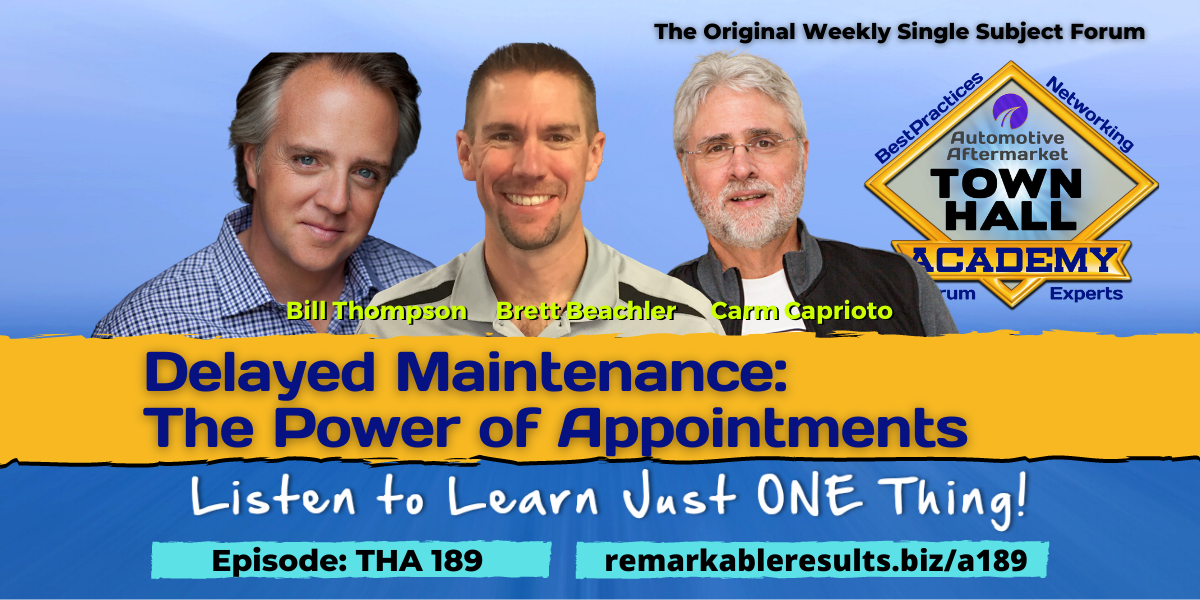 Panel:
Brett Beachler, is Vice President of Beachlers Vehicle Care and Repair, Peoria, IL. Brett has been in the automotive industry for 30+ years and is third generation family. He started in the family business at about age 13 maintaining the business property.
Brett graduated from Bradley University with a bachelor of science in business. He departed the family business to work in the corporate world for four years. His Dad, Terry, asked Brett to re-join the family business. Since that time, Brett has not looked back and has enjoyed almost every minute of his time in the family business. Listen to Brett's previous episodes HERE.
Bill Thompson is the President of IMR Inc. Founded in 1975, IMR conducts syndicated and proprietary market research studies that focus on the automotive industry including the automotive aftermarket, heavy duty and fleet segments. Since Bill joined IMR in 2003, the company has expanded its research portfolio and service offerings to provide a wide range of strategic and tactical solutions that provide insight into your most pressing questions. With a focus on industry trends, consumer and repair shop purchasing behavior, channel trends and many other important metrics, IMR's research provides insight into your market that can bring you closer to your customers, distribution channels and market opportunities. Listen to Bill's previous episodes HERE.
Key Talking Points:
The percent of vehicles on the road that were delaying maintenance, in 2016, there was about
According to IMR research, delayed maintenance hit a peak in early August 2020 at 30% and started to drop. Bill believes it will normalize to the norm of 17-18% as the year progresses.This was a direct reason for Covid-19
Brett says the advisors always need to be in the education mode. You always need to explain 'why' the consumer will benefit from a repair or maintenance.
IMR does a weekly survey with consumers to compile this information
The trend is up regarding people who are looking at reviews before deciding on a shop.
Consumers are also looking for a 'touchless' customer experience
In Brett does not have his customers making a big deal about touchless and masks. He says his smaller town, he believes, does not make this a large factor in doing business with him.The stats prove out that geographically
Financing Options for Major Costly Repair data is at 40% showing that consumers do want options to help them to keep their vehicle safe and reliable.
In a recent week, IMR survey showed, 60% of consumers are willing to take a future appointment for their next service/repair.
Brett is doing 'permission' calling their customer in the future.Your advisors need to be asking questions on the 'long game' of your customer's car.
They call and set appointment vs setting the appointment such as in a dentist office or hair salon
If we schedule our next dental appointment or hair cut/color why would we not want to schedule our next vehicle service?
Too many people say that they will trade their car in so they don't need to service or maintain what they haveShow them the numbers and they may just realize the cost of money, energy and time to buy a newer vehicle
See Brett's previous episode here on his strategy: https://remarkableresults.biz/town-hall-academy/a020/
He buys a 4-year-old car, keeps it until it reaches 250,000 miles.
With the data in the survey, Brett believes he should start to book a future appointment since 60% of consumers are willing to accept. Consider the trust factor as you ask a customer to set future appointments
Government (2020) reimbursement is at 57.5 cents per mile (https://bit.ly/35vAI6a)Brett has verified the number and that is a critical number to understand that vehicle ownership is not all gas and repairs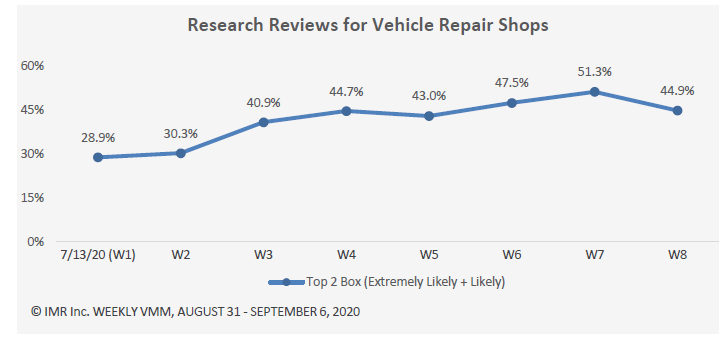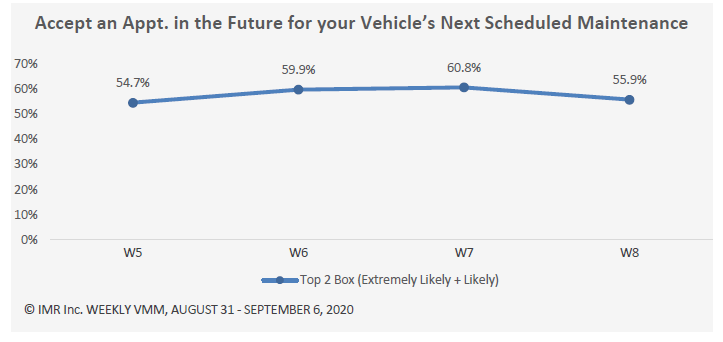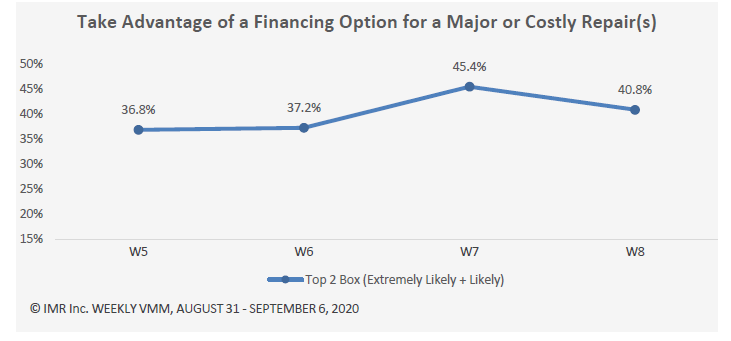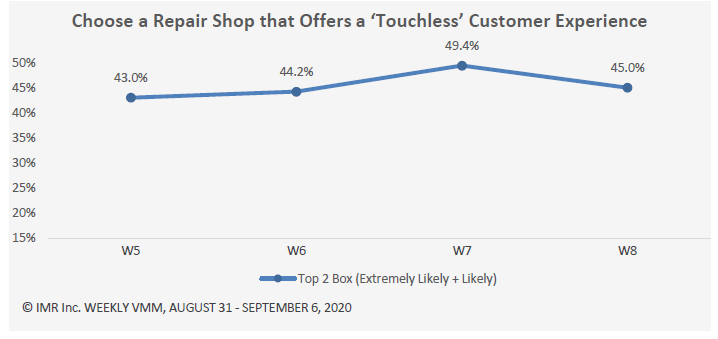 Resources:
Facebook Twitter Linked In Email
Join the Ecosystem – Subscribe to the INSIDER NEWSLETTER HERE.

This episode is brought to you by Shop-Ware Shop Management. It's time to run your business at its fullest potential with the industry's leading technology. Shop-Ware Shop Management will increase your efficiency with lightning-fast workflows, help your staff capture more sales every day, and create very happy customers who promote your business. Shops running Shop-Ware have More Time and generate More Profit—join them! Schedule a free live demonstration and find out how 30 minutes can transform your shop at getshopware.com

This episode is brought to you buy Shop Marketing Pros. Your guides are Kim and Brian Walker with a rich history as shop owners and industry veterans. When someone searches for a shop, who are they finding? Your competitors? It should be you! The good people over at Shop Marketing Pros know how to drive website traffic and make Google work for you! www.shopmarketingpros.com