Procedures and Systems Part 2 with Brian Gillis [RR 573]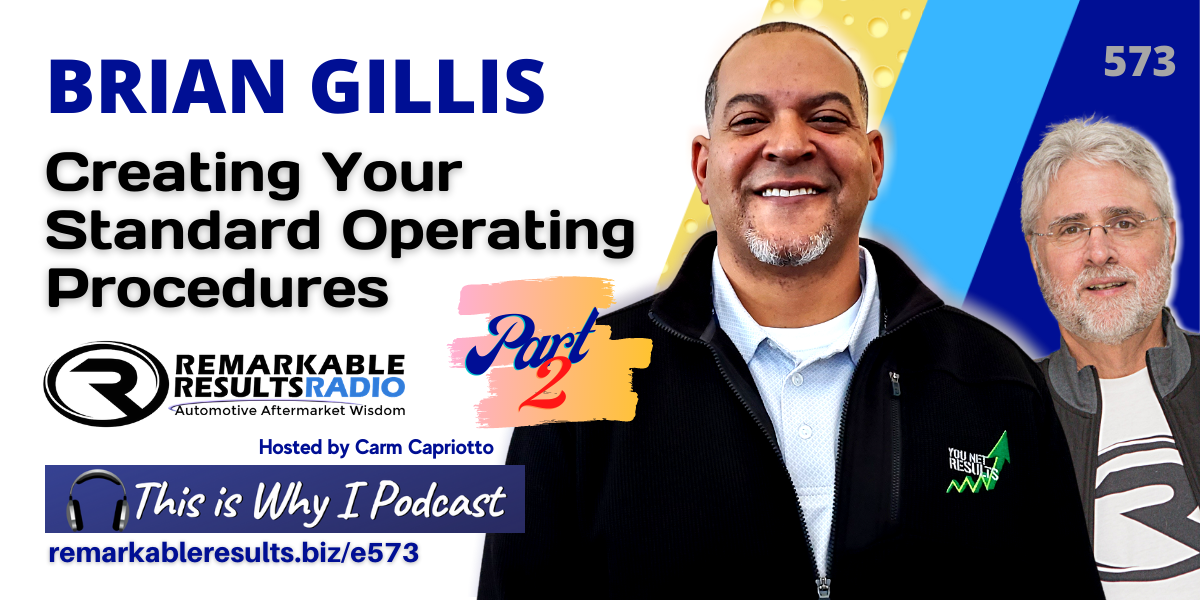 Brian Gillis is the Chief You Net Results Strategist, with 25+ years experience in auto shop operations, hiring, recruiting, systems, processes, multi-store experience, and employee training.
More about Brian Gillis…
25+ Years owning and operating auto repair shops in Texas, Georgia and Colorado, multi-unit stores
Hired and Trained over 2000 staff members
Budgeting and Profits Brian's Specialty
Smooth as silk with customers
Brian's previous episodes are HERE.
Key Talking Points:
Processes and proceduresStart with SOP- using dropbox/google docs as place to store it. Can easily update dropbox as things change with technology/equipment etc. You can also add documentation and videos.
Blank template that has 4 questions- Why am I documenting this procure? Who will be responsible (who will create it and who will execute it), what are key elements? How is it done step by step?
Majority of SOF's you do want to involve your team (with few exceptions). It'll be easier to have input and have buy in for employees.
Follow up procedure and method to do so
Essential for becoming multi shop business
Example- answering phoneHow- most important and often the most difficult. Scripts can be helpful to capture vehicles, continue professionalism, time management and be consistent. Inquiry, oil change call, price shopper
Why do SOP?Improve value of business
Training for turnover and validating your team and associates (someone changes position)
Keep employees consistent- validate with employee then hold accountable
Biggest struggle- how do we run our business?Start by thinking through your regular day- Define the particular way you do things
Failure to perform- Don't know, can't do, or dont care. Eliminate the "don't know" by having SOP's and eliminate the confusion.
Most shops have procedures but they aren't documented- additional time training over and over again
Link to Brian's Company: You Net Results HERE
Resources:
Thanks to Brian Gillis for his contribution to the aftermarket's premier podcast.
Link to the 'BOOKS' page highlighting all books discussed in the podcast library HERE. Leaders are readers.
Listen for free on Apple Podcasts, Google Podcasts, Spreaker, iHeart Radio, Spotify, Podchaser and many more. Mobile Listening APP's HERE
Find every podcast episode HERE.
Every episode segmented by Series HERE.
Key Word Search HERE.
Be socially involved and in touch with the show:
Facebook Twitter Linked In Email
Join the Ecosystem – Subscribe to the INSIDER NEWSLETTER HERE.

The NAPA Smart Sign, previously known as Digital Menu Board, gives your shop a professional, state-of-the-art look and feel. It's a great way to educate and inform your customers about needed repairs and service, plus increase awareness of your current promotions. NAPA AutoCare Center that have installed a Digital Menu Board found one out of five consumers ask for a repair or service they've seen on the board. Targeted promotions resulted in double-digit increases. You choose the content from a library of auto care service and repair topics. The latest NAPA national promotions are downloaded to you automatically. And with the Digital Menu Board it's easy to change your services, prices, and video content anytime you'd like. Talk to your servicing NAPA store to find out more.
Learn more about NAPA Smart Sign and the hundreds of other benefits NAPA offers. visit the NAPA Benefits Center, at www.napabenefitscenter.com or call the NAPA Benefits Center at 844-627-2123.