THA 020: How To Sell 250K Mile Maintenance & Save Your Customers Thousands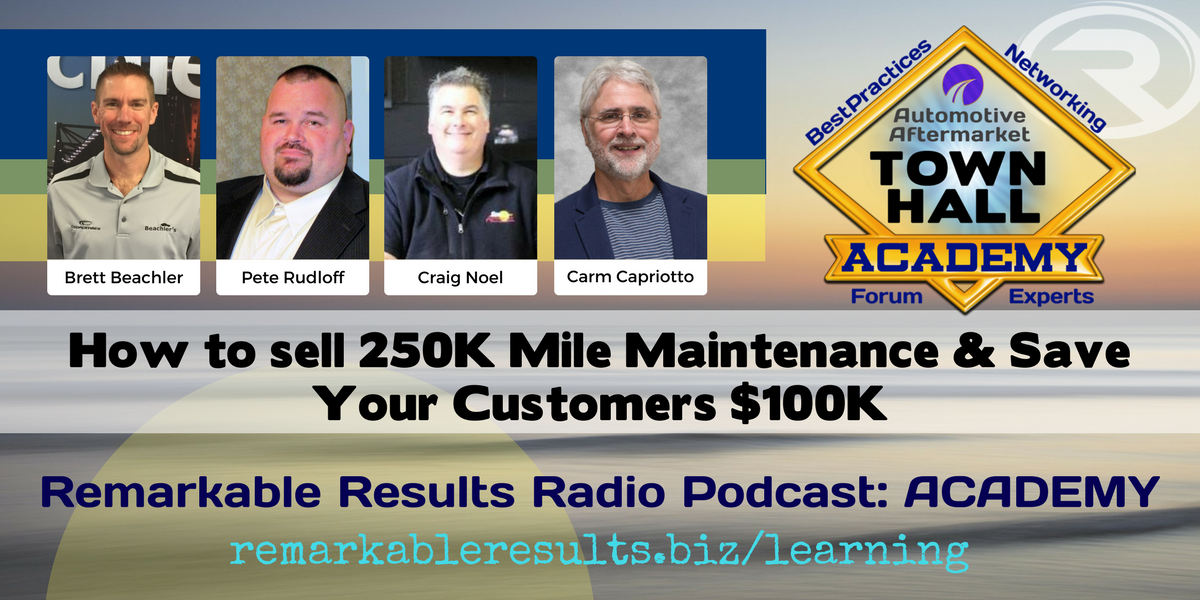 Learn from your industry peers in a round-table forum. Get new ideas, perspectives, trends, insights, best-practices and expertise from aftermarket professionals.
Watch like a DOCUMENTARY … Learn like a SEMINAR.
Helping automotive aftermarket professionals improve; one lesson at a time.
Academy Panel:
Pete Rudloff is a national automotive instructor/advisor, nationally published technical writer and owner of Pete's Garage Inc. in Newark, DE. Pete has a passion for training and created the Delaware training Group to bring technicians together in an environment that fosters learning. Pete's Garage has a reputation as friend to the general auto repair shops with local shops calling themselves customers. Pete's Garage is known for fixing difficult to fix cars and has grown more into a diagnostic destination than a maintenance shop.  Pete had been featured in episode 123, 226 and Academy 018.
Brett Beachler has been in the automotive industry for 30+ years and is the third generation at Beachlers Vehicle Care & Repair in Peoria, IL. At age 16, he officially joined the family business pumping gas at their Amoco gas station portion of the business.  Brett is passionate on this subject. He understands the value of maintenance form cost per mile. He has created a spreadsheet that shows his customer the difference between buying every four years to driving for 12.5 years.Brett Beachler recently published a book on vehicle care & repair.  Listen to Brett' episodes here.
Craig Noel, Owner of 3 location Sun Automotive Springfield, OR.  Craig graduated from Lane Community College in 1987 with a Bachelor of Science in Automotive Repair and quickly went to work.  He worked for Ford as a Senior Master Technician and then working my way up through the ranks as Team Lead, Service Advisor, Assistant Service Manager.He has also built ground up Street Rods/Show Cars for over 30 years as a hobby.  He was "head hunted" by the original owner of Sun Automotive in 2011 and became GM at that time. As of January 1st 2017, he is the proud owner of Sun Automotive. This is Craig Noel's first appearance on Remarkable Results Radio.
Talking Points:
You can get to 100,00 easily today with minimal maintenance.
People will buy a new car. We need used cars in the marketplace and in 5 years that new car will be in our bays.
Spread sheet to show the amount of saving to keep a vehicle for 250K. It is a cost per mile savings model.
There is an "Emotional" aspect of the situation and how each person decides based emotion first (86% of the time) vs. facts.

What is interesting is making the disconnect from the emotion and reconnecting with the financial facts.

We must become educators of our children as to how to appreciate and take care of a vehicle today.
There is no love of the automobile today. The love of a vehicle is diapering. It is transportation.
Car enthusiasts don't care about cost per mile.
The person who values the vehicle as transportation cares about cost per mile.
Leasing is as bad as ownership. It all comes down to cost per mile. The car dealer has it figured out. If you can afford it then do it.
Except that most people will think they will have a car payment for the rest of their life. Financially it will kick your butt and you need to look at the numbers.
It becomes more about engaging with your customer and getting their buy in on the savings so they become a partner in their vehicle repair. It becomes easy to write the check for maintenance service as the vehicle mileage grows.
Be socially involved and in touch with the show:
Facebook   Twitter   Linked In   Email