Massachusetts Right to Repair Law: Vehicle Data Access [RR 574]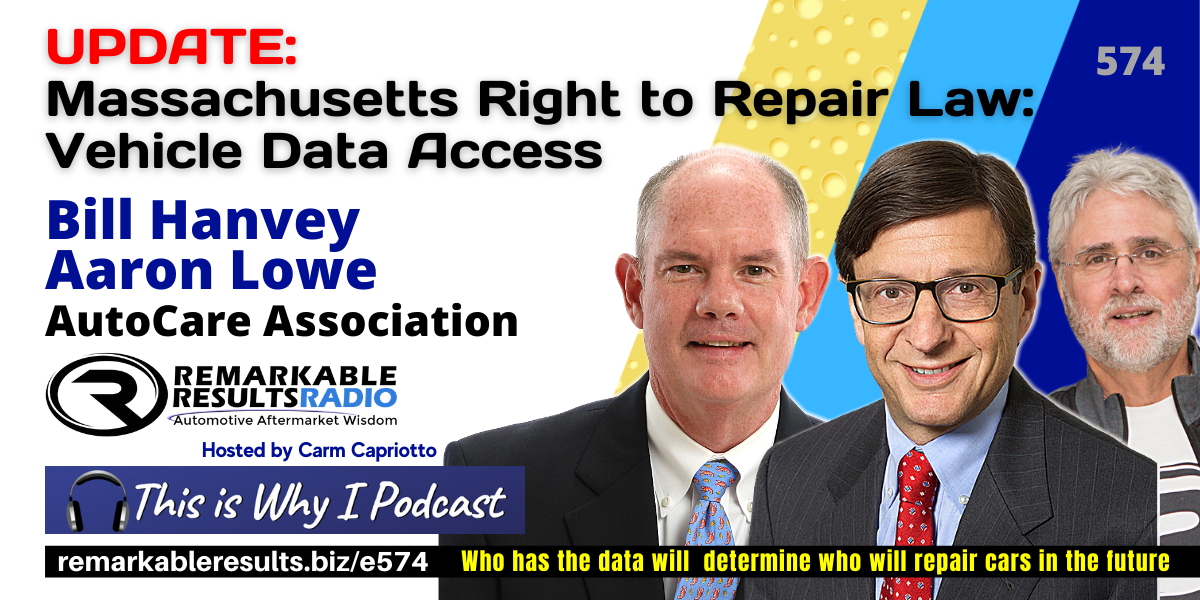 Bill Hanvey, President and CEO of the Auto Care Association. Bill is engaging the automotive aftermarket to get involved in letting your legislators know the issue about data. Your help is needed to help in amending the right to repair legislation. Learn everything you can about this fight to amend the right to repair legislation. Ownership of Vehicle Telematic Data Must Flow to the Vehicle Owner.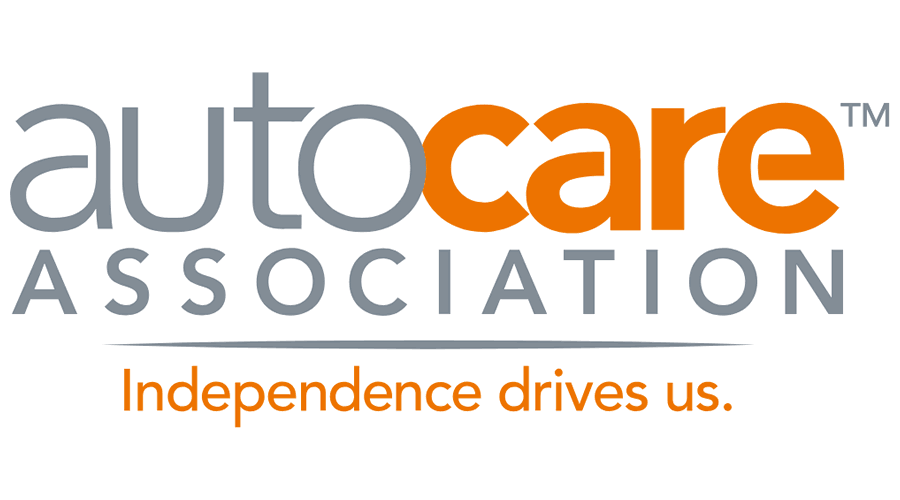 Do you know that a car collects data as you drive? By 2022, 87% of new vehicles will be transmitting telematic data wirelessly. But who owns the data? The car manufacturer does. Without access to data, the independent service professional will not be able to get specific diagnostic data from the vehicle.
Bill leads the strategic direction of The Auto Care Association's 3,000 members and 150,000 companies representing automotive manufacturers, distributors, and service providers. Find Bill's other episodes HERE.
Aaron Lowe, Senior Vice President, Regulatory and Government Affairs.
Key Talking Points:
Massachusetts Question 1 – "Right to Repair Law" Vehicle Data Access Requirement Initiative (2020)
Find detailed data on the position from both sides and the support for and against: https://bit.ly/3iUdRFx
OEMs have invested $25 Million against this
The aftermarket does 70% of the repairs
The stakes are high and federal is following this
Who has the data will determine who will repair cars in the future
Ad campaign from the OEMs are telling the consumer that they will be stalkedThey are playing on fear
They do have a foundation to stand on for why they should not allow access to mechanical data except for monopolization
In Europe you have to do to the OEMs cloud for data and pay for it
Aaron Lowe "If the manufactures determine the terms of the data, the independent part of the industry is dead".
This is a anti consumer initiative that would take choice away
If they totally controlled the data the OEMs could determine who sells their cars
Bill Hanvey: "It is ironic that the OEMs are criticizing the aftermarket for an accusation that is not true about accessing personal data, yet their business model is built upon selling that personal data".
Aaron Lowe is working with other industry groups and associations to work on federal legislation
Opposition is spending a lot of money because they have a bad message
In 2012 we won the Right To Repair by a 84%-16% margin. It won't be that wide this time
Message is simple: concentrating on consumer choice. It resonates with consumers and the voters in Massachusetts
Any shop in Massachusetts please pass on the need to vote yes. Get the marketing materials to your customers. Go to massrighttorepair.org or email aaron.lowe@autocare.org
Big supporters of this initiative are:CARE: Coalition of Automotive Repair Equality
All the major retailers and distributors
AWDA
This is not the time to sit on the sidelines. Everyone's help is needed
Vehicle data ownershipMost people don't know their car is transmitting data- have no control of data
People who are made aware want to have control of data and be activist
Telematic data- transmitted wirelessly, by the year 2022 87% of new vehicles will be transmitting wirelessly
Right to Repair- passed in 2013, make nationwide program. Same access as the dealership. Telematic data left out. Have legislation to amend the Right to Repair Act to include telematics data. Pursuing ballot question for voters to vote if legislation doesn't go through.Hoping by Fall of 2020 legislation or ballot will be passed
66 sponsors of the bill, need 100 to be sure it will be passed
Get involvedLet your legislators know the issue of data
Create a relationship with your congressperson- have them visit your business to hear your story
Autocare.org – government affairs section, telematics petition
Yourcaryourdata.org – download information to educate employees and customers
Educational campaign- activate industry
Tariffs-tax on the American consumerWill affect consumer
Consolidation of industrySuppliers and distribution- service provider next
Opportunity for buyer and seller of businesses
Resources:
Thanks to Bill Hanvey and Aaron Lowe for their contribution to the aftermarket's premier podcast.
Link to the 'BOOKS' page highlighting all books discussed in the podcast library HERE. Leaders are readers.
Find every podcast episode HERE.
Every episode segmented by Series HERE.
Key Word Search HERE.
Be socially involved and in touch with the show:
Facebook Twitter Linked In Email
Listen for free on Apple Podcasts, Google Podcasts, Spreaker, iHeart Radio, Spotify, Podchaser and many more. Mobile Listening APP's HERE
Join the Ecosystem – Subscribe to the INSIDER NEWSLETTER HERE.
This episode is brought to you by AAPEX, the Automotive Aftermarket Products Expo. AAPEX represents the $740 billion global automotive aftermarket industry and has everything you need to stay ahead of the curve. With 2,500 exhibiting companies, you'll see the latest products, parts, and technologies for your business. As a result, the event also offers advanced training for shop owners, technicians, warehouse distributors (WDs) and auto parts retailers, as well as networking opportunities to grow your business. AAPEX 2020 will take place Tuesday, Nov. 3 through Thursday, Nov. 5, at the Sands Expo in Las Vegas. Therefore, more than 48,000 targeted buyers are expected to attend, and approximately 162,000 automotive aftermarket professionals. They will be from 135 countries which are projected to be in Las Vegas during AAPEX 2020. For information, visit aapexshow.com/register

This episode is brought to you by Shop-Ware Shop Management. It's time to run your business at its fullest potential with the industry's leading technology. Shop-Ware Shop Management will increase your efficiency with lightning-fast workflows, help your staff capture more sales every day, and create very happy customers who promote your business. Shops running Shop-Ware have More Time and generate More Profit—join them! Schedule a free live demonstration and find out how 30 minutes can transform your shop at getshopware.com/carm