Wealth Building: Become a Financial Adult [RR 575]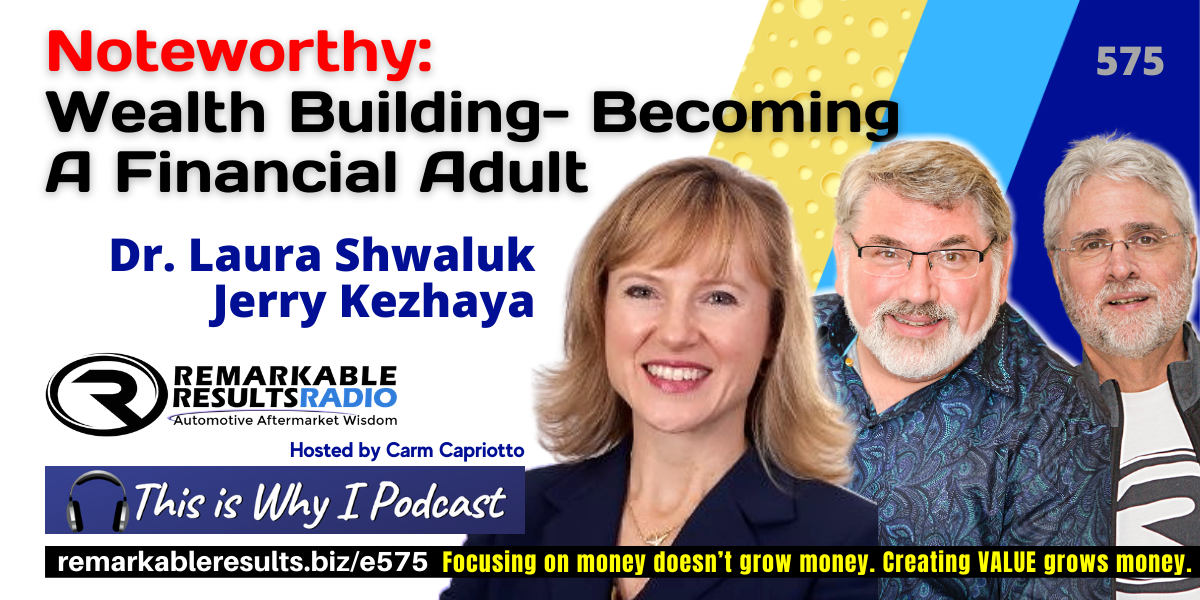 Jerry Kezhaya from The Auto Shop in Plano Texas has been in business since 1981. Plano is a northern suburb of Dallas with a population on 280,000. According to Jerry, it is the top growing county in the US. His 35,000 sq. ft. shop has 21 lifts with two flats per lift.
Jerry is a business coach and prides himself for getting out of the shop between 80 and 120 days a year to work with clients, attends seminars and enjoys wine. Listen to Jerry previous episodes HERE.
Dr. Laura Shwaluk has a Bachelor of Science in the field of Cellular, Molecular, and Microbial Biology and a doctorate in Chiropractic with certificates in neurology, applied kinesiology, nutrition, and functional endocrinology. She practiced wellness and functional medicine in Texas for 20 years and is the author of three books.
Laura is happily married and devoted to the love of her life, Jerry Kezhaya. Together they manage The Auto Shop and Business Builders Mentor and Mastermind USA. Her specialized business interests are in accounting, operational systems, and people management. Her passion is to help entrepreneurs accelerate their business and open the doors of mental blocks that prevent them from succeeding.
Key Talking Points:
Becoming a Financial Adult- 85% of 65 years or older don't have access to $25,000
Focusing on money doesn't grow money. Creating VALUE grows money. Using money COSTS money. Every time you convert your assets to cash your wealth actually shrinks (fees, taxes, charges).
Money IS NOT wealth. Wealth can be turned into money, but money can rarely be turned into wealth.
Keeping the value of assets in money usually causes them to decrease because of inflation. Value dilutes over time.
Using borrowed money magnifies all of these problems!
When you focus on "value," then you will get money (service business, online business, regular job). If you're not earning the amount you want, then look at what value you are creating for other people. Technicians creating more value for themselves (training, classes)
Keeping your assets in "money" will cause you to lose money. Appreciating asset (land, a business that is growing ), depreciating asset (car, boat)
"Fiat Currency" is currency not backed by anything solid (ex. gold, coins). It is money that has no intrinsic value (a paper dollar bill). Fiat currencies tend to collapse over time. In the U.S. we have "at currency with no intrinsic value backing it up (no gold in Fort Knox). Currency is not secure. Value is secure.
Debt evolved from a tool we only used responsibly when needed and paid off as fast as you could, to a new paradigm where we accept debt as the way things work. The idea that debt is a reasonable way to live our lives really hurts us." Look like you have wealth when you don't."
"Consumerism" is the idea we can consume our way to wealth and happiness. 100 years ago it didn't exist – we only bought based on needs not wants. Now we buy wants to express ourselves and to be an individual and to get status.
What's the problem with consumerism? We are buying things that we don't really want to impress people we don't even like ("conspicuous consumption") to make us feel important. Consumerism is fostered by large companies that have an interest in you feeling insecure about yourself, in order to incite your self-expression mechanism, because they make money when you do. Consumerism to feel better or impress others doesn't work and it robs our future. Difference between want and need. Practice a pause when purchasing instead of impulse. Competition and insecurity are motivators for impulse buying. Use logic not emotions.
The old paradigm of "entitlement" is being obliterated. The problem is that having a job (instead of having a craft or working for yourself) is precarious.
70% of us work with knowledge in our head. We are going through a transition from tangible reality to knowledge-based reality. You can't count on the industry you are in today to be around in a couple of years. Let go of "the job" as a paradigm of reality. The world does not owe you a job. If we want to create success,we have to grow up and turn ourselves into someone that others seek knowledge from.
We have to admit to ourselves that we have been behaving like spoiled financial teenagers. We never really learned and we stayed adolescents and we relied on others to take care of us. Now we have to grow up and become financial adults. Take 100% responsibility for where you are now and where you are going in the future.
To the extent,you can create value for others you can build wealth.
There is a "critical distinction" between spending (buying liabilities that will drop in value, like a new car) versus investing (taking money and trading it for assets that go up in value over time).
The productive thing to do with your money is actually counter-intuitive. It's not obvious how to invest, but it is obvious how to spend it!
Learn to make the distinction between needs and wants. Each person comes pre-wired with the mechanism to know if something is a need or a want. All we have to do is to ask ourselves.
Business Builders Mentor and Mastermind USA www.bbmmacademy.com
Business Builders Mentor and Mastermind USA CHALLENGE
Resources:
Thanks to Jerry Kehzaya and Dr. Laura Shwaluk for their contribution to the aftermarket's premier podcast.
Link to the 'BOOKS' page highlighting all books discussed in the podcast library HERE. Leaders are readers.
Listen for free on Apple Podcasts, Google Podcasts, Spreaker, iHeart Radio, Spotify, Podchaser and many more. Mobile Listening APP's HERE
Find every podcast episode HERE.
Every episode segmented by Series HERE.
Key Word Search HERE.
Be socially involved and in touch with the show:
Facebook Twitter Linked In Email
Join the Ecosystem – Subscribe to the INSIDER NEWSLETTER HERE.

Since 1989 TRACS has been the industry's leading shop management system. And in the last 30 years it's gotten better and better. Today TRACS Enterprise offers even more of the features AutoCare Center owners want—things like a powerful interactive scheduling calendar, faster and streamlined work flow, plus streamlined parts ordering and purchasing options. And there's more—Punch-out to Mitchell ProDemand, mobile VIN capture, and multi-shop capabilities. That means you can count on TRACS Enterprise to help drive your success today and well into the future.
Learn more about TRACS Enterprise and the hundreds of other benefits NAPA offers. visit the NAPA Benefits Center, at www.napabenefitscenter.com or call the NAPA Benefits Center at 844-627-2123.