Incentive Plans [THA 191]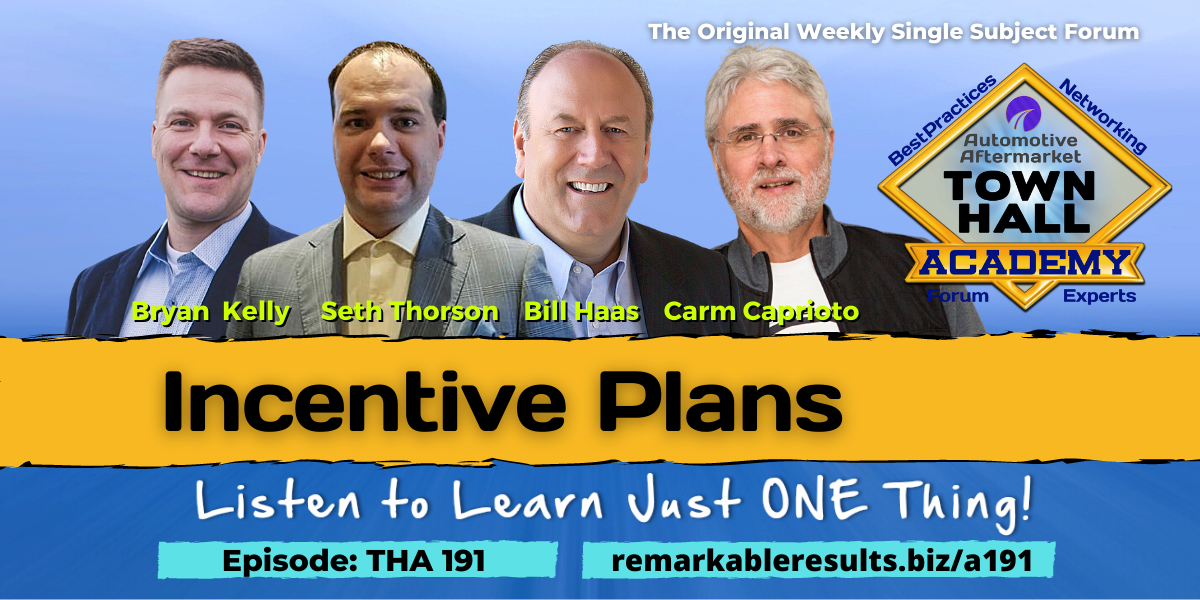 The Panel
Bryan Kelley, owner of Valley Automotive Electric and Chairman of ASA Northwest. Brians previous episodes HERE.
Seth Thorson has specialized in the service of European automobiles since 1999. First, in Michigan and now at his current location in New Brighton, MN. He just started to build a brand new shop and experts to be in by June 2021.
Seth was educated at a UTI in Chicago, where he was at the top of his class. He then went to BMW Step to finish the master's program. Thorson was hired in at a BMW dealership in Bloomfield Hills, Michigan. From there he moved to an independent shop in Waterford Michigan and learned VW Audi. Seth's passion remained with BMW and he was offered a chance to buy an existing shop in New Brighton, Minnesota near where he grew up.
He is the owner of Eurotech, which specializes in BMW, Mercedes, and Audi cars. He is a firm believer in using factory tools to ensure proper repairs and coding. His team of highly trained and certified technicians is able to diagnose today's complex vehicle systems! His second location, Green Garage, works on all makes and models.
Seth also owns and runs a BMW tech support company called LMV Bavarian that provides support and programming to a growing network of over 200 shops via remote diagnostics. He also teaches national seminars on BMW diagnostics. Seth has also partnered with SSF auto parts in their unique 'hands-on' training program.
Seth belongs to AASP in MN, BIMRS as well as NASTEF. He is also a member of Cecil Bullards (Institute for Automotive Business Excellence) 20 group. He believes idea sharing and networking with other shop owners have helped grow his business. Listen to Seth's previous episodes HERE.
Bill Haas, AAM, is the owner of Haas performance consulting LLC, with 40 years of experience in the automotive service and repair industry. Clients have access to Bill's solution-based focus, expertise, unique perspectives, and in-depth knowledge of the industry.
Bill began his career working part-time at a full-service gasoline station in Appleton, Wisconsin. His career includes time as a technician, shop owner, technical trainer, and on the staff of the automotive industry's oldest and largest association representing automotive service and collision repair businesses. While at the association, Bill had the opportunity to work with all segments of the industry.
His knowledge of the industry has been shared on many occasions as he has been invited to speak at numerous industry events as well as providing testimony at hearings of the US Congress and several state legislatures on important legislation and regulation affecting the automotive industry.
Bill received the Accredited Automotive Manager (AAM) credential from the automotive management institute in 1996 and has been a member of the automotive management institute's faculty since 2002.
Bill is also the business manager for NACAT, the North American Council of Automotive Teachers. His services include business management seminar development and delivery, keynote presentations, business consulting, performance coaching, and strategic planning facilitation. Listen to Bill's previous episodes HERE.
Key Talking Points:
Build your pay plans to accomplish the goals you want
You can not have a business-focused incentive plan. The individual and team must play a big role. Must be a win-win for both.
If a shop doesn't feel they can't afford people, they aren't charging enough.
Find ways to afford your people
The reward for their performance
Incentivize the individual so they can earn what they want based on their contribution to the business
Some employees are not worth what they want or need to earn. No problem moving on.
Some pay plans allow a great income when milestones or goals are hit. Put the power in the employee's hands to be an 'earner'.
You need all the measurements to show your people their opportunities. Therefore good, smart Key Performance Indicators. (the numbers)
You must track lost sales to find the potential that exists.
It is all connected; for example, a good inspection program gives the service consultant the power to sell. That information equips the service consultant.
Bryan Kelley:Not everyone is money motivated. We make that error often
There are other motivators:Time off
Praise
Teamwork
Ownership
Don't lose the second half of the equation. Don't dangle a stick and carrot
Provide them an incentive to grow
Caveat: consider your state's laws around discrimination in pay plans
It is about the culture you create if you instill strong incentive plans because eventually, everyone needs to be on the same page going in the same direction working toward the common goalCulture before pay plans
There are creative ways to accomplish incentive plans for individuals.
Incentives can be:Time off
Retirement
Health care
Tool stipend
Toolboxes (no tools) built-in for each tech
If they don't own a toolbox, you can buy one to get them to come on board.
You also need to have comparable and competitive benefit programs with competitors in your market.
Tailoring plans to each individual considering your state laws
Be sure you have a total compensation page so your employee can see it at least quarterly. The grass is not necessarily greener somewhere elseMany HR support companies have this online for each team member
If an individual wants three weeks vacation and you cannot and it would be discriminatory: find a way to compensate them for taking a week off without payThink outside the box
Instead of a silver bullet, come up with a 'silver idea.'
Bill HaasPay enhancements:Additional hourly money based on continuing educationSame for ASE or smog license (depending on your state)
Remain certified
Pay on production goals or gross margin
You may have a strong culture on training, so you may not need to incentivize training
What you concentrate on for incentive pay they will value; what you don't, they will not value
Idea from Bill:Set production hour goals for every technician. An individual based on their knowledge, skill sets, experience.They get a production bonus based on hitting that goal, and it is tiered.
Also, a sold hours bonus goal for advisor
Seth:Hourly with an incentive for production. He does not believe in flat rate
BryanFlat rate with good culture and incentives is alive and well.
How you delegate and systematize is important
Sell work and diagnostics correctly is key to flat rate
Things will go wrong, and you have to have a plan to make it work
Bill:When they evaluate comebacks, it has less to do with their credential experience, it has more to do with attitude.
You cannot fix a bad attitude with a pay plan.If you give a raise because they ask, does that fix their attitude?
Bryan:Attitude is the biggest indicator of performance and comebacks
Trying to motivate through a pay plan or dollars is just manipulation. Don't force people to do things with dollarsNext time an employee is in a bad mood and asks for a raise, you're in a negative spiral
You must discover the core of the bad attitude
Keeps a chart on the 23 motivators of people (see below)
Seth:His operations manager, who is an executive, gets a vehicle stipend. This is his motivator. Check with your state before you do any off structure
They do ongoing coaching to test for attitude.
An employee always asking for raises may have a money management issue. Seth enrolled the employee in a Dave Ramsey course.
An exceptional manager can manage 3 – 5 people
A good manager can manage 2 – 3 people
He sets up pods to manager can get to know their people
Bill: Failure of leaders is they fail to listenIt is easy to know what your people need, just listen to them.
What do they want in their job and their life
Bryan: Managing diagnostic time must have full disclosure with customers and start at 2 hours. If not it is a loss for everyone.Seth has different plans to protect an 'A' diag tech
Bill: Looks at gross marginYou need tech production.
Also has goals for calculated labor sales vs actual labor sales
Looking at gross wages paid vs actual labor sales
Looking at gross profit per individual
This prevents the diag tech from feeling he is not making money.
B tech must produce more than the A Diag tech.
Share goals each week, so all techs see each other's numbers.
Support your plan by the math
Bryan: Don't overcomplicate a plan by showing the detail it takes to come up with the incentive/plan. Keep it simple when you show the numbers.Understand your business and your culture, then create a plan
It must be a win-win for employee and business.
You must understand your KPIs
Teamwork and independent working must fit into the plan. The entire team and personal production. You can incentivize the individual to get the team.
Seth:Build it for your business and employee but understand their individual need. The target can move.
He believes in rewarding individual and team goals.
Bill:The best pay plans work for the best employees.
Resources:
Facebook Twitter Linked In Email
Join the Ecosystem – Subscribe to the INSIDER NEWSLETTER HERE.

This episode is brought to you by Shop-Ware Shop Management. It's time to run your business at its fullest potential with the industry's leading technology. Shop-Ware Shop Management will increase your efficiency with lightning-fast workflows, help your staff capture more sales every day, and create very happy customers who promote your business. Shops running Shop-Ware have More Time and generate More Profit—join them! Schedule a free live demonstration and find out how 30 minutes can transform your shop at getshopware.com

This episode is brought to you buy Shop Marketing Pros. Your guides are Kim and Brian Walker with a rich history as shop owners and industry veterans. When someone searches for a shop, who are they finding? Your competitors? It should be you! The good people over at Shop Marketing Pros know how to drive website traffic and make Google work for you! www.shopmarketingpros.com