Life After Succession – Randy Pickering [RR 576]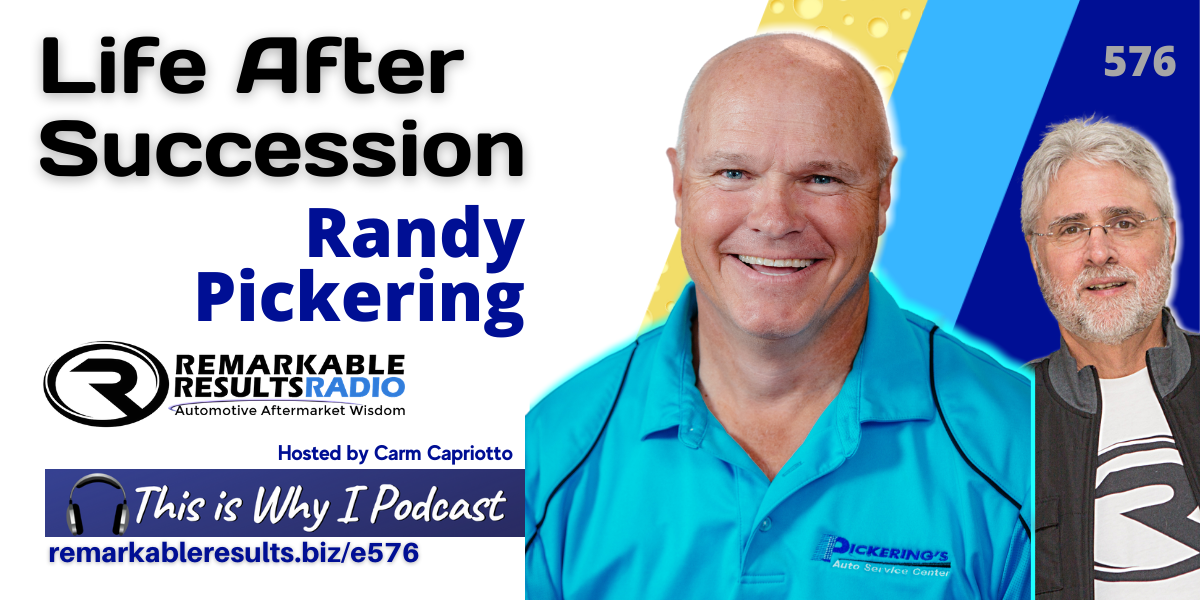 Randy Pickering
As a 4th generation automotive "lifer", I have learned that vehicles come and go, are broken, and fixed, but the relationships with our customers far outlast their transportation needs.
I am committed to ensuring that every customer of ours is completely satisfied after working with our team. We work diligently to provide peace of mind to all of our customers by treating them as if they were part of our own families.
I wanted Pickering's to be an environment that reminded our customers of a time when your technician and service advisor were more than just the people who took care of your car, but rather individuals who remembered you by name, genuinely took an interest in your life and built a relationship with you.
We believe our industry should not differ from any other industry in how we perform customer service. Just because we are in the auto repair business does not mean customers should expect poor customer service and abuse, as many customers believe they receive from others in our industry.
We will greet our customers cheerfully, excited that WE CAN resolve the auto repair problems they have. Knowing that with our resources WE CAN help them get the fullest life use of their vehicle.
We want to earn our customers trust so they are comfortable and confident with our integrity and abilities to have us take care of their car concerns.
We want our customers to be satisfied, as never before, in our industry. We hope our customers will become our raving fans and feel the need to express their experiences to others, recommending our facility to them.
Key Talking Points:
4th generation business- sons will be taking it over next and become 5th generation Had a medical emergency with lungs and had to take 3 months off- sons enjoyed stepping in and wanted to make some changes. Randy realized it was time to transition.
Transitioning getting out of business- finding another source of income which is coaching for Elite Worldwide
Felt positive about transition- has great employees, customers and processes/procedures/systems in place already
Hasn't been in the day to day part of business in last 3-5 years
Training and being involved in associationsIncredibly important part of business- started being involved in ASA in early 1980's
Sons both wanted to join 20 groups on their own
Opening second locationWanted expansion to have solid exit plan in future
Sons are looking toward opening 3rd location- both positives and drawbacks, how much time are you willing to put into business in order for it to grow?
Internal candidate for succession plansLook internally and shift your hiring- "Is this person a potential candidate for my business?"
Being successfulCustomer service- giving them an experience and treating them so they want to come back
Having a succession plan in place- anything can happen at any moment in time, carve out specific roles and learn to let go.
Setting and attaining gross profit percentages
Best advice- hire a coach early on and enjoy your family
Resources:
Thanks to Randy Pickering for his contribution to the aftermarket's premier podcast.
Link to the 'BOOKS' page highlighting all books discussed in the podcast library HERE. Leaders are readers.
Find every podcast episode HERE.
Every episode segmented by Series HERE.
Key Word Search HERE.
Be socially involved and in touch with the show:
Facebook Twitter Linked In Email
Listen for free on Apple Podcasts, Google Podcasts, Spreaker, iHeart Radio, Spotify, Podchaser and many more. Mobile Listening APP's HERE
Join the Ecosystem – Subscribe to the INSIDER NEWSLETTER HERE.
This episode is brought to you by AAPEX, the Automotive Aftermarket Products Expo. AAPEX represents the $740 billion global automotive aftermarket industry and has everything you need to stay ahead of the curve. With 2,500 exhibiting companies, you'll see the latest products, parts, and technologies for your business. As a result, the event also offers advanced training for shop owners, technicians, warehouse distributors (WDs) and auto parts retailers, as well as networking opportunities to grow your business. AAPEX 2020 will take place Tuesday, Nov. 3 through Thursday, Nov. 5, at the Sands Expo in Las Vegas. Therefore, more than 48,000 targeted buyers are expected to attend, and approximately 162,000 automotive aftermarket professionals. They will be from 135 countries which are projected to be in Las Vegas during AAPEX 2020. For information, visit aapexshow.com/register

This episode is brought to you by Shop-Ware Shop Management. It's time to run your business at its fullest potential with the industry's leading technology. Shop-Ware Shop Management will increase your efficiency with lightning-fast workflows, help your staff capture more sales every day, and create very happy customers who promote your business. Shops running Shop-Ware have More Time and generate More Profit—join them! Schedule a free live demonstration and find out how 30 minutes can transform your shop at getshopware.com/carm