The Evolution of SEO: Make Your Website the Best For Search – Brain Walker [RR 580]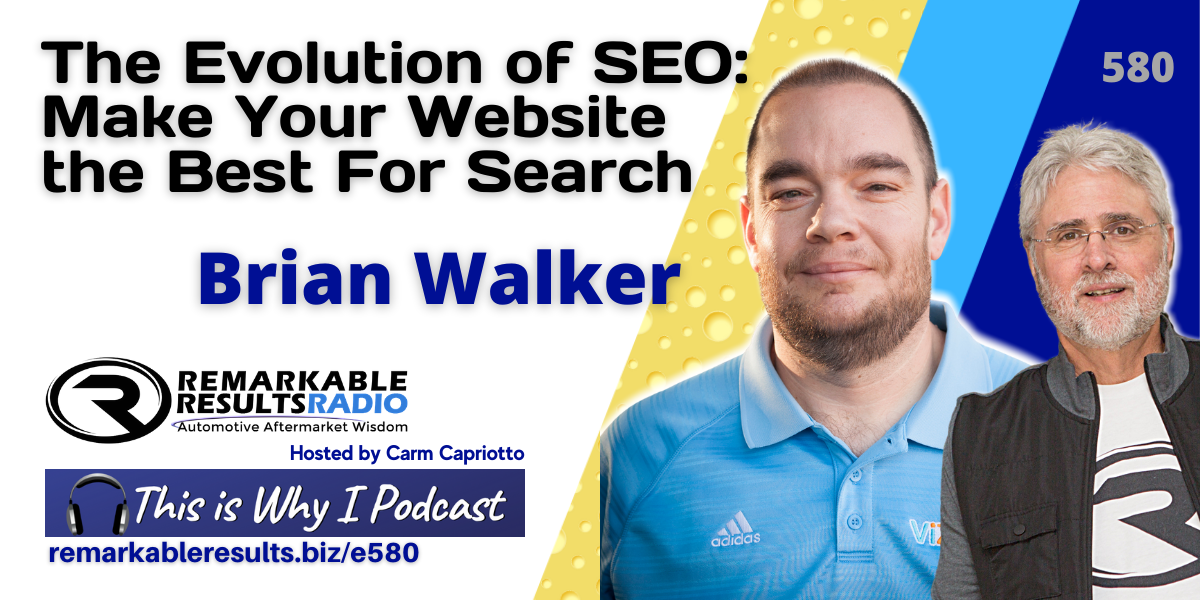 Brian Walker was a Mercedes Benz Master dealer technician and was ASE certified with L1. He owned Peak Automotive in Apex, NC and was recognized by Motor Age Magazine as a Top Ten Shops twice.
Brian is co-owner of Shop Marketing Pros. He does "Done for you" marketing services for auto repair shops. Brian believes that most people overcomplicate their marketing in an effort to make it easier
There is a 17,000+ word article on the Shop Marketing Pros website: "The Ultimate Guide to Auto Repair Shop Marketing shopmarketingpros.com/guide. Listen to Brian's previous episodes HERE.
Key Talking Points:
Artificial intelligence is being used to make the search engine "think like a human." Can no longer trick search engines to cycle back to your websites.
Google is a business- provides the best results based on what people are searching for, where they are searching from, search intent etc
Making your website the best resource for the person searching- based on the content of your website
Big city vs small town- businesses in big cities need a lot more work to be competitive, need quality links pointing back to the website, answering questions, the website needs to change often, age of domain- older the domain the higher on rankings compared to new domains
Website
Words on the page are most important and often the most overlooked part- written in a natural way
Needs to have information people are searching for- quality and relevant information
Google's algorithm uses "search intent" and will understand the word "vehicle" is being used for car, motorcycle, truck, minivan, etc
What you do on your website vs what you do on someone else's website- the links that come back to your website
Your website- create high-quality content and utilize tools that analyze competitors website
Having other links on different websites link back to your website- if you're a member of your local chamber of commerce you should have your website listed in their directory. Website link and citation (name, address, phone number). Everything needs to be the same and consistent.
DYI or hire someone?
Starting out yes, but as time goes on Is it the best use of your time?
When using a marketing/SEO company you should always be authentic and use them to create blogs/videos as added content for the website.
Video is king- it can be put into multiple places: website, social media, YouTube, get in the habit of shooting short videos on phone. Show your customers how you do things differently.
Resources:
Thanks to Brian Walker for his contribution to the aftermarket's premier podcast.
Link to the 'BOOKS' page highlighting all books discussed in the podcast library HERE. Leaders are readers.
Find every podcast episode HERE.
Every episode segmented by Series HERE.
Key Word Search HERE.
Be socially involved and in touch with the show:
Facebook Twitter Linked In Email
Listen for free on Apple Podcasts, Google Podcasts, Spreaker, iHeart Radio, Spotify, Podchaser and many more. Mobile Listening APP's HERE
Join the Ecosystem – Subscribe to the INSIDER NEWSLETTER HERE.
This episode is brought to you by AAPEX, the Automotive Aftermarket Products Expo. AAPEX represents the $740 billion global automotive aftermarket industry and has everything you need to stay ahead of the curve. For all the right reasons, we're not going to be face to face at AAPEX … yet AAPEX 2020 is going to be a virtual experience, which has defined this year for many of us. Virtual AAPEX will happen Nov. 3-5, 2020, and there's still going to be a strong focus on meeting the needs of the service and repair community. And that includes technical and management training for shop owners, technicians and service advisors … product and equipment demos … and one-on-one meetings with suppliers. Don't miss it. Make a smart move … register today at AAPEXSHOW.COM/Register

This episode is brought to you by Shop-Ware Shop Management. It's time to run your business at its fullest potential with the industry's leading technology. Shop-Ware Shop Management will increase your efficiency with lightning-fast workflows, help your staff capture more sales every day, and create very happy customers who promote your business. Shops running Shop-Ware have More Time and generate More Profit—join them! Schedule a free live demonstration and find out how 30 minutes can transform your shop at getshopware.com/carm