Secure Vehicle Interface – Standards Evolve as the Vehicle is Part of a Larger Transportation System – Joe Register [RR 582]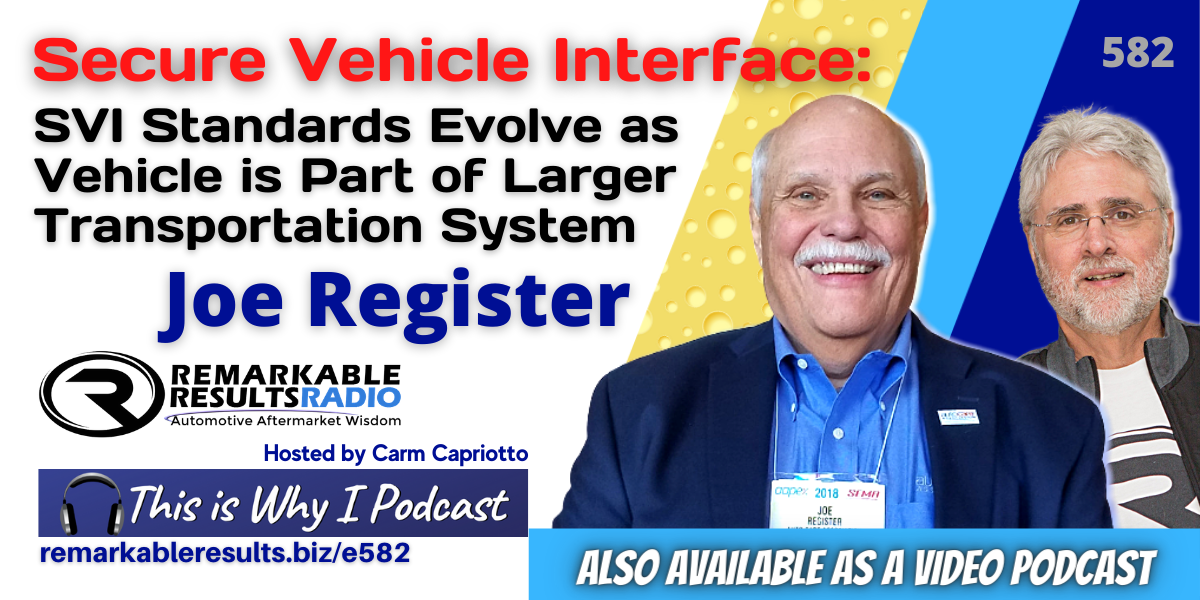 My guest is Joe Register who is the Vice-President Emerging Technologies at the AutoCare Association. This is his second interview. His first episode was episode 381 which talks about SVI (Secure Vehicle Interface).
Joe Register has over 40 years of experience delivering progressive system solutions to companies in every channel of the Automotive Aftermarket. This work includes the design and implementation of enterprise systems for two startup ventures.
Joe participates as an ANSI expert assigned to ISO TC22 Road Vehicles, ISO TC204 Intelligent Transport Systems and SAE vehicle security committees. His current focus is the industry's adoption of secure and standardized access to in-vehicle systems to ensure today's increasingly complex vehicles can be properly maintained and repaired.
One of his specialties are Strategic planning, program management, systems architecture/modeling disciplines applicable to business processes, data and application integration, web service design & development.
Listen to Joe's other episodes HERE.
Key Talking Points:
SVI- Secure Vehicle Interface
SVI started because OE's said you needed a single voice in order to listen and needed to know what aftermarket wanted
Mantra "Safe, secure, standardized and direct access"
Vehicles are built with 'features' in mind with repairs as an afterthought
Information is constantly being collected both inside and outside the vehicle (driver attention)
Vehicle data and the owner- you should be in control over who has access to the data your vehicle creates with access yourself, (Right to Repair Amendment on the ballot in Nov in Massachusetts)
Underperformed maintenance will become a big issue in the future- safety
SVI standards aren't just for cars- standards just as applicable for smartphone apps, roadside stations
www.svi0for-mobility.org -webinar and Michelin demonstration with a flat fire
www.aapexshow.com/register
ChallengesVehicle manufacturers are resistant to collaborating with aftermarket but have made progress with suppliers that provide systems to vehicles
Resources:
Thanks to Joe Register for his contribution to the aftermarket's premier podcast.
Link to the 'BOOKS' page highlighting all books discussed in the podcast library HERE. Leaders are readers.
Find every podcast episode HERE.
Every episode segmented by Series HERE.
Key Word Search HERE.
Be socially involved and in touch with the show:
Facebook Twitter Linked In Email
Listen for free on Apple Podcasts, Google Podcasts, Spreaker, iHeart Radio, Spotify, Podchaser and many more. Mobile Listening APP's HERE
Join the Ecosystem – Subscribe to the INSIDER NEWSLETTER HERE.
This episode is brought to you by AAPEX, the Automotive Aftermarket Products Expo. AAPEX represents the $740 billion global automotive aftermarket industry and has everything you need to stay ahead of the curve. For all the right reasons, we're not going to be face to face at AAPEX … yet AAPEX 2020 is going to be a virtual experience, which has defined this year for many of us. Virtual AAPEX will happen Nov. 3-5, 2020, and there's still going to be a strong focus on meeting the needs of the service and repair community. And that includes technical and management training for shop owners, technicians and service advisors … product and equipment demos … and one-on-one meetings with suppliers. Don't miss it. Make a smart move … register today at AAPEXSHOW.COM/Register

This episode is brought to you by Shop-Ware Shop Management. It's time to run your business at its fullest potential with the industry's leading technology. Shop-Ware Shop Management will increase your efficiency with lightning-fast workflows, help your staff capture more sales every day, and create very happy customers who promote your business. Shops running Shop-Ware have More Time and generate More Profit—join them! Schedule a free live demonstration and find out how 30 minutes can transform your shop at getshopware.com/carm