Dave Kusa – 20 Questions in 30 Minutes [RR 583]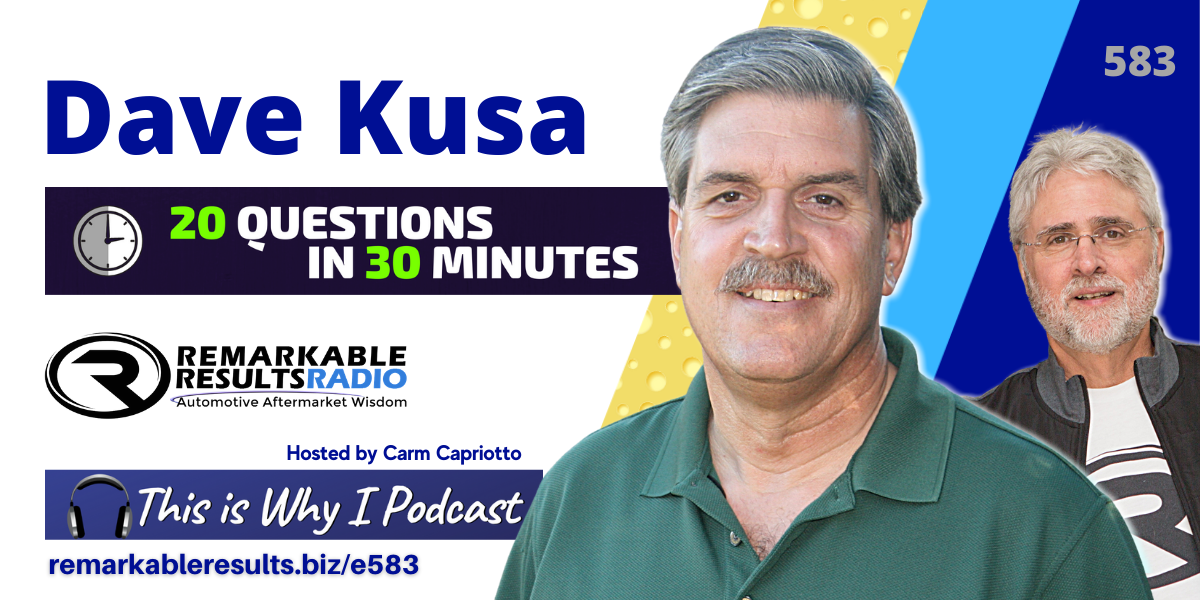 Dave Kusa is the owner of AutoTrend Diagnostics in Campbell, CA. Dave is very active in Chapter 42 and currently serves as a board member and chapter representative. He has also helped several new shops become ASCCA members. Dave advocates with local legislators on behalf of small businesses and their employees. He contributes to TeamTalk and is a huge resource for members. He was ASCCA's past president. Look for Dave's other episodes HERE.
Key Talking Points:
Biggest trend you are watching?ADAS- repair, calibrate, training for it
Governor of California is trying mandating no petroleum-powered vehicle sold by 2035
How did you decide to become a shop owner?From a young age, I loved being able to take things apart and put back together and enjoyed working with his hands and vehicles. My goal in high school was to be a shop owner.
Do you still have the fire you had when you first started?No, but it's not a bad thing. When you first start anything there is a new sense of enthusiasm, discovering new things and new problems. As time goes on you become wiser and can handle situations better. Wisdom "quiets" the fire but the fire is still burning.
Was there a key turning point in your journey that made all the difference to get you where you are today?Parents and their friends were starting to retire and move away. Dave also wants to be able to successfully retire and be able to financially stay or leave if he chooses.
Ever had a mentor?Yes, many mentors! Important to seek out people that have 'been there, done that.' Can't think you are by yourself and on an island. There are so many people willing to help and want to help.
Do you have a strong intuition? Do you listen to it?Yes, always listen to your gut feeling. A strong intuition is needed to make quick decisions.
Get any great advice that you still follow today?Mentor Larry Moore says "Get training and learn how to run a business and Larry always said "Everything I know, I stole from someone else." Circles back to mentorship, people are willing to help.
Name something you tried that didn't work?Originally I was going to buy a shop with former coworkers as partners, turned into a disaster, and didn't go through but it was good that it didn't.
How do you manage work/life harmony?Wanted to be a present father to his two daughters and husband to his wife, structured himself to be 8 am-5 pm Monday- Friday schedule and they make it work as a family.
How does one start to build a strong business culture?Starts with the business owner- Need to know what your moral ethics are and communicate that to your employees and most importantly follow it.
Strong teams always win. What is your winning formula in developing a strong team?Culture- contribute and collaborate as a team. Include people in decisions
Would your organization crumble if you stepped aside?Is often out of the shop for the entire day or 2-3 days for coaching purposes, has a strong team for day-to-day operations without him. Working towards having someone being able to handle administrative paperwork if he was out of the shop for an extended period of time.
What impact will technology have on your business?Significant impact- ADAS, autonomous vehicles, electric vehicles, where is the service opportunity in an electric vehicle?
How much training per year do you get?Constant training- works with a coach twice a month and learns while working as a coach along with training with ASCCA
Technicians in the shop get 12 hours of training per quarter
A big secret to building a strong relationship with Customers?Communication- most customers don't understand what other shops/dealerships are exactly quoting/invoicing for repairs, especially when it is a high quote. Have conversations with new and existing clients in terms they can understand. Invoices using $1 per word. If the invoice is $1,000 then there are 1,000 words explaining what the invoice is for.
A secret to a good job interview?Conduct interviews as a team. Everyone should be comfortable and be able to maintain the team culture.
Share a Gross Margin HackCalifornia cant charge for shop supplies- starts adding up, including on invoice. Monitoring parts matrix and labor matrix and margins.
Do you share your financial statements with your team? If Yes, why?Yes, there is a known shop hourly rate along with an understanding of profit and loss statements and expenses of the business. Employees have an ownership mentality then.
How long ago did you update your website? Yearly updates
The most recent update to your processes/system Hours per RO- identify time-wasting
Resources:
Thanks to Dave Kusa for his contribution to the aftermarket's premier podcast.
Link to the 'BOOKS' page, highlighting all books discussed in the podcast library HERE. Leaders are readers.
Listen for free on Apple Podcasts, Google Podcasts, Spreaker, iHeart Radio, Spotify, Podchaser, and many more. Mobile Listening APP's HERE
Find every podcast episode HERE.
Every episode is segmented by Series HERE.
Key Word Search HERE.
Be socially involved and in touch with the show:
Facebook Twitter Linked In Email
Join the Ecosystem – Subscribe to the INSIDER NEWSLETTER HERE.

NAPA AutoCare's PROimage program makes it easy for you to make the most of the NAPA brand. A PROimage upgrade lets you maintain your shop's identity as a reliable, locally-owned business while letting your customers and potential customers know you're partnering with NAPA, the most recognized and trusted name in the automotive aftermarket. AutoCare Centers that have completed a PROimage exterior upgrade enjoy an average 23 percent sales increase during the first year. You can also choose to go PROimage on the interior and transform your customer waiting area from merely utilitarian to warm and welcoming. You can even get a free look by visiting www.NAPAAutoCare.com and clicking on the NAPA PROimage link under the NAPA PROimage tab. Of course, the AutoCare site is also the place to go to find out about all the advantages being part of the NAPA family has to offer.
Learn more about NAPA PROimage and the hundreds of other benefits NAPA offers. visit the NAPA Benefits Center at www.napabenefitscenter.com or call the NAPA Benefits Center at 844-627-2123.