Coaches Lab: Why Employees Leave [THA 195]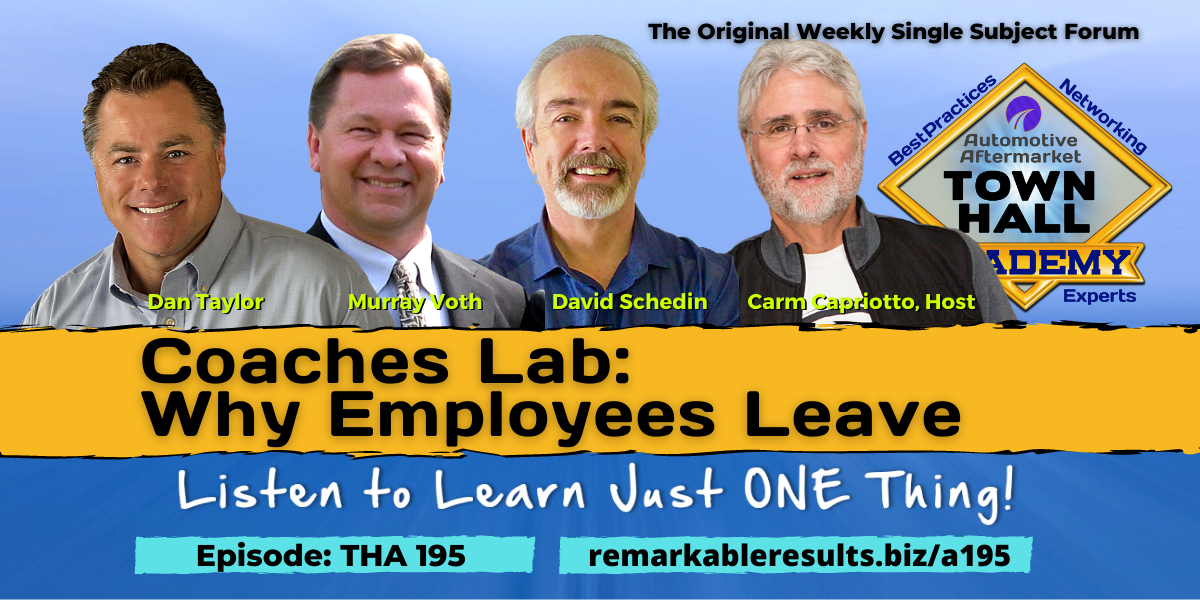 THE PANEL:
Dan Taylor, Senior Business Advisor at Transformers Institute, has nearly 35 years of executive management, consulting and coaching, business development and entrepreneurial experience.
Mr. Taylor has spent the majority of the last 18 years as a Business Consultant and Coach – Helping business owners and managers evaluate their current situation and future plans. Implementing comprehensive business plans through business diagnostics, education, management review, and strategic analysis all focused on results and sustainability.
Mr. Taylor has worked across a wide spectrum of industries from healthcare, manufacturing, retail services, data collection, sports equipment to educational conferences and recruiting services. One area of concentration has been in the automotive repair industry with hundreds of independent repair stores, specialty shops and automotive dealerships. Most notably he worked for a management company that served 13 states serving this group with shop equipment, management and administrative tools. Additionally, he spent time in fleet services and operations to municipalities, counties, utilities, school districts and larger independent industrial fleets.
Mr. Taylor earned a Baccalaureate in Business Administration and Marketing with a minor in Economics from the University of Northern Colorado. He also holds certifications as a Business Coach, Business Analyst, Six Sigma Green Belt, Human Resources, Time Management and Life Coach.
Dan serves on his neighborhood HOA board and has held multiple board positions with the Porsche Club of America. His passion is road course racing with his Big Mission Motorsports teammates raising funds for the Cancer Foundation, Semper Fi Fund and Salvation Army. He is married and has a son who is a civil engineer and a daughter-in-law who is a teacher. Look for Dan's other episodes HERE.
Murray Voth is one of Canada's most knowledgeable experts on the automotive industry, especially as it relates to business development of the independent automotive service and repair sector. He focuses on improving profitability, best practices in management, financial management, systems implementation, human resources and leadership. He spends significant time researching the issues facing the industry from a macro and micro level and brings training and coaching solutions to his clients. He is the owner and principal trainer of RPM Training which provides services to clients such as Napa Auto Parts, Napa AutoPro, Napa AutoCare, Fountain Tire, Integra Tire, OK Tire, TireCraft Canada, Group Touchette, APD Auto Parts, and AutoServe1. Murray is also involved in the Automotive Retailers Association of BC, the Canadian Independent Automotive Association, and the Automotive Industries Association.
From 2006 to 2018 Murray was on contract as the senior trainer and training material consultant for Total Automotive Consulting and Training. He has also done training and material development for RLO Training and Consulting in the United States. As an automotive management trainer and facilitator for the past 15 years traveling to every corner of Canada, his sole focus has been researching, developing and implementing strategies that improve business results for his clients.
He is intimately familiar with the issues and challenges faced by the business owners on a day-to-day basis and exactly what it takes to help them to make the changes necessary to succeed as a business owner. As a trainer and consultant, he has worked all across North America and has firsthand knowledge what is and is not working in each jurisdiction. His thorough understanding of the automotive business started when he owned and operated automotive maintenance and repair facilities for 20 years. During the time he owned his shops he took all training that was available. He continuously strives to improve his understanding of what it takes to be successful in this industry. He has firsthand experience of how to successfully implement the various skills, knowledge, tools and processes that he now teaches.
In addition to his facilitation work, Murray has written extensively for industry magazines as a regular business columnist, these include CARS Magazine, Car Care Business, ARA News and Indie Garage. He also writes curriculum for automotive, as well as non-automotive, management training. His passion for organizational leadership and development has led him to work with a leading researcher discovering new dynamics that lead to highly effective organizations and leaders.
Murray has a passion for the automotive industry and considers it a privilege and the fulfillment of a lifelong dream to bring information and training that reduces stress, and improves the economic circumstances of small business owners, their staff, and their families. Some of his clients have grown from being the only employee in their shop to 6 employees, and in some cases going from one shop to owning multiple locations, and more than doubling the size of their workforce. Listen to Murray's previous episodes HERE.
Dave Schedin has 40+ years of experience in the automotive field. He has extensive General Motors University Automotive & Business Management training and is a graduate of the Arizona Automotive Institute.
Dave began his career as a young lad in an independent shop in '79 and began working as an Apprentice Tech advancing to a Master Level Drivability Tech. In '86 he moved into the dealership arena as a Lead Drivability Tech and obtained both the Chevrolet and ASE Master Technician status and became a Shop Foreman overseeing 24 Techs, Assistant Service Manager, Service Manager to Fixed Operations Manager.
In '97 Dave started and managed "Dave's Auto Repair" in the Pacific Northwest where he took that business to a near million-dollar sales level in under FOUR years by implementing and continuing to developing the
"CompuTrek Automotive Management Systems." Since 2006 Dave has been coaching and training to help shop owners achieve on average $200,000 in NEW GP dollars in 12 months Dave and his partner/wife Bonnie Schedin also carry extensive Leadership and Personal Self-Development coaching and training at an advanced level. Through both personalized and highly effective 'team' training & seminars, they offer well-rounded coaching for the automotive professional through experiential seminars. Listen to Dave's other Episodes HERE.
Key Talking Points:
Good leaders provide hope and competencePeople want to contribute each day and get better at what they do
They want to know if they are getting better
Many employees quick but they never leaveThey take a paycheck but they tuned out
These employees are costing you
As the leader, you need to help your people become a better person and you the leader also need to be growing and learning
People need to be challenged to be who they are intended to be
The job you have is intended to serve out your purpose
As goes the leader goes the staff
Do we have a culture of lifelong learning inside your company
Dan Taylor send a survey to owners that own up to 300 shops#1 Unclear/Limited Opportunities for advancement/career satisfaction:
Tied #2 Poor Leadership
Tied #2 Poor Culture
# 3 Lack of Recognition/Appreciation
#4 Unclear/Unmet Expectations
Books mentioned, Growth Mindset by Dr. Carol Dweck and Y-Size Your Business by Jason Ryan Dorsey. Find all books on the books page on the website HERE.
Consider the power of assessments on your people so you can understand them.
Competency stages:Unconscious/Incompetent
Conscious/Incompetent
Conscious/Competent
Unconscious/Competent
Murray: Is it common sense or common knowledge. These two need to be understood and separated
At 5 years old 60-65% of their self worth and belief in and how they interact with authority is hard wiredAt 8 years 80-85%
You bring up all your own flaws in building relationships with your people. EQ Emotional Intelligence, knowing self, will help elevate communication with your people.Listening is the most important communication skill
Many people leave because they are not heard (empathetic listening)
You must intently get to know your people.Find out about them. Listen.
Care for them
Assessments
When an employee leaves what part of that do we own
New people will typically conform to your culture. They will gravitate to it.
Companies with great culture protect themselves if someone contaminating it
Some that are working in a healthy environment don't know what to do with it and will attempt to sabotage
There are no silver bullets for building a strong culture
Hold toolbox meetingWhen people stand in front of a group/meeting and you are talking, you get 'leader status'. This is a great way to learn leadership. It is about them not you.
Hold daily meetings 10 minutes each day at the toolbox
Three topicsTechs, any current challenges today
Advisors any challenges
Anything else you need
It may take a few weeks to make this meeting a part of your business fabric
You can have a word of the dayPut it on a whiteboard
Why is the word important
Assign to a different person each day
Set the culture of your business during the hiring processWhat have you done recently to build your character traits
75% of our workforce over the next few years are going to be Millennials
Book Y Size Your Business Books page on the website to order these books.
Energy and time spent on underperforming team members sucks the energy to give to the team members are contributing
Needs, wants and opinions are not being heard by leadership
Affirmations. Be sincere specific, they are free and they provide energy to a personCatch them doing the right stuff
Give positive affirmations as soon as you hear of a great compliment
The best return on investment is personal development
Get out of the way of the greatness in your company
Be a better youBe on a personal development journey
Control your controllers
Explaining why and clarifying expectations helps people know and understand
Resources:
Facebook Twitter Linked In Email
Join the Ecosystem – Subscribe to the INSIDER NEWSLETTER HERE.

This episode is brought to you by Shop-Ware Shop Management. It's time to run your business at its fullest potential with the industry's leading technology. Shop-Ware Shop Management will increase your efficiency with lightning-fast workflows, help your staff capture more sales every day, and create very happy customers who promote your business. Shops running Shop-Ware have More Time and generate More Profit—join them! Schedule a free live demonstration and find out how 30 minutes can transform your shop at getshopware.com

This episode is brought to you buy Shop Marketing Pros. Your guides are Kim and Brian Walker with a rich history as shop owners and industry veterans. When someone searches for a shop, who are they finding? Your competitors? It should be you! The good people over at Shop Marketing Pros know how to drive website traffic and make Google work for you! www.shopmarketingpros.com