Automotive Management Institute: Looking Ahead with Chuck Searles [RR 585]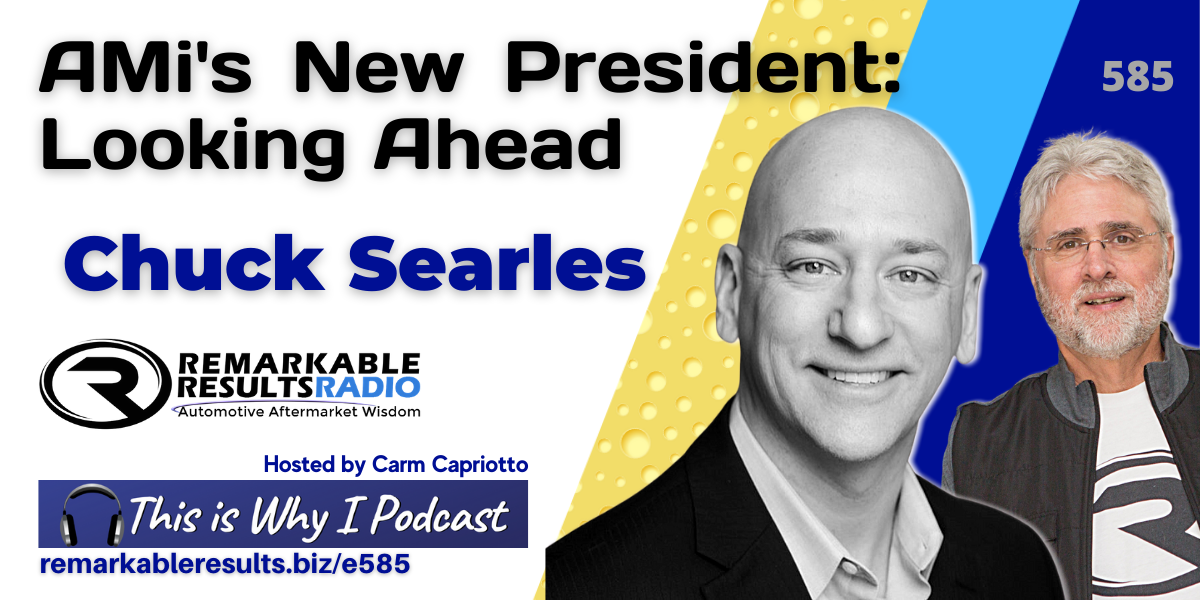 Chuck Searles has played an active role in the automotive service and training community for 28 years. He is a proud supporter of the National Institute for Automotive Service Excellence (ASE) and is a member of the ASE Training Managers Council (ATMC).
He was born in Alaska and spent childhood years on the North Slope in small rural villages. After his Fathers retirement from the Alaska educational system, the Searles family relocated to the Big Island of Hawaii, where Chuck attended high school. After high school, he attended post-secondary technical school in Phoenix, Arizona, and then moved back to Alaska to begin a career in the automotive industry.
Chuck served as a Line Technician, Service Advisor, and eventually Shop Foreman at Nissan Dealerships in Fairbanks, Alaska, and Phoenix, Arizona. He was then hired by Nissan North America as a Technical Support Specialist in Los Angeles, CA. Over the next 19 years, he served several Sales and Technical Training roles, including Sales Training Senior Planner, Technical Training Operations Manager, and Instructional Design Manager.
He is currently the President of the Automotive Management Institute (AMi). AMi's mission is to identify, provide, and promote qualified business education for the success of automotive service repair professionals.
Chuck resides in a quiet suburb outside of Nashville, TN with his wife of 23 years and 2 daughters. Time away from work is spent in the outdoors with the family on hikes or kayaking.
Key talking Points:
Career pathDidn't know what to do after high school, did not want to become a teacher or educator
Attended Universal Technical Institute- focus on heavy diesel industry but ended up working at a dealership in Alaska then hired by Nissan as technical trainer.
Two things you will always remember in your career- best boss and worst boss. Training will help you be the best boss you can be.
AMI valuable for succession planning with learning management systems
The current president of AMIWants to increase the presence of the service side of the industry- the value of designations. Networking with former contacts and making new relationships as well.
Working on new designations- service advisor and shop foreman
You can pay by courses at AMI or a yearly subscription
AAM/AMAM- prestigious titles
Looking aheadRecruiting new trainers- AMI has an audience of over 100,000 and is an ideal platform for any trainer. Head to the website and contact them.
If you're not involved with AMI you need to be- training is ongoing no matter what stage you are at in your career, even as a shop owner.
Employee retention is based on the owner- is the owner offering training to employees and getting training themselves? Invest in your employees.
Look for AMI elective credit courses/classes because you can use it towards a certification/accreditation
Resources:
Thanks to Chuck Searles for his contribution to the aftermarket's premier podcast.
Link to the 'BOOKS' page, highlighting all books discussed in the podcast library HERE. Leaders are readers.
Listen for free on Apple Podcasts, Google Podcasts, Spreaker, iHeart Radio, Spotify, Podchaser, and many more. Mobile Listening APP's HERE
Find every podcast episode HERE.
Every episode is segmented by Series HERE.
Key Word Search HERE.
Be socially involved and in touch with the show:
Facebook Twitter Linked In Email
Join the Ecosystem – Subscribe to the INSIDER NEWSLETTER HERE.

The NAPA Smart Sign, previously known as Digital Menu Board, gives your shop a professional, state-of-the-art look and feel. It's a great way to educate and inform your customers about needed repairs and service, plus increase awareness of your current promotions. NAPA AutoCare Center that have installed a Digital Menu Board found one out of five consumers ask for a repair or service they've seen on the board. Targeted promotions resulted in double-digit increases. You choose the content from a library of auto care service and repair topics. The latest NAPA national promotions are downloaded to you automatically. And with the Digital Menu Board it's easy to change your services, prices, and video content anytime you'd like. Talk to your servicing NAPA store to find out more.
Learn more about The NAPA Smart Sign and the hundreds of other benefits NAPA offers. visit the NAPA Benefits Center at www.napabenefitscenter.com or call the NAPA Benefits Center at 844-627-2123.