Cares Act & Payroll Protection Program Update with Hunt Demarest, CPA[THA 196]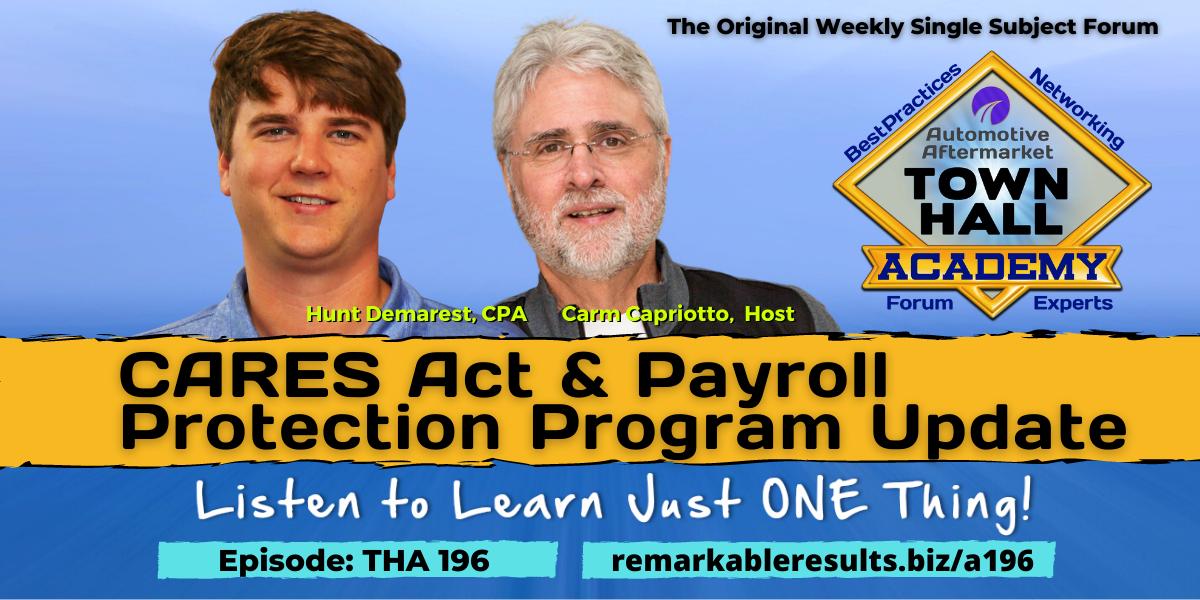 Hunt Demarest, CPA Paar-Melis. Hunt is Accredited in Business Valuation and a licensed Certified Public Accountant that has been with the firm since 2006. He specializes in business taxes, valuations, and does consult work with our clients all across the country. When he's not in the office, Hunt enjoys spending time with his family, golfing, working on and racing his cars. Look for Hunt's other episodes HERE.
Key Talking Points:
We are not providing any legal advice. Please check with your banker or accountant.
For the forgiveness, the SBA says that OCT 31 is the expiration date for applying for forgiveness. That is wrong. You have 10 months after the end of the 24 week PPP period to do this.If you got your PPP back in May 2020 you have until June of 2021.
Clients are starting to process this and within hours banks are accepting. However, the SBA has to accept it.
Hunt believes the SBA may just rubber-stamp the forgiveness. Not sure but he believes if the bank is OK with forgiveness so will the SBA but not certain.
Submit honestly to your bank
Almost every shop has used their PPP load in just payroll alone.You'll need to submit your payroll report for the 24 week period, that will account for 100% of your loan
There are two different forms to useShort-form 3508S, should take you a few minutes to complete
EZ Form may take you 10 – 15 minutes
Don't overthink this
Tax implicationsThis money is going to be taxable in one-way shape or form
Rules keep changing with the government
It is not classified as income until it is forgiven
He does not recommend moving your forgiveness application until next year as he feels taxes will go up no matter who wins the election.
Many things to consider. You must consult your accountant
Be careful on deciding what you will do with an EIDL loan you may have. It needs to be paid back.
You must consult your accountant to be compliant on these loans and the tax implications
There is no interest associated with the EIDL grant
Be sure you have been in contact with your bank and find out their suggestion to get your forgiveness. Your accountant and tax advisor are also key to getting the CARES ACT and PPP put behind you.
Resources:
Facebook Twitter Linked In Email
Join the Ecosystem – Subscribe to the INSIDER NEWSLETTER HERE.

This episode is brought to you by Shop-Ware Shop Management. It's time to run your business at its fullest potential with the industry's leading technology. Shop-Ware Shop Management will increase your efficiency with lightning-fast workflows, help your staff capture more sales every day, and create very happy customers who promote your business. Shops running Shop-Ware have More Time and generate More Profit—join them! Schedule a free live demonstration and find out how 30 minutes can transform your shop at getshopware.com

This episode is brought to you buy Shop Marketing Pros. Your guides are Kim and Brian Walker with a rich history as shop owners and industry veterans. When someone searches for a shop, who are they finding? Your competitors? It should be you! The good people over at Shop Marketing Pros know how to drive website traffic and make Google work for you! www.shopmarketingpros.com